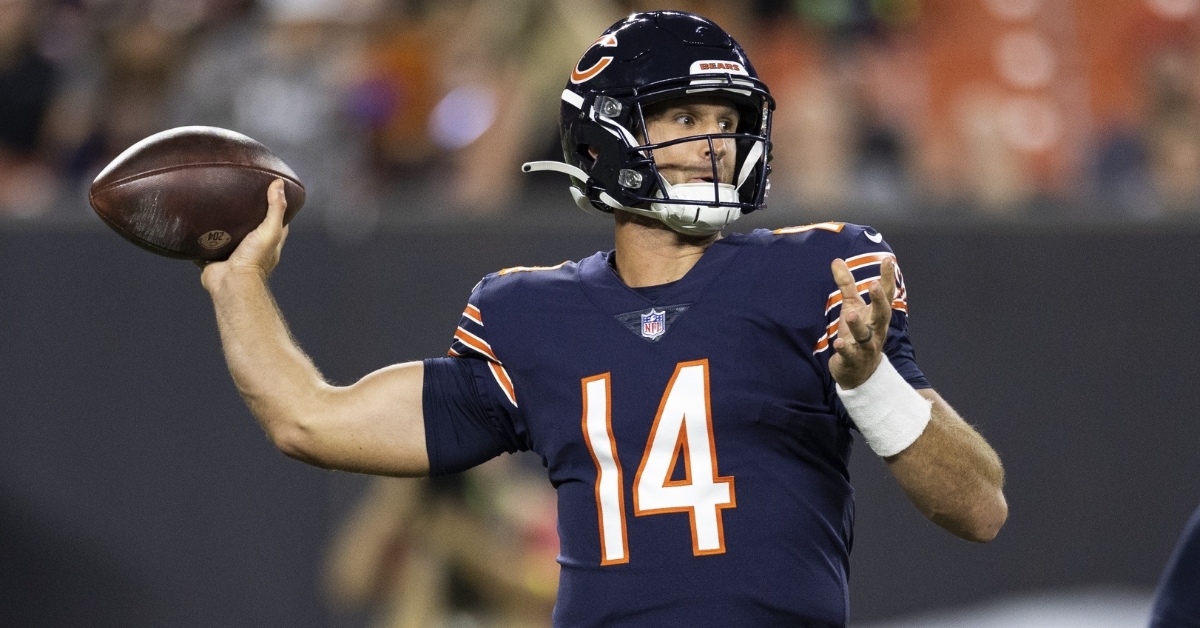 | | |
| --- | --- |
| Breakdown: 2022 Bears Practice Squad | |
---
| | | |
| --- | --- | --- |
| Thursday, September 1, 2022, 12:00 PM | | |
Yesterday was a hectic day for the Bears and their fans. Not only did the team have to cut a boatload of players to get down to 53, but they went to the waiver wire and made a killing. So much of a killing that their six waiver signings were more than anyone else in the league, and several of those pickups may be starters or, at the worst, have huge roles on this team.
Not a bad two days of work for Ryan Poles, as he continues to do impressive things since taking over the Bears GM duties. Along with all the waiver activity comes the practice squad roster that is taking shape, but is not quite finished. Currently, the Bears have two open spots left on their practice squad roster. Judging by the waiver pickups, those spots should be accounted for by the end of the week at the latest.
Let's look at who is on the practice squad and the likelihood of them staying with the team. We will start with the offense and work our way down.
Offense
QB Nathan Peterman, RB Darrynton Evans, WR Isaiah Coulter, WR Nsimba Webster, TE Chase Allen, G Lachavious Simmons, and C/G Dieter Eiselen. When you look at the names on this list, most of them shouldn't shock you. Given Trevor Simien's performance in the preseason, it was clear the backup job was his. However, Peterman played well, too, and gives the Bears a nice security blanket should something happen with Justin Fields or Simien.
The rest of the practice squad roster is what you expect on the offensive side of things, as most of those players showed a ton of promise in the preseason, but didn't have a roster spot to occupy for the time being. Eiselen is a bit of a surprise to me, not because he should have made the team, but because I am surprised no one picked him up via a waiver claim.
Like Peterman, Eiselen will give the Bears a nice insurance blanket for the offensive line should someone go down with an injury. Building a roster filled with depth is essential, and the Bears continued to do that all off-season long.
Defense
DE Sam Kamara, DT Michael Dew-Treadway, DT Trevon Coley, LB DeMarquis Gates, CB Thomas Graham Jr, S AJ Thomas, and S Davonte Harris:
Unlike the offense with a few standout performers from the preseason, the defensive side of the ball is about what many people expected to see, as these are the names that have been talked about since day one. Besides Graham Jr, who was a last-minute cut, and maybe Dew-Treadway, there wasn't much talk about anyone else making this team, but those two came the closest.
Graham Jr has the best chance to make the roster at some point this season as he was an actual draft pick by the Bears and played well enough at times to make the roster. That was the problem; he didn't play well enough all the time, which ultimately solidified the decision to cut him before he latched on with the practice squad.
While this is a steady list of names, others will be added to this list as the Bears look to fill those final two spots. As the day went on, you heard reports of another name latching on with Chicago, and that happens to be former Arizona State OT Kellen Diesch, who was part of the Miami Dolphins final round of cuts.
That means that not only did Diesch have a good camp, but he also showed a lot of in-game action, making it hard for the Dolphins to part ways with him. While practice squads don't get a tone of recognition, fans need to familiarize themselves with many of these names as plenty of them will contribute on the roster this season.