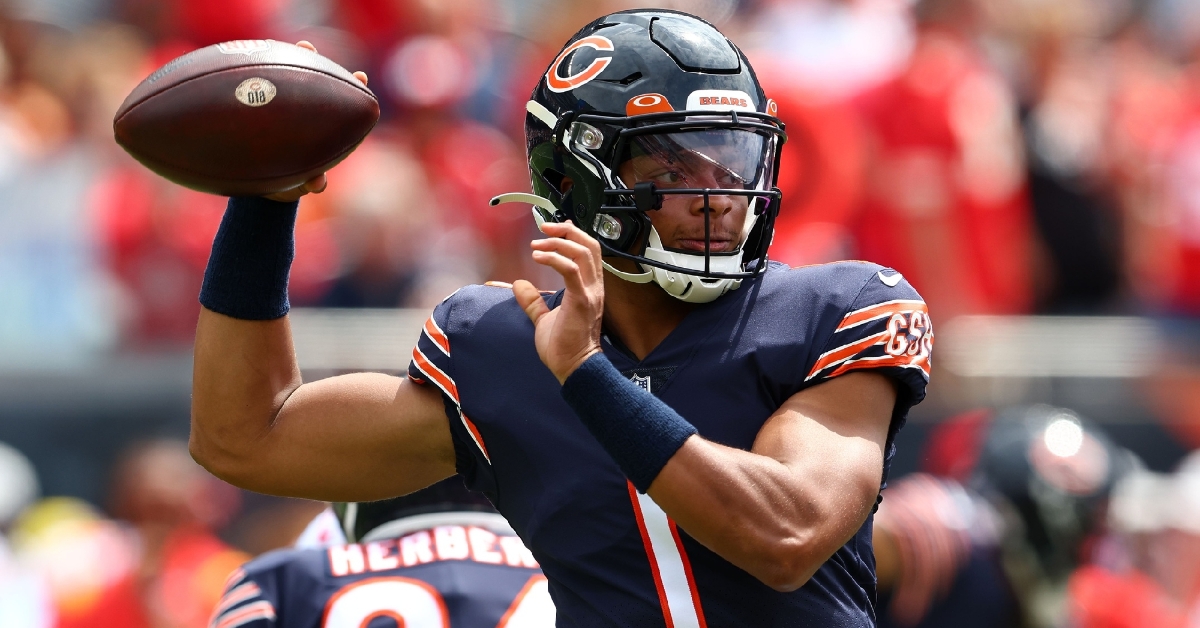 | | |
| --- | --- |
| Commentary: Justin Fields is spectacular but needs to win with his arm too | |
---
| | | |
| --- | --- | --- |
| Monday, November 28, 2022, 10:08 AM | | |
I was able to watch Justin Fields live and in person for the first time last week against the Falcons in Atlanta, and a saw an incredible athlete, but I'm not so sure I saw an incredible quarterback yet.
There is no doubt Justin Fields is dynamic with his legs, being able to outrun defenses with his elite speed, heck he wasn't fifth in NFL in rushing and enter this week's games for nothing, but to take the Bears to where they and all fans want to be a Super Bowl, he is going to have to learn to win also with his arm.
There have been four times this year where he has had the ball in his hands with a chance to win the game, and all four times vs. the Commanders, Dolphins, Lions, and Falcons, he didn't lead the Bears to a win. If he and the Bears want him to be in the upper echelon of NFL quarterbacks, he has to put fear in teams with his arm and his legs.
All the great quarterbacks in NFL history were feared when they had the ball, and there were less than 2:00 minutes left in the game.
How many times did you see John Elway, Joe Montana, Dan Marino, Tom Brady, Brett Favre, and Aaron Rodgers (Bears fans are saying way too many times) lead their teams to comeback victories on the final drive of the game? Heck, if you look at the greatest athlete in Chicago history-Michael Jordan was there anyone more feared with the ball in his hands late in the game (if you don't believe me, just ask any Cleveland Cavalier or Utah Jazz fan.)
Too many times I've seen Justin Fields get happy feet, meaning when his first read isn't open, he will start moving around and looking in every direction, and yes the Bears wide receiver and tight end group isn't the best, but do you have the confidence that he is going to calmly step up in the pocket and make the big throw deep in Bears territory on a critical third down?
Grant it; the Bears have never really had a quarterback who could. We all hoped that Mitchell Trubisky was going to be the guy when management traded up to select him number two overall in the 2017 draft, but he wasn't. Jay Cutler was the closest the Bears ever had to a guy who you could have the confidence could lead the team to the game-winning drive, and that is saying something about the history of Bears quarterbacks.
Now with a separated shoulder that he injured running the ball, may I add, maybe Fields can take a step back and maybe take a wider look at things on the field, and have the game slow down for him a little bit. What Bears fans don't want is what happened to Robert Griffin III and Cam Newton, whose careers ended prematurely by running too much, and taking too many hits.
Eventually, like all NFL players, Justin Field's speed is going to slow down some, and his legs aren't going to be what they are.
Hopefully, for Bears fans, it is later than sooner, and he has learned to win with his arm too.