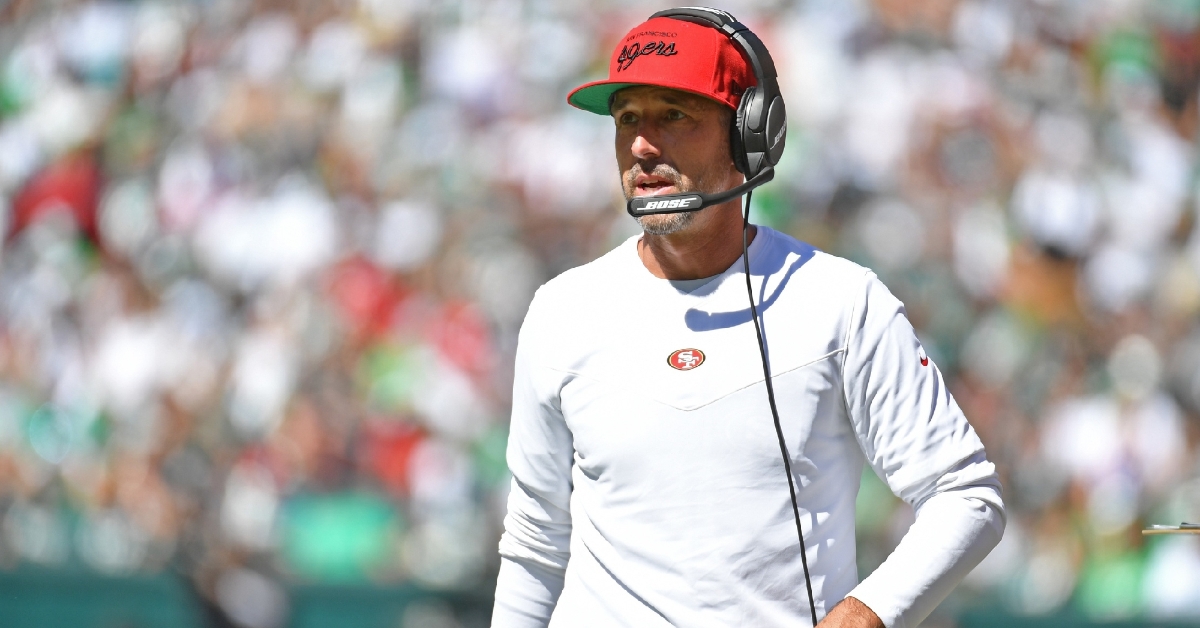 | | |
| --- | --- |
| Commentary: Kyle Shanahan may emerge as an option for Bears | |
---
| | | |
| --- | --- | --- |
| Monday, November 15, 2021, 11:28 AM | | |
Now that the Bears bye week is over, it is time to start focusing on the second half of the season. As bad as things have gone for the Bears, there is still light at the end of the tunnel as the schedule gets easier, and they are just 1.5 games out of the final postseason spot.
The Bears know what needs to happen and what they need to do to right the ship, and now it is time to get to work. As the NFL world found out yesterday, teams can start interviewing candidates for head coaching positions as soon as week 16 this season. That is significant for the Bears because if things continue in the direction they are going, they will be in on the list of teams looking to bring in fresh faces.
You can bet the rumor mill for Chicago coaching candidates will be a hot topic all offseason, but one name is puzzling to me, and the Bears may want to pounce on it. San Francisco 49ers coach Kyle Shanahan who signed a six-year extension in June of 2020, maybe out of Santa Clara sooner rather than later as it seems there is a lack of job security with the team right now.
This is not only a shocking development in what could be a frantic coaching change market this season but a massive surprise as Shanahan reached the Superbowl just two seasons ago. Known for his innovative play-calling style on offense, Shanahan has had a rough go of things with the 49ers the last few seasons, and GM John Lynch and company are breathing down his neck.
His offensive mindset has turned mediocre QBs like Jimmy Garrppolo into pro-bowl caliber players while taking his offensives and turning them into juggernauts. At 32-29 as a coach, Shanahan doesn't have the best track record but keep in mind how his first few seasons went with the 49ers. He inherited a horrible situation and needed a few seasons to get things rolling.
After going 12-4 and finding themselves in the Superbowl, many people expected the 49ers to become one of the NFL's best over the next several seasons, but that is not the case. Not only did the team struggle to win games last season, but once again, they find themselves sitting at 3-5 and are in danger of missing the playoffs yet again. The more losses he piles up, the hotter his seat will become, which doesn't bode well for job security.
When looking at his record, especially the past two seasons, there are a lot of factors that go into play. Injuries are the biggest concern as several key players have missed tons of games the last two years. That alone makes it difficult for any team to get into a rhythm, and Shanahan and his group certainly felt the wrath of injuries the past several seasons.
Another thing that is leading to their current struggles is his demeanor as a head coach. Yes, Shanahan is an excellent play-caller, but it takes more than being a great play-caller to be a head coach. You need to demand the locker room and have that it factor which I don't think he has. You also need to consider that Garroppolo was never a great QB, and he benefitted from an amazing running attack in 2019. Take away that running attack, and you have a mediocre QB at best.
The 49ers realized that this season and elected to draft Trey Lance as the QB as the future. Although a backup right now, Shanahan has gotten Lance involved plenty of times by designing specific plays that benefit his rookie QB. That right there is the key to all of this, and it is where the Bears may fall into place.
The more you talk to people around the league, the less likely they feel that Shanahan returns next season. Some even think he may be out of a job before the season ends if things don't turn around soon. If he is relieved of his duties, he will get plenty of looks as both a Head Coach and a coordinator again.
Given that the Bears will have Justin Fields under center for years, Shanahan would be an excellent choice for them, and it would give him an opportunity that he could never have imagined. His innovative play-calling style will be perfect for this team as he will get the most out of Fields. That is something Chicago needs. They need a head coach who understands their personnel and will not hesitate to open things up.
Shanahan is not only aggressive, but he will use Fields strengths to his advantage, which in return will turn this offense around. Once that happens, fans will finally get a chance to see what Fields is made of and if the Bears indeed have a start in the making under center.