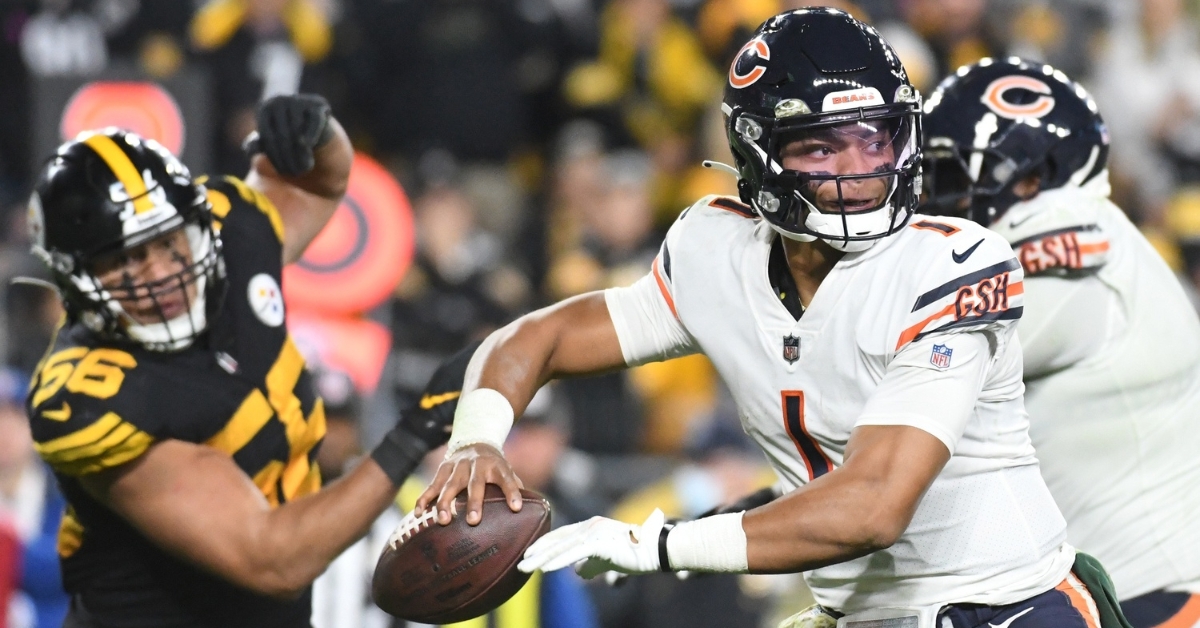 | | |
| --- | --- |
| Commentary: The Bears finally have their franchise QB | |
---
| | | |
| --- | --- | --- |
| Thursday, November 18, 2021, 8:58 AM | | |
The Bears had no game this past Sunday as they went into their bye week 3-6, currently on a losing streak of four games. However, there was not much commotion coming from the Bears throughout the week — in fact, it seemed that the Bears were metaphorically sleeping soundly over the last week.
Why is that? The Bears know they finally have their franchise quarterback.
Chicago may have dropped a heartbreaking game to the Pittsburgh Steelers on Monday Night Football last week, but they finally got their confirmation that the quarterback that they traded up in the draft to get is going to be the guy for the future for the Bears.
"When (the Steelers) scored and kicked that field goal, went up six, there was a really pretty neat moment of just looking on the sideline," said head coach Matt Nagy after the game. "You could feel it from the players. Like, 'OK, we fought back to get to this point where a touchdown wins it.' And then I looked over at Justin and he had this smile on his face, where it was like it was his time.
"The confidence that gives you as a coach when you see that, it was like he was almost hoping that this was going to be the situation. And then for him to follow through with that and make those plays that he made, it was a really, really good feeling on that sideline."
Justin Fields was beyond impressive last Monday, despite having a multitude of calls go against him — in what was arguably one of the most poorly officiated games in recent memory. He finished with a career-high 291 yards through the air to go with a touchdown and an interception. The quick QB also added 45 yards rushing on the ground.
He made plays. He kept broken plays alive, he made gutsy throws, he took big hits and he kept the Bears in the game. After scoring just 6 points in the game's first three quarters, Fields led the Bears to a 21 point comeback in the fourth quarter — giving them the lead with just under two minutes to go in the game.
While the Bears did not end up getting the win, it was a big show-me game for Justin Fields, and he displayed just why you spend a first round draft pick on a guy like him. He kept his poise and led the Bears back against one of the league's best defenses in one of the league's toughest atmospheres to play in.
"My mindset was just like, 'It's time. We're here,'" Fields said. "You can either be the guy who always gets put in that position that doesn't show up. Or you can be that guy who shows up in the big moments. That's what my mindset was."
It hasn't always been perfect for Fields, who has thrown for just over 1,200 yards in nine games and thrown just four touchdowns to go with eight interceptions. While a lot of his struggles can be blamed on a poor offensive line and bad coaching and play calling — Fields consistently finds ways to wow the Bears and their fans, showing the potential that he possesses. Last Monday night, that was all on full display.
Fields' legs are a huge tool that will lead to his success in this league. The rookie has rushed for 288 yards and two touchdowns early on in his career as well — including an 100+ yard effort against the 49ers in week 9.
As the season continues the Bears might not make the playoffs, but as long as their quarterback continues to look like that on the field, Bears fans will sleep soundly.