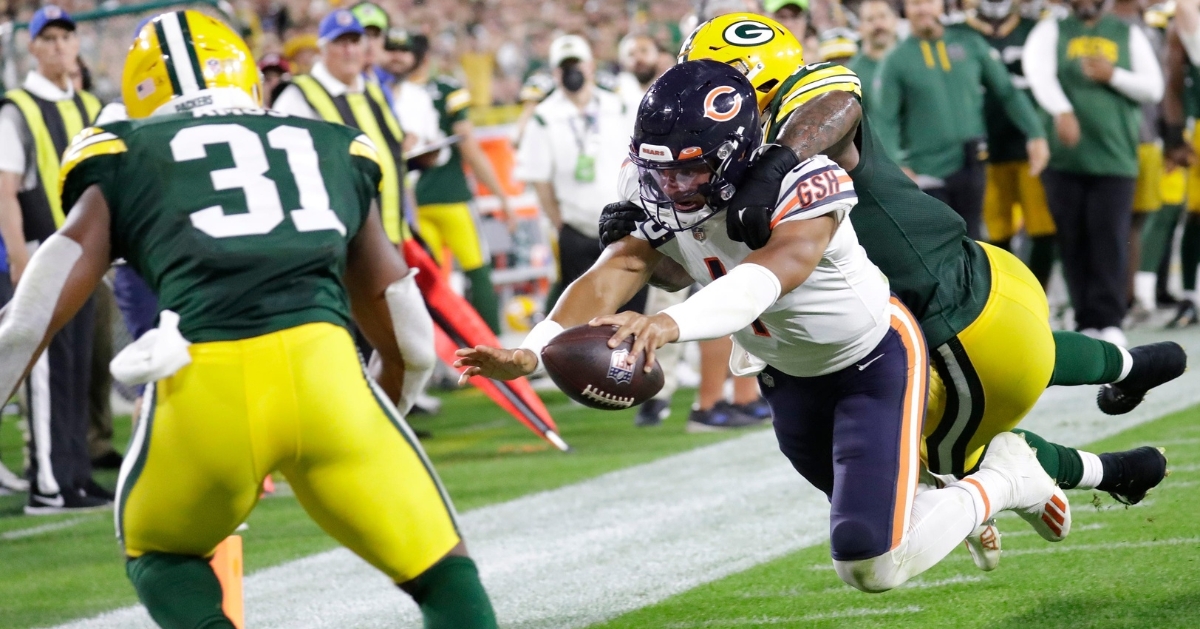 | | |
| --- | --- |
| Commentary: Why can't Bears score in the red zone? | |
---
| | | |
| --- | --- | --- |
| Friday, October 21, 2022, 11:23 AM | | |
There have been a lot of issues plaguing the Bears offense this season, but the one thing that stands out the most is their red zone struggles. For whatever reason, Chicago can't convert inside the redzone and, more often than not, come away with field goals, if anything at all.
Points are important, but you will not win a game on field goals. You need to score touchdowns, which is something the Bears are having an issue with right now. So, you may be wondering what has been the biggest issue as to why they have struggled in the red zone so much.
There is not one single issue; instead, multiple issues continue to pile up. For starters, many fans think it has been a lack of creativity or a lack of play-calling from Luke Getsy that has prevented the offense from putting points on the board. While that is a valid point and accurate to some degree, it is not the biggest reason.
Going back to the Washington game, I don't think it was poor playcalling or a lack of protection for Fields. Instead, I think it was more so a lack of execution from the offense, which falls on the players to fix that. Look at the Ryan Griffin play, for example.
Getsy designed a perfect play where the tight end was wide open over the middle. Justin Fields saw him and fired the ball in his direction, only to overthrow him by a ton. Those are the execution plays we are talking about. When Getsy does call a play, and it works, the players are not executing the way they know to, and it has cost the Bears a ton of points.
Along with player execution comes bad luck, which the Bears had to endure a lot of on Thursday. Before the Griffin incompletion, Cole Kmet had a similar situation in the red zone where he was wide open over the middle. Once again, Fields saw him and went toward his direction, only to have the ball bounce off a defender's helmet before being intercepted.
You can't blame him or the offense for that, as those are the bad-luck plays we are talking about. Going back to the game's final drive, you had two more plays that appeared to be bad luck breaks for the team and cost them points. On third and goal, Fields fired an incomplete pass. However, when you look at the replay, Dante Pettis was being held on the play, and a pass interference call should have been made.
Had that call been properly identified, the Bears would have had the ball at the one-yard line and a new set of downs to put the ball into the endzone. One play later, you had the potential game-winning score to Darnell Mooney come up short as he lost the ball in the lights and then went on to bobble it before catching it cleanly.
You can't blame Fields, Getsy, or the Bears offense for those mishaps, as that was just a series of bad luck plays that the Bears can't seem to get rid of. This run-first team is not built to score a ton of points, so when they have an opportunity to put points on the board, they need to happen.
At some point, you would have to think some of the bad luck will end up going in the Bears favor, but you still have the player execution side of things. Execution comes down to coaching; if a team is not executing, you have to point at the coaching staff to wonder why.
There is a ton of season for the Bears, but at 2-4, they are three games behind the first-place Minnesota Vikings four if you count the head-to-head matchup that Minnesota already won. That is an enormous mountain to climb and one that may be too big to overcome this season.
Either way, the Bears need to use their final 11 games as a developmental process to get better for next year and beyond. One way that happens is to start executing better and hold players accountable if they don't execute.