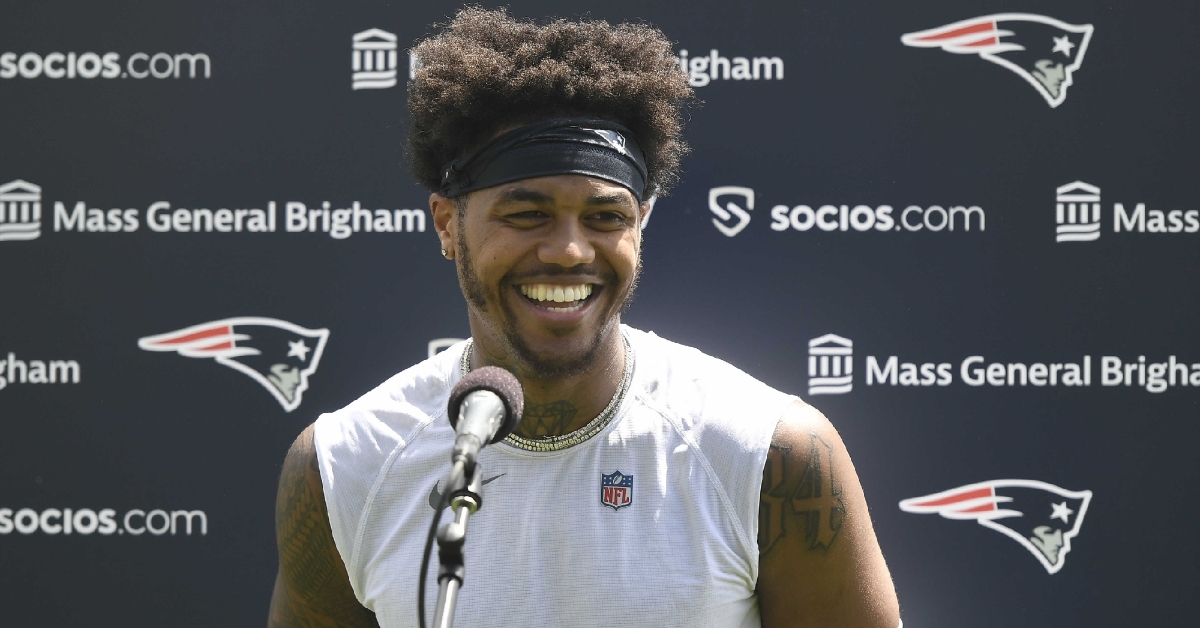 | | |
| --- | --- |
| Could Bears and Patriots do another WR trade? | |
---
| | | |
| --- | --- | --- |
| Wednesday, October 5, 2022, 10:32 AM | | |
There is no secret that the Golden standard organization for the past 20 years has been the New England Patriots. However, without Tom Brady, the once dominating team has fallen off a ton to the point where they are a 1-3 football team. This is coming off a season where they made the playoffs with a rookie QB, but things have gone south in a hurry.
When it comes to the Bears, they would love to get to the standard the Patriots were at, but know that will take time to do if they ever achieve it. That all starts with rebuilding a roster to maximize Justin Fields and his strengths which is a long way from happening. You have an underachieving offensive line that will get him hurt this season, one of the worst passing starts in NFL history, and a team that doesn't have an identity right now.
Essentially, it is a miracle that this team is sitting at 2-2 right now, as they could easily be 1-3 or 0-4. Part of the reason for the Bears historically bad passing offense is the lack of weapons that Fields has at his disposal. Sure, he does have Darnell Mooney, who hauled in 1000 yards last season, but everyone knows he is a No. 2 at best, not a no. 1. Until this team gets a true No.1 or gets more weapons around Fields, the results fans have been seeing may continue, and that is not good for anyone.
Ryan Poles made a conscious effort to address the lack of depth on the offensive side of the ball this offseason, and despite adding several WRs into the mix, none of them are game-changing players. Chicago did trade with New England earlier in the season to acquire NKeal Harry in hopes that a change of scenery would be what the first-rounder would need. Instead, Harry got injured in practice and will not see the field until November, so that trade becomes a wasted trade at this point.
Considering the Patriots and Bears have already done business once this year, and with both teams struggling, there could be another deal between the two sides with another WR being the target. No, this will not be Nelson Agholor which has been a rumor for the better part of a year now, but instead, a guy like Kendrick Bourne coming to Chicago for WR depth.
The Bears will not address all their issues overnight, but with the trade deadline in just 32 days, look for Chicago to be very active at the deadline, especially regarding WR help. Like the Harry situation, Bourne could benefit from a change of scenery, and he has at least been on the field this season. Not to mention he still has one additional year on his contract, so the Bears would be able to plug him into the offense next season.
This is the type of trade the Bears should be angling to make at the trade deadline. Getting a guy into the mix for a half year, knowing you'll get a full year out of them in 2023, has its perks. There will be plenty of intriguing names once the deadline hits, with guys like DJ Chark, Ju-Ju Smith-Schuster, and Allan Lazard headlining the list, but those guys will cost way more than Bourne.
At just 27 years old, Bourne has plenty left in his tank and will most likely come extremely cheap. An 800-plus-yard receiver a season ago, Bourne has stalled out of the gates this season and has seven catches for just 122 yards. A big reason for that is the injury to Jones and the Patriots inept offense, so maybe going to Chicago could help that.
However, the Bears offense isn't much better, and unless Luke Getsy and company start to let Fields throw the ball more, adding WRs will not solve this problem. Fields does himself no favors when he does throw, as he is sitting around a 50% completion percentage this season. Granted, a ton of that has to do with the pressure he is under, but regardless that is a terrible start for any QB.
A guy playing in just 23% of the Patriots snaps right now; look for that to double, if not triple, should he come to Chicago. Fans have already seen Poles is not shy about trading day three picks, and if the Patriots want a day three selection for Bourne, he is worth the risk.