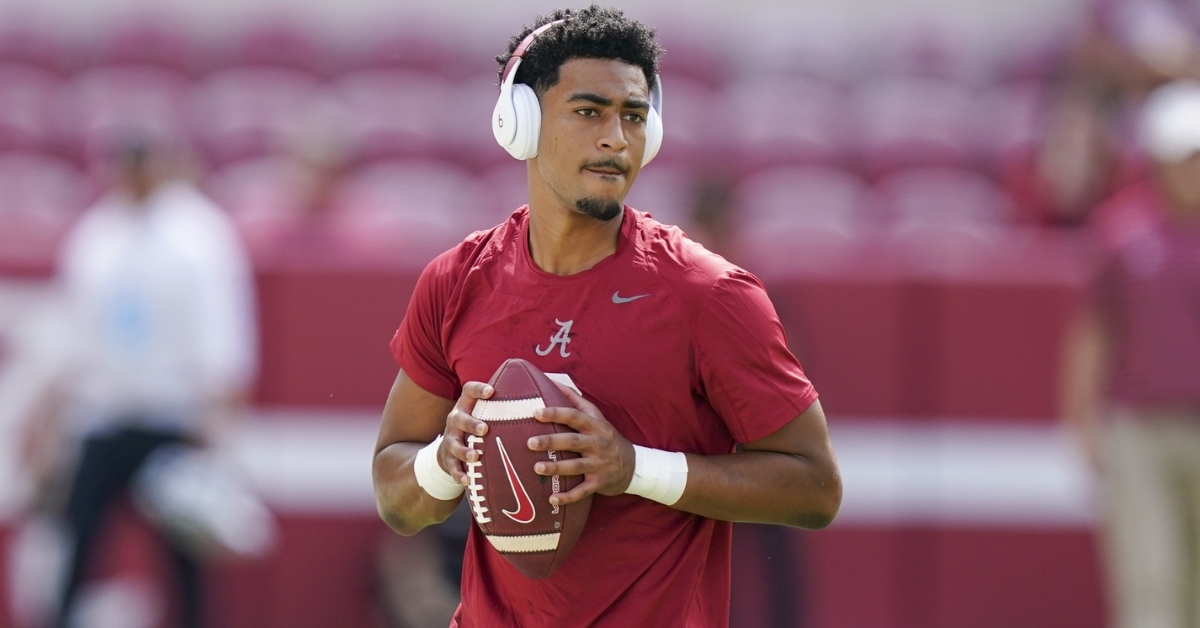 | | |
| --- | --- |
| Early 2023 draft projections have Bears drafting Alabama QB Bryce Young | |
---
| | | |
| --- | --- | --- |
| Saturday, October 8, 2022, 8:58 AM | | |
I know the NFL season is just a month in, and college football is approaching the mid-way point, but it is never too early to look ahead to 2023. Every year you see plenty of rumors about who teams will target in the upcoming NFL draft, and a lot of that has to do with how they will finish the 2022 NFL season.
Don't get me wrong, the Bears have not thrown in the towel, and they still have 13 games to go with hopes of turning it around and possibly making the playoffs this year. That is the goal, but the reality is this team is not as talented as most teams in the league, and that will come back to bite them in the end.
One position the Bears continue to look for help at is the QB position which has been a revolving door since Jay Cutler left. You saw Ryan Pace draft Mitch Trubisky No.2 overall in 2017, hoping he would be the next great QB. There were times when Trubisky did play exceptionally well and showed a ton of potential, but for the most part, he was a bust which forced the Bears to go with a QB in the first round again in 2021.
This time around, it was Justin Fields coming to the Bears, and many people felt Chicago had the best and most talented QB in the class. While they may be correct on the talent part of things, through his first 14 starts, that has not shown up as he has been the worst of the rookie QBs in his class who have started a minimum of six games.
That is not what the Bears wanted to hear, and if you watch the first four games this season, there are some growing concerns about Fields and if he is the guy for this team. Before we get into the big news, I want to urge fans to relax just a bit, as he hasn't even played an entire NFL season yet in terms of 17 games. It often takes QBs a couple of years to adjust to the NFL level, and by season's end, Fields will be close to 30 games of NFL experience.
However, that would also be approaching two full seasons in the league, and if the Bears don't see any significant improvement from him as the season goes on, you have to wonder how much longer they will stick with him. Well, if you look at some of the most recent 2023 early NFL mock drafts, they believe the Bears will be picking in the top five and feel like Chicago will be drafting a QB.
Should that happen, it would ultimately spell the end of the road for Fields and would be another classic QB bust in Chicago. Who is the QB they have the Bears taking, you may ask? Well, it is none other than Heisman Trophy favorite Bryce Young from the University of Alabama.
Right now, Chicago has a 20% chance to land a top-five pick which is the 10th-best odds in the NFL. Should that happen, the projections have them taking Young, which would be an interesting dilemma. Unlike Fields, who is 6-4 and a solid 210 pounds, Young checks in at 6-1 and 194 pounds, as his measurables are not what Fields has.
Young may not check all the boxes physically as Fields does, but he still checks plenty of those boxes the Bears are looking for. And although he lost his top two WR targets from a season ago, who were both taken in the top 50 of last year's draft, Young has still posted a 91.3 for his grade this season.
Much like many of the Ohio St QBs drafted, I am always skeptical about taking QBs from Alabama because they are given the best talent at every position. We have seen guys like Mac Jones, Jalen Hurts, and Tua start to have more success at the NFL level, so that is something to look at. Regardless of what the Bears are thinking at this point, it seems some people feel the Bears may be regretting the Fields pick.
https://www.youtube.com/watch?v=H94iPu_pbiA