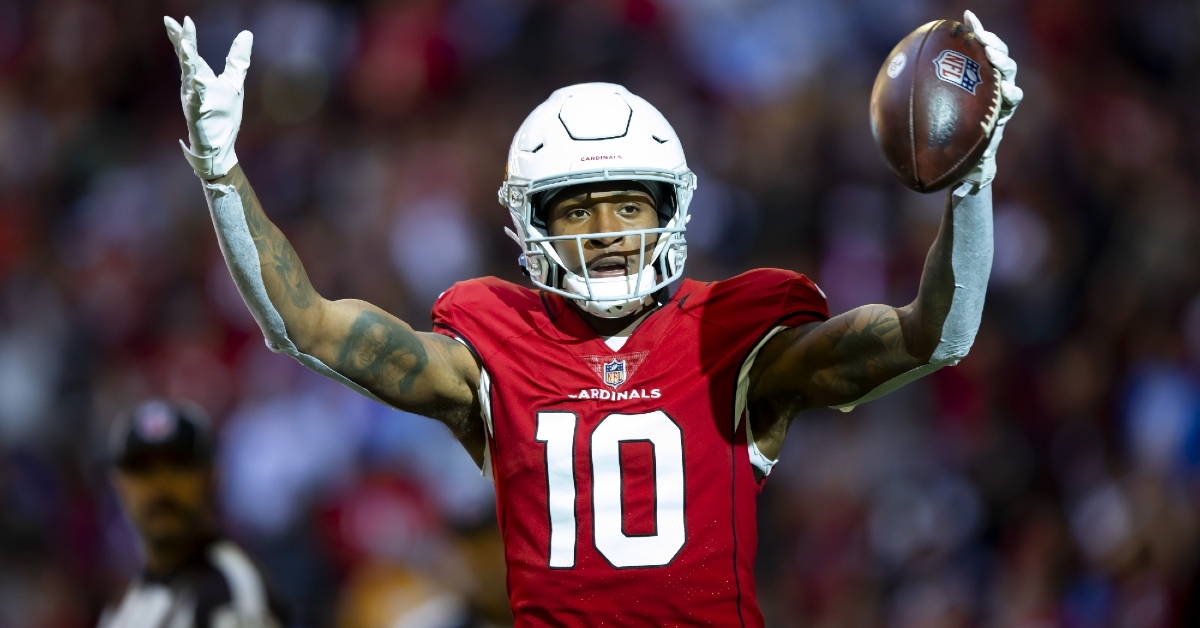 | | |
| --- | --- |
| Forget Hopkins: Three players that the Bears should go after | |
---
There hasn't been much NFL news over the past few weeks, but one bombshell dropped over the weekend that could impact a lot of team's futures. In a surprising move, the Arizona Cardinals elected to part ways with All-Pro WR DeAndre Hopkins, but not in the way you might think.
Instead of trading him away for potential pieces, they released him, making him a free agent and allowing him to sign with anyone. Whether that was a courtesy move for him to give him a chance at a ring or just the Cardinals being the Cardinals is a question for another day. Still, Hopkins has become the top free agent on the market and is available for anyone.
When it comes to the Bears, they have done a great job adding more WR help to this roster, but even the help they brought in is different from Hopkins. He would be by far the best WR on this team, and Justin Fields would love flinging him the ball all over the field.
I anticipate the Bears making phone calls to Hopkins and his representatives but don't expect the Bears to land him over a team like the Bills or the Chiefs, who have an established QB, which he hinted is one thing he is looking for this offseason.
So what if Hopkins elects to choose someone else over the Bears?
This Chicago team is still in great hands and should be one of the more improved teams in the league this season. With plenty of money left to spend and some openings on this roster, look for the Bears to swing at one more big-name free agent as they look to have a much-improved roster for training camp.
Three names come to mind as great options for this team:
If this name sounds familiar, that is because Houston-Carson was part of the Bears defense last season and did a great job in the role he was given. He was one of the Bear's unsigned free agents from last season, but it makes the most sense to bring him back should Ryan Poles want to bring someone back.
Houston-Carson just turned 30 and is not going to start for this team. He provided Eddie Jackson with some excellent veteran relief at the safety position, which he would add again. However, the one part of Houston-Carson's game that stands out the most is his play on special teams, where he is one of the best in the game. Last season saw Houston-Carson finish second among all players in special teams tackles while he also recovered a fumble.
He was also one of 25 players who PFF graded with a 90 or higher (90.1) for their special teams' play last year. Beyond his special team's value, Houston-Carson proved he could be a reliable piece of the Bears secondary. After playing just 32 defensive snaps in the first 12 weeks, he played 381 snaps over his final six performances, starting in each one at either free safety or slot cornerback. He notched 37 tackles, two tackles for loss, and his third career interception in that span.
George Fant
The offensive line has continued to be a concern for Chicago, but what better way to address that issue than picking up plenty of talent? Not only have the Bears added to their offensive line in free agency, but adding Darnell Wright in the first round of this year's draft has put the Bear's offensive line in the best position they have been in years, which is saying something.
Even then, Poles knows the importance of having a great Offensive Line and will do whatever he needs to to make the unit better and deeper. Adding a guy like former New York Jets OL George Fant could do the trick, as he remains unsigned on the market. No one is questioning the Bear's starting five and their ability, but the backups are a concern, and that is what Poles is looking to fix before camp starts.
Fant may not be the best OL on the market, but if the Bears were to bring him in, he would provide instant competition. Fant just finished a three-year stint with the New York Jets that saw him start 36 games and log over 1,000 snaps at each of the left and right tackle spots despite an injury-plagued in 2022 limiting his production. Having that versatility was crucial for the Jets the past few seasons, and Fant proved he was a better pass blocker than a run blocker.
That is something the Bears need, as their run blocking was just fine a season ago, but the pass blocking was awful. Going back to his 2021, which may go down as his best season, Fant started 15 games where he allowed 18 pressures and just one sack during that span. That came out to be a 3.2% pressure rate which ranked him as the sixth lowest among Offensive linemen, and he was the 12th most efficient lineman that season. If the Bears could get that from him a year after his injury, they could have a top-10 line before the season ends.
Sometimes a player needs a change of scenery to reach their full potential, which could be the case for former Chicago Bears first-rounder Leonard Floyd. Back on the open market after spending his last few seasons with the Rams, Floyd has mentioned his desire to return to Chicago and wants to play for the Bears again.
He is not alone on that front, as the Bears have been linked to him several times this offseason and have even checked in with his agent. With the Bears lacking pass rushers from the EDGE position, Floyd would be the perfect player to address that and would come at a fraction of the price that some other players would.
Any time a player is released from a team at 30, it does raise some concerns, but his release was a cost-cutting move to help the Rams. During his tenure with the Rams, Floyd was about as reliable as they come, as he collected 29 sacks, 157 pressures, and 184 tackles during that time. Considering that he only had 18.5 sacks in his first four seasons with the Bears, Floyd turned it on and reached his full potential with the Rams.
With Chicago, Floyd never had more than seven sacks in a season, with seven coming as a rookie. Once he got to Los Angeles, Floyd had at least nine sacks every season, with a career-best 10.5 in 2020. If Floyd returns to Chicago, he would be going from a 3-4 scheme to a 4-3 scheme, leaving him as an undersized DE. However, even if he were to average 5-6 sacks with the Bears, a reunion is worth the risk, and he would help this defense.
Upgrade Your Account
Unlock premium boards and exclusive features (e.g. ad-free) by upgrading your account today.
Upgrade Now