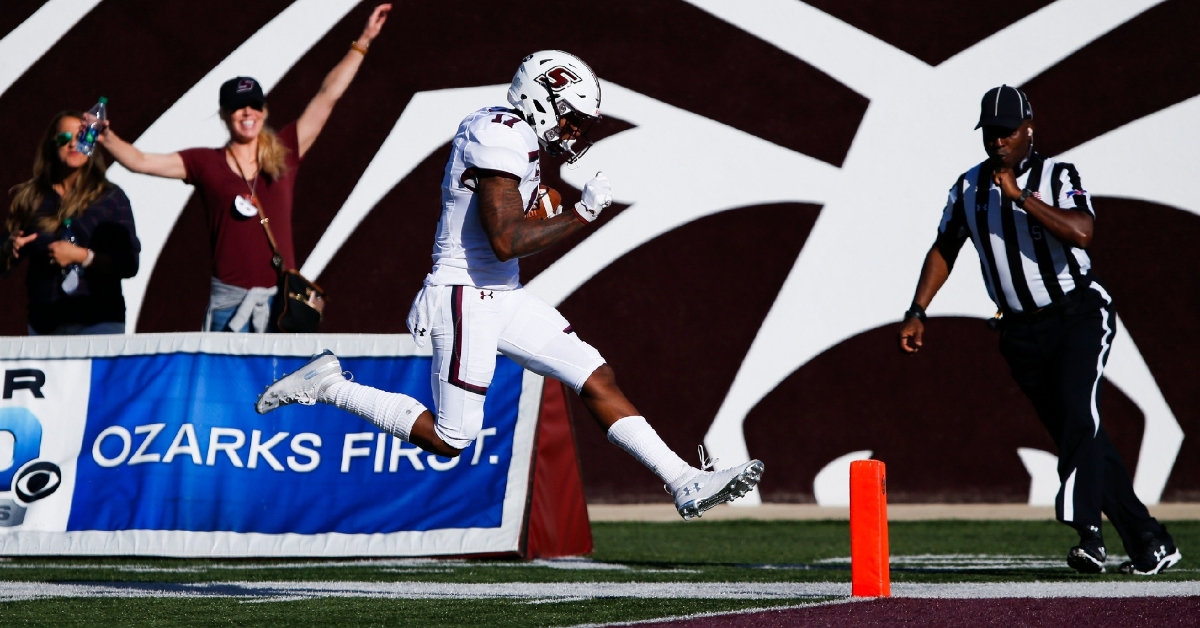 | | |
| --- | --- |
| Getting to Know: Bears WR Landon Lenoir | |
---
| | | |
| --- | --- | --- |
| Thursday, May 19, 2022, 9:12 AM | | |
When you look at the undrafted free-agent market, you must marvel at how aggressive Ryan Poles was. After acquiring extra picks throughout the NFL draft, Poles then felt the need to sign 16 undrafted free agents as he saw value in every one of them.
Looking back on it now, you could argue that the Bears signed the top-rated offensive undrafted and the top-rated defensive undrafted player, which is unheard of. Sticking with the offense, you will find the fourth of the undrafted WRs joining Chicago as they inked Southern Illinois WR Landon Lenoir.
Of all the undrafted free agents on the market, Lenoir is the one that intrigues me the most, especially when you look at his makeup and what he could be. The 6-1 192 pounder is a great size for a WR and knows how to play bigger than his size indicates.
Looking back at his career with the Salukis, you have a player who hauled in 204 receptions for 2615 yards and 19 scores. His best season came this past year when he brought in 876 yards and 10 scores. Those are numbers that every team dreams of when talking about No.2 receivers and when you talk about Lenoir, he has No.2 receiver potential.
I compare him to Adam Thielen of the Vikings as a player who may need to carve out a role on special teams first before being given a chance. Once he does get that chance, Lenoir has all the tools to be a consistent contributor on offense and could be someone who secures a starting role in this lineup.
The thing that coaches and QBs love about him is his hands, as he possesses some of the strongest hands in his class. Not only does that help him track the deep ball, but put the ball anywhere within his reach, and there is a great chance he will make a play on that ball. Not a burner like some of the other WRs, Lenoir makes up for that by taking advantage of openings in the seam and outing running his defenders to the spots.
Even without top-end speed, Lenoir was often used on deep routes as he had the ability to gain separation over the top or down the sideline. He is what you call a player who is quicker than fast, yet he is rarely caught from behind when running in the open field. He is exactly the type of player you want to take a chance on because Lenoir is a big play waiting to happen.
Despite having strong hands, he sometimes uses his body too much to haul in passes, leading to uncharacteristic drops. His lack of top-end speed makes his initial burst of the line of scrimmage average at best. Throw in his average height, and you need to avoid contested throws, although he has hauled those in.
His lean body statue is not ideal for the physicality of the NFL, but look for him to add a bunch of weight during the season, which will help with his physicality as a player. Undrafted free agents are a dime a dozen in the NFL, but only a handful have ever carved out a decent NFL career.
Lenoir has the potential to join that special list of undrafted players who became stars as the work ethic and skillset are there. This is someone the Bears want to get in camp sooner rather than later so they can see what he can do. It does half of what this team thinks he can do; Justin Fields will have a new target to throw to and one that he will fall in love with.