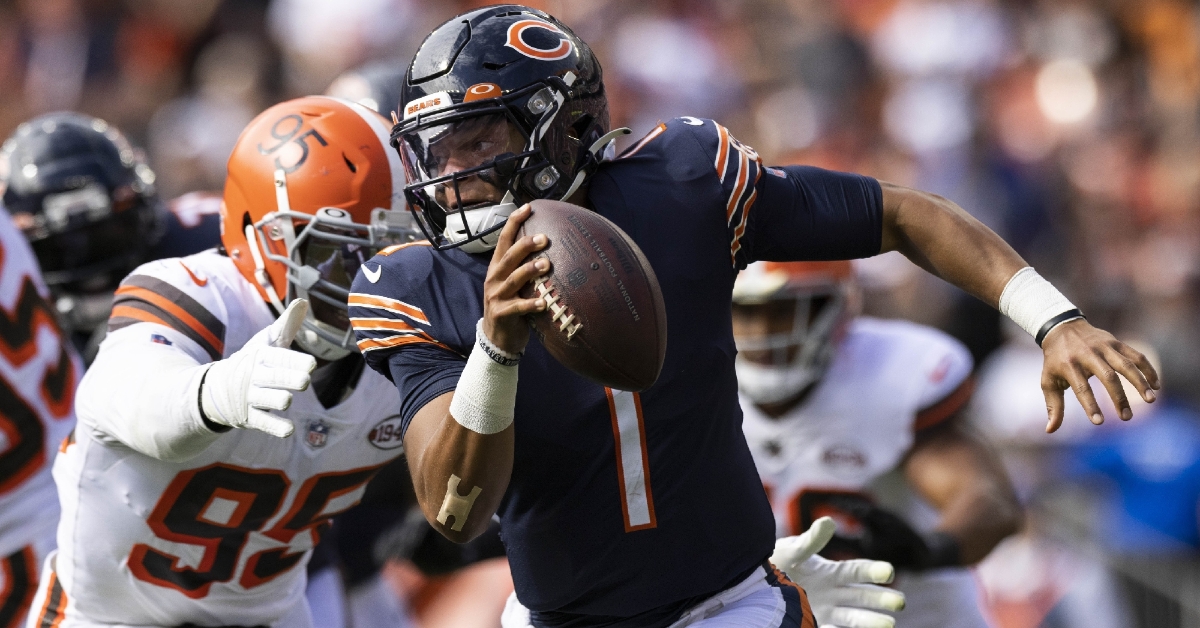 | | |
| --- | --- |
| Historically Bad: Offensive meltdown dooms Bears in loss to Browns | |
---
CLEVELAND – Sunday marked a new era for Chicago Bears football as 2021 first-round pick Justin Fields was set to make his first career NFL start. After coming on for an injured Andy Dalton in week two and helping the Bears (1-2) to victory over the Bengals, it was time for him to show the Chicago faithful what he could do as he is the future of this team.
Standing in his way was an excellent Cleveland Browns (2-1) squad who many feel have the pieces to make a Super Bowl run. What was supposed to be a good measuring stick for this Bears team turned into a nightmare scenario as the Bears were dominated in every possible way, falling to the Browns 26-6 in the process.
A big reason for the lack of success was a defense that allowed 418 total yards and an offense that amassed 47 yards. Yes, you read that right the Bears offense had 47 total yards in the game, with Fields going 6-20 for 68 yards. Maybe Matt Nagy was onto something when he said Fields wasn't ready to be the starter in week one because he looks anything but ready to lead this team right now.
The Browns opened the game with the ball first and used 10 plays to move 28 yards before turning the ball over on downs. There weren't many things the Bears did well on offense, but their first drive was one of them as they were able to turn that turnover on downs into the game's first points. Despite running five running plays to move the ball 24 yards, the Bears did what they needed to do as Cairo Santos hit from 47 yards out to give Chicago a 3-0 lead.
That score held up for the rest of the first quarter as the Browns turned it over on downs for a second time and then got the ball back after a quick three and out. Trying to finally put something together offensively, nothing came easy for the Browns as they needed eight plays to move the ball 38 yards, resulting in a 57-yard Chase McLaughlin field to tie things up 3-3.
The Bears had the ball three more times in the first half and totaled 14 yards on nine plays, with 23 yards coming on one possession. Looking to send a message late in the first half, Cleveland put an excellent drive together, driving 89 yards on 12 plays and needing less than three minutes to get it done. Nick Chubb and his legs played a significant role in that, but so did Baker Mayfield as he spread the ball all over the field. The result was a go-ahead touchdown pass where Mayfield found Austin Hooper over the middle for 13 yards putting Cleveland in front 10-3 at the half.
Much like the first half, things got off to a rough start offensively for the Bears as they punted it away on consecutive possessions and had negative yardage in the process. That worked in the Browns favor as they struggled to get much in their first possession needing seven plays to go 21 yards before McLaughlin connected from 41 yards out to make things 13-3.
In desperate need of points, the Bears put together their best drive of the game, which not only took four minutes off the clock, but went 65 yards in what was otherwise an ugly offensive day. Facing a third down play, Fields found Allen Robinson for 18 yards which was his longest completion of the afternoon to keep the drive alive.
Facing a 3rd and 19 later that drive, Fields went up top once again, but was intercepted on the play, potentially killing the Bears drive. Fortunately, defensive pass interference was called, which set the Bears offense up in a good place only to come away with a 22-yard Santos field goal to pull within 13-6.
From that point on, it was all Browns as their offense started to carve through the Khalil Mack less defense while their defense made life miserable for Fields and that Bears offense. Mayfield continued his excellent start to the season hooking up with Odell Beckham Jr and Kareem Hunt to move the ball into Bears territory. Hunt finished what he started on that drive two plays into the fourth, racing from 29 yards out to pad the Browns lead to 20-6.
Following another three-and-out punt from the Bears offense, the Browns continued to do what they needed to do as they rode the leg of McLaughlin and his four field goals, including another one from 50 plus yards to extend the lead to 23-6. He added another field goal from 28 yards out later in the quarter as the Browns led 26-6 at that point.
In three fourth-quarter possessions, the Bears came away with negative nine yards of offense which summed up the afternoon for Chicago. They were in it for a while, but when you can't move the ball or score points consistently, it won't matter who your QB is as the Bears fall to the Browns 26-6 and are now 1-2 on the season.
Justin Fields is the first QB since the merger (since 1970) to be sacked at least 9 times and throw for fewer than 100 yards in his first career start.

— Stats By STATS (@StatsBySTATS) September 26, 2021
Along with Fields and his 68 yards passing, David Montgomery led the way on the ground accounting for 34 yards on 10 carries while Fields added 12. Montgomery also had 21 yards in the receiving department, with Robinson leading the way with 27 yards on two catches. Cleveland was led by Mayfield and his 246 yards passing to go with one score.
The RB duo of Chubb and Hunt continued to be an issue, with Chubb grinding it out for 84 yards and Hunt adding 81 in what was the key to their success. Beckham quietly put together a team-high 77 yards receiving, with Hunt adding 74 as the Browns dominated the Bears in every way possible.