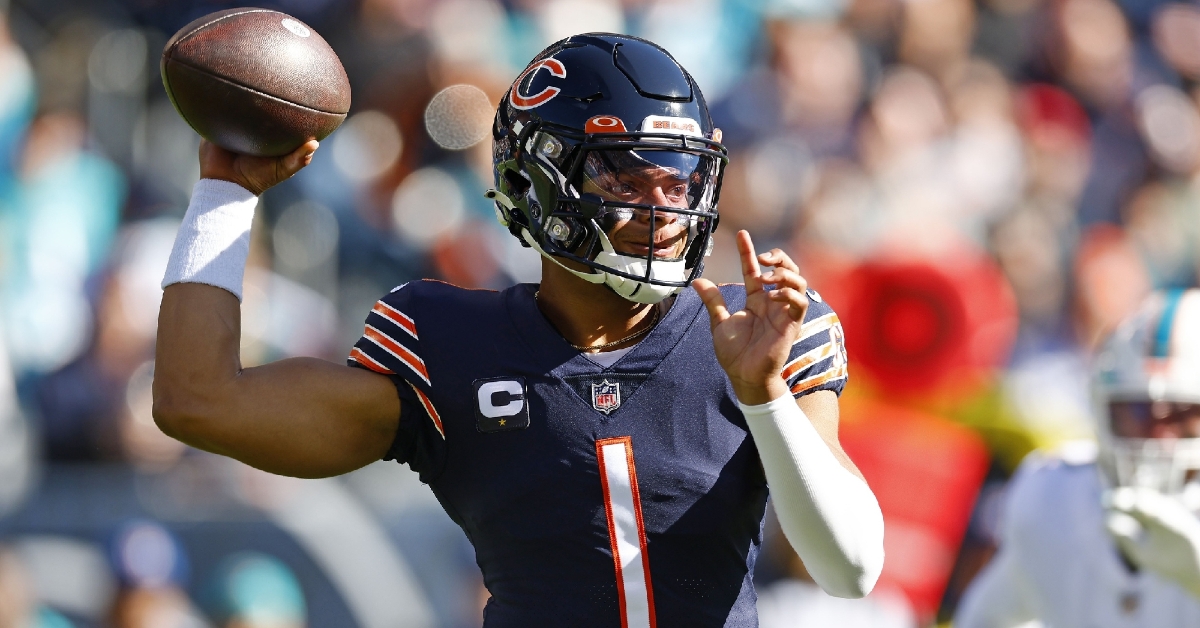 | | |
| --- | --- |
| Justin Fields makes NFL history in loss to Dolphins | |
---
CHICAGO - It was a very exciting day for the fans at Soldier Field as they witnessed history. Chicago Bears (3-6) second-year quarterback Justin Fields put the team on his back and single-handedly kept Chicago in the game. Although he only threw for 123 yards, he picked up three touchdowns through the air and continues to improve each week.
However, his legs made the most significant difference as he carried the ball 15 times for 178 yards and another score. That broke Michael Vick's record for rushing yards by a quarterback, but in the end, it still wasn't even as the Miami Dolphins (6-3) escaped with a 35-32 win.
Fields became the only player in NFL history with three passing touchdowns and 140+ rushing yards in a single game.
This was the third straight game in which the Bears offense scored 29 or more points and rushed for more than 200 yards again.
This is the type of offense that Luke Getsy and the Bears have been dreaming of since the season started, but now the defense has been giving up far too many points. Something needs to change, or these great efforts and improvements from Fields and the Bears offense will mean nothing.
You got a sense of how things were going to go in the first quarter, as the defense was optional early on. It was the Bears offense striking first, as Fields was getting things to his receiving group early on. That was a continued theme on the opening drive, resulting in a Cairo Santos 32-yard field goal to make things 3-0.
The Dolphins not only answered, but answered quickly, needing just three minutes on six plays to go 75 yards. Tua Tagovaiola had a great game, throwing for better than 300 yards with three scores, but it does help when you have Jaylen Waddle and Tyreke Hill catching passes. Waddle had a nice first down completion early in the drive before Kindle Vildor committed a long pass interference penalty against Hill. The Dolphins benefitted from that, with Raheem Mostert picking up the one-yard score.
While the Dolphins benefited from a quick strike offense, the Bears had no problem putting long drives together as they used a 15-play drive to answer. Cole Kmet was much more involved in the offense picking up 41 yards on five receptions to help move the chains.
You also saw Chase Claypool getting involved while the legs of Fields continued to give the Dolphins fits. The Kmet and Fields connection was in full swing as the two hooked up for 18 yards to give the Bears a 10-7 lead. Once again, the Dolphins had the answers and needed seven plays to strike back. Hill and Waddle connected for two catches for 51 yards, and just like that, the Dolphins were knocking on the door. Hill capped off that drive with a three-yard strike to put the Dolphins back in front 14-10.
Things went from bad to worse for the Bears as a quick three-and-out was followed by a blocked punt returned for a touchdown as the Dolphins extended their lead to 21-10. Give the Bears a ton of credit, they could have folded after falling behind by double digits, but the offense continued to go to work and battle back.
Fields continued to give the Dolphins defense fits with his legs before David Montgomery started to get involved. That helped set things up inside the 20, where Fields went to Darnell Mooney for 16 yards to pull the Bears within 21-17. Miami had a chance for more, but Jason Sanders missed a 29-yard field goal try as the Dolphins led 21-17 at the half.
Expecting things to continue at a frantic pace in the second half, Tua hooked up with Hill for 22 yards on the first play of the second half. A 28-yard run from Jeff Wilson moved the ball inside the 30 before Waddle hauled in an 18-yard strike to make things 28-17. For whatever reason, when it looked like Miami was about to blow things open, the Bears had an answer, and this one came just three plays after the score.
An excellent return from Khalil Herbert helped set things up for the offense before Fields made things happen again for 61 yards as the Bears were back within three. If the Bears wanted a chance to win this game, it would be up to their defense to step up, and unfortunately, that was not going to happen yet.
Unlike their other scoring plays, where the Dolphins needed seven plays or less, Miami showed they could put together a nice drive needing 11 plays and nearly six minutes to go 75 yards. Waddle and Hill continued to have big plays in the passing game, but Wilson Jr came through with the 10-yard reception to extend the lead back up to 10 35-25.
This was the part of the game when things began to quiet down as another Bears punt, and a turnover on downs from Miami kept that 35-25 score intact. However, the Bears were still in progress, as their offense was back on the field for another long drive.
After an interception on the first play, offsetting penalties nullified the pick giving the Bears another chance. That ended up working in the Bears favor as Montgomery started to pick up some excellent yardage while Fields continued to do his part on the ground.
Fields would then find Kmet not once, but twice later in the drive, including from four yards out for his second score as the Bears were within 35-32 late. The Chicago defense then started to step up when called upon as a turnover on downs followed by a punt gave the Chicago offense one last chance with less than a minute to go.
Fields used his legs to bring the ball near midfield, but after a costly sack moved the ball backward, Fields saw his next two passes sail incomplete as Chicago dropped another heartbreaker 35-32.