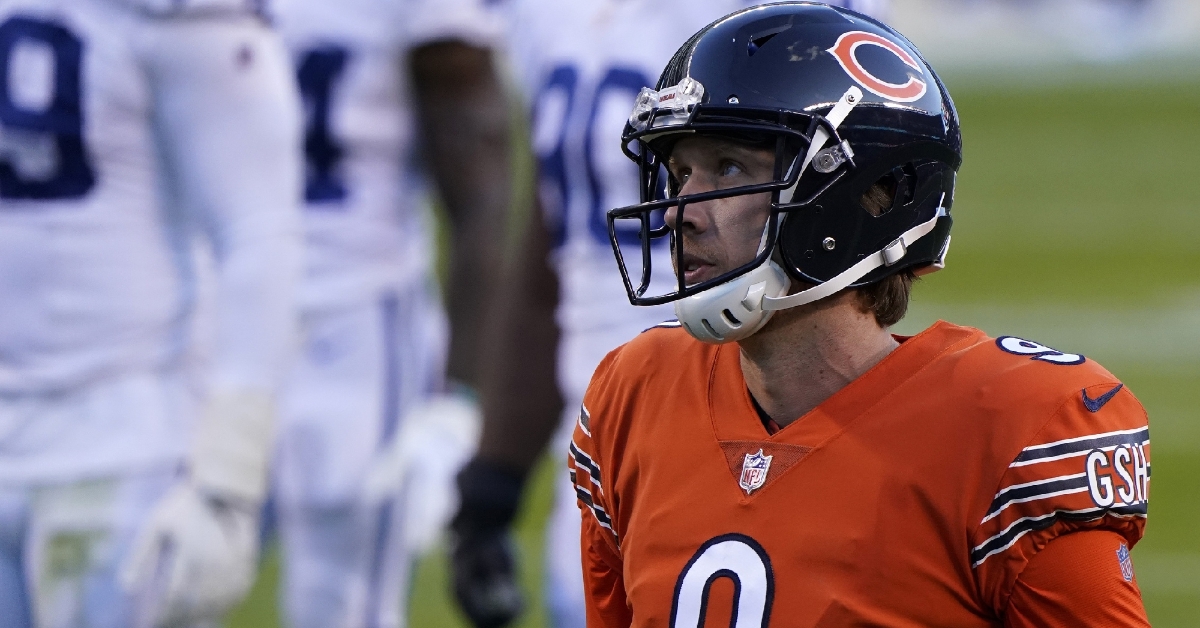 | | |
| --- | --- |
| Bears News: Matt Nagy says Nick Foles as possible starter against Lions | |
---
Through three weeks of the 2021 NFL season, the Bears haven't gotten off to the start they had hoped for as they sit 1-2 on the season. Their defense has been inconsistent at best, their offense has been one of the worst if not the worst in the league, and it may get worse before it gets better. Some would argue that if it weren't for special teams, this team wouldn't have a win at this point, as that has been the saving grace of this team.
No one wants to admit this just four games into a season, but Sunday against the Lions could be viewed as a must-win game for the Bears if they're going to continue to be somewhat talked about in the NFC. This is a game the Bears should win when you look at the rosters and how things have gone for the Lions so far, but this is football, and anything is possible.
As bad as the Lions have looked this season, give them some credit as they know how to fight and refuse to quit. They mounted a furious comeback against the 49ers in week one only to lose by eight, took it to the Green Bay Packers for one half in week 2, and then lost on a 66-yard field goal to the Baltimore Ravens on Sunday. At some point, their unluckiness will change, and hopefully, that isn't going to happen this weekend.
This is a crucial game for the Bears, but fans should be a little bit worried as Matt Nagy hasn't ruled out the possibility of Nick Foles starting this weekend. That is not something Bears fans want to hear, but it is the reality of the situation given that Andy Dalton is out with a knee injury and Justin Fields is nursing a hand injury leaving his status up in the air for this week.
QB play for the Bears has been awful through three games this season, but any option should be better than Foles. Dalton didn't play that well in week one, but did have his moments against the Rams that brought fans a little bit of confidence. He then went on to put together an excellent first quarter against the Bengals before leaving the game with an injury.
Dalton is not going to be a pro bowl QB at this stage in his career, but he is a veteran who knows how to play the game and, for the most part, has won plenty of games in his career. I was one of the few who felt he gave the Bears the best chance to win, at least for the time being, and I will stick by that statement until Fields proves otherwise.
Speaking of Fields, his first career start didn't go as planned as he was part of an offense that put up historically bad numbers. A big reason for that was an offensive line that allowed nine sacks, but even before that, Fields hasn't looked great this season.
Justin Fields' WRs were open on 29% of plays (worst in NFL) his OL allowed a 50% pressure rate (worst in NFL) and his play caller got him outside the pocket 6% of drop backs

Sorry Justin :(

— I?? (@BearsAreAss) September 27, 2021
In extended action against the Bengals after Dalton went down, Fields threw an interception and almost blew a 17-point lead. If it wasn't for the Bears defense, they realistically could be 0-3 and searching for more answers.
I believe Fields is the future of this team, but right now, the game looks a bit too fast for him. Nagy and his play calling could be an issue, but until Fields can turn the corner under center, fans will see these types of offensive games, which is not something they want to hear.
On the other hand, Foles is the last option for the Bears want to see under center, but they may not have a choice this weekend with the other two men dealing with injuries.
"They're all three under consideration (to start) right now," Nagy said about his trio of quarterbacks including Foles.
Last season, Foles got off to a great start in his few games as a starter, going 3-1 before the bottom completely fell out. He showed flashes of brilliance like his Philadelphia days, but outside of that, his career track record was on center stage. Foles is nothing more than a backup QB who needs to be in the correct system to do OK.
"Nick Foles has entered the chat."
@KyleBrandt says the #Bears QB situation is complicated enough already... pic.twitter.com/srjuYLb0Mx

— GMFB (@gmfb) September 28, 2021
That system is not in Chicago, and the results showed that last season. Unlike many backups who want a chance to start, I would argue that Foles is best when used in relief, as you saw last season. If that is the case, why not go with Fields again on Sunday and bring Foles in if needed during the game. Chicago should have done that last weekend, but he would have been killed in the pocket given the Browns pass rush.
The Bears have a lot to think about this weekend, and it all starts with the QB position as to who is healthy and who is not. This is not quite a must-win game, but it is as close to a must-win as you can get. Nagy needs to be better prepared this week than he was last week, and the team must consider all options leading into Sunday.