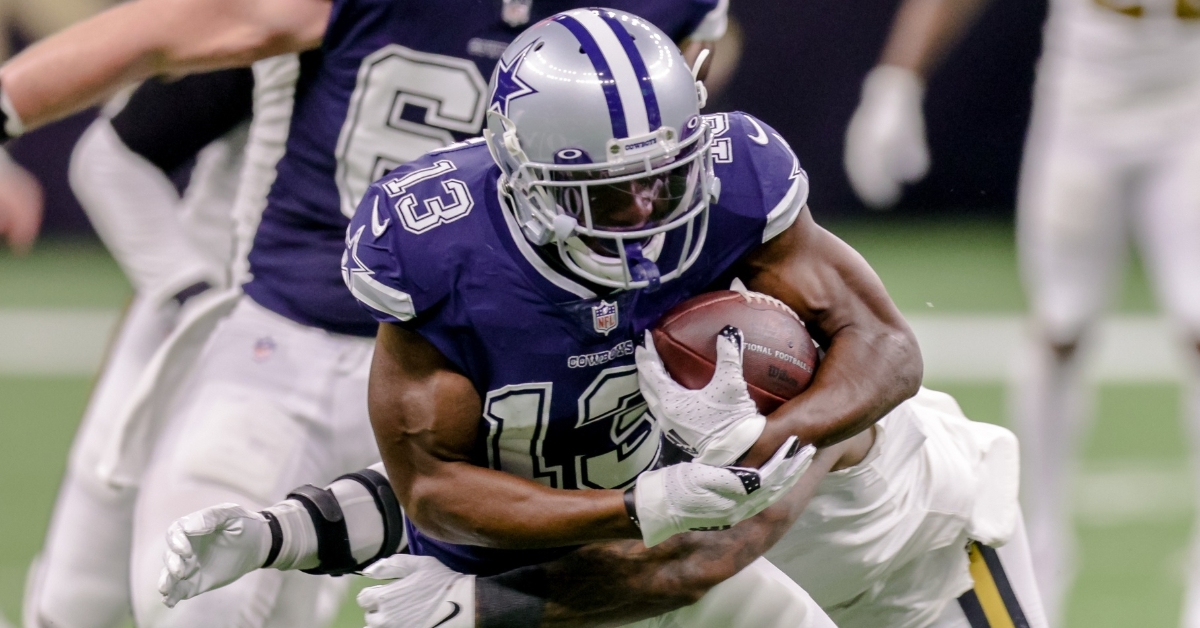 | | |
| --- | --- |
| Michael Gallup would fit nicely in Chicago | |
---
| | | |
| --- | --- | --- |
| Wednesday, March 9, 2022, 9:32 AM | | |
Over the next two months, we will get a good look at what this Bears team will look like in 2022. With Free Agency right around the corner, followed by the NFL Draft, new GM Ryan Poles is ready to make a statement to earn the trust of the Chicago faithful. That statement starts in the NFL draft by addressing the biggest need on this team of the offensive line.
Outside of that, there are pieces here, but some pieces need to be added to take this team to the next level. The offensive side of the ball is where the most work needs to be done, so look for the Bears to spend a ton of time investing on that side of the ball. I expect a lot of their draft capital to be spent on offense, but what about the free-agent class loaded with options this year.
This could go down as one of the best if not the best free-agent class in NFL history this year, so expect the Bears to be plenty active. While they may not be as active as some teams when you look at their cap space, you have to consider the possibility of making one splash move and letting the pieces fall into place after that. If they are going to make a splash move, why not go for WR as Allen Robinson will need to be replaced.
Throughout the season last year, the Bears lived and died by their QB position. Looking at who is available on the open market, former Dallas Cowboy receiver Michael Gallup would look real nice in a Bears uniform. Listed as the 40th best free agent this offseason, Gallup would be a top 5 receiver when you look at the rest of the free-agent class.
Andy Dalton opened the season as the starter and was injured multiple times, which paved the way for Justin Fields to become the starter. Fields showed plenty of potential during the season but lacked the composure that veterans typically have as he made costly mistakes throughout the season. For the Bears to take that next step as an offense, they need to prioritize helping Fields out to give him as many weapons as possible.
Getting another receiver to pair with Darnell Mooney will be huge for Fields and his development, so why not get a proven NFL receiver who could slide into a No. 2 role. That guy is Michael Gallup, as his days with the Dallas Cowboys could be coming to an end. To be clear, Gallup has never been a No. 1 target, but could get paid like a No.1 receiver this offseason as he has plenty of talent.
The 26-year-old out of Colorado St. has had a solid run with Cowboys hauling in 193 receptions for 2902 yards and 15 scores. His best season came in 2019 when he racked up 1109 yards, but he followed that up with 843 yards in 2020 and was on another 1000 yard pace this season before tearing his ACL midseason.
That is the hold-up on Gallup, as no one knows if he will be ready by week one or if he will miss a little bit of time. That alone could drop his price tag, and that could make him the steal of the free-agent class should someone get him cheap, and he proves he is ready to go by week one. Looking at his career, you will agree that most of those numbers are quality numbers for a No.2, which is the position he primarily played.
However, up until the Cowboys drafted CeeDee Lamb, which took reps away from Gallup, he proved he can be a No.1 and is now looking for a chance to become that. Plenty of coaches around the league love Gallup and what he brings to the table, but they also feel like he was underused the last two seasons.
That won't happen in Chicago as they need more playmakers, especially in the passing game. Not only can Gallup make plays, but he brings the physical nature of football with him, which a lot of the Bears receivers didn't have last season. Not as fast as Mooney, Gallup also gives the Bears another weapon to take the top off of a defense, which Robinson lacked last season. Although the price tag will be steep, the Bears need to make a run at him and potentially land him to improve their passing game.