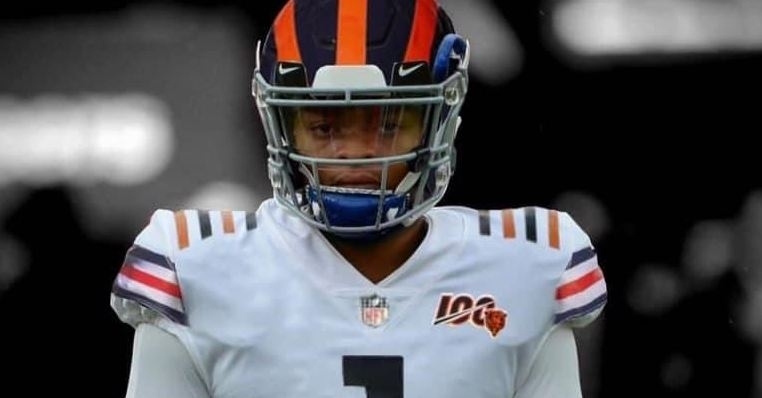 | | |
| --- | --- |
| NFL Quarterback Carousel 2021 | |
---
| | | |
| --- | --- | --- |
| Friday, May 7, 2021, 8:15 AM | | |
So far this offseason, we have seen many changes amid the starting quarterback position at each team. We have seen some legends retire, like Drew Brees and Philip Rivers, as well as some rookies finding their new homes.
But we at Bears HQ will break down all of the change that has happened for each team at quarterback.
NFC North
Green Bay Packers - The Packers, at the moment, still have Aaron Rodgers in line to be their starting quarterback in 2021. However, Rodgers has made it known that he does not want to be a Packer for long - so this answer could look a lot different come season time. Jordan Love is slated to back up whoever the QB is.
Chicago Bears - Mitchell Trubisky is gone and has been replaced by former Bengal and Cowboy Andy Dalton. Nick Foles is still on the team and a first-round pick from Ohio State Justin Fields — it will be a competition to see who starts.
Minnesota Vikings - Kirk Cousins, no change.
Detroit Lions - For the first time in over a decade, it will not be Matthew Stafford slotted to start in 2021. Instead, it will be former ram Jared Goff in line to play QB for Detroit.
NFC EAST
Washington Football Team - After letting Alex Smith go, the Football Team signed Ryan Fitzpatrick to compete with Taylor Heinicke for the starting job in 2021.
New York Giants - Daniel Jones, no change.
Dallas Cowboys - Dak Prescott is back from injury. He'll be back under center for the Cowboys in 2021.
Philadelphia Eagles - With Carson Wentz out of the picture, Jalen Hurts is in line to start at QB for the Eagles in 2021.
NFC South
New Orleans Saints - With Drew Brees retired, the Saints QB room has Jameis Winston, Taysom Hill, and rookie Ian Book in it.
Tampa Bay Buccaneers - Tom Brady, no change (Kyle Trask drafted to be a backup).
Atlanta Falcons - Matt Ryan, no change.
Carolina Panthers - The Carolina Panthers traded Teddy Bridgewater and have brought in Sam Darnold to be their new QB.
NFC West
Seattle Seahawks - Despite a lot of offseason drama, it remains Russell Wilson.
LA Rams - After trading Jared Goff, Matt Stafford will play QB in Sean McVay's offense in 2021.
Arizona Cardinals - Kyler Murray, No change.
San Francisco 49ers - Jimmy Garropolo is still in the picture, but Trey Lance was drafted No. 3 overall by the Niners and will play at some point this season.
AFC North
Pittsburgh Steelers - Ben Roethlisberger, no change.
Cleveland Browns - Baker Mayfield, no change.
Baltimore Ravens - Lamar Jackson, no change.
Cincinnati Bengals - Joe Burrow once healthy, no change.
AFC East
Buffalo Bills - Josh Allen, no change except Trubisky will be his backup.
Miami Dolphins - Tua Tagovailoa seems to have the job to himself.
New England Patriots - Cam Newton seems in line to start like last year, but Mac Jones will be a nice rookie QB for the Patriots.
New York Jets - No more Sam Darnold. Instead, it will be No. 2 overall pick Zach Wilson.
AFC SOUTH
Tennessee Titans - Ryan Tannehill, no change.
Indianapolis Colts - After Philip Rivers retired, the Colts acquired Carson Wentz from the Eagles to start at QB.
Houston Texans - No clue, It could be Deshaun Watson if his legal cases are settled; otherwise, Tyrod Taylor.
Jacksonville Jaguars - No. 1 overall pick Trevor Lawrence will start, Gardner Minshew, set to be backup.
AFC West
Kansas City Chiefs - Patrick Mahomes, no change.
Las Vegas Raiders - Derek Carr with Marcus Mariota as the backup, no change.
Los Angeles Chargers - Justin Herbert, no change.
Denver Broncos - A QB competition between newly acquired Teddy Bridgewater and Drew Lock.
*** Some of this may change before the season kicks off, but this is likely how it will look under center for most teams when the 2021 season begins.