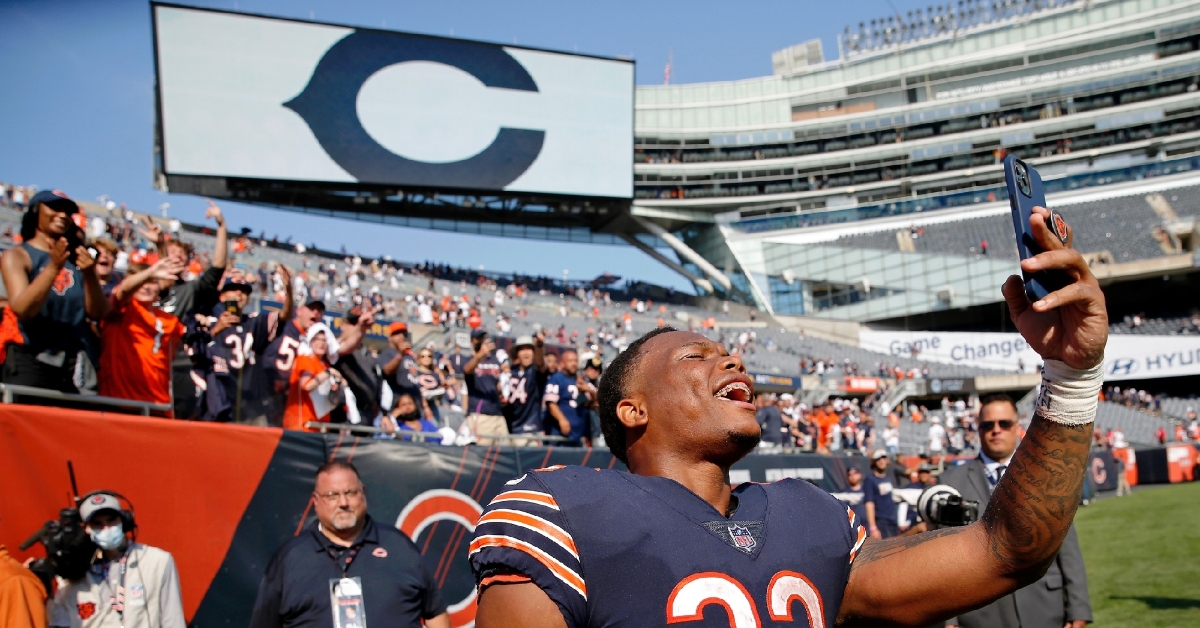 | | |
| --- | --- |
| Position-by-Position Breakdown for Bears vs. Cardinals | |
---
| | | |
| --- | --- | --- |
| Sunday, December 5, 2021, 8:36 AM | | |
The 4-7 Bears are back home to play the 9-2 Arizona Cardinals. The Cardinals have the best record in the NFL despite being plagued with injuries as of late, and the Bears are coming off a win that snapped their five-game losing streak on Thanksgiving.
Let's dive in and see where the Bears may have an advantage:
Quarterback
Justin Fields is not going to be able to suit up due to his rib injury, meaning Andy Dalton will be the starter again this week. This is a bit of a surprise because it seemed like he may have been able to play in week 12 if it were not for the quick turnaround for a Thursday game. Regardless, the
The Bears have had a mini bye with the extra few days to rest and prepare for this matchup. We know what Dalton brings to the table at this point. He will make a couple of good throws and a few "who was he throwing to?" ones as well. He has played solid for the most part this year and hopefully, he can keep it up this week against a very good team. The Cardinals have been without MVP candidate Kyler Murray at quarterback for the past three games and still managed to go 2-1. It looks like he will be able to return this week, but he is officially listed as a game-time decision. Assuming Murray suits up, he is as dynamic as they come at the quarterback position. The offense goes exclusively through him in the run and pass game, and he is a threat to make a big play at any time.
Advantage: Cardinals
Running Backs
David Montgomery has not been able to get it going again since returning from injury and still has not found the endzone during this time either. With the Bears playing a great team with a dynamic offense, I would think the Bears are going to try and run the ball to control the clock as long as they can keep the game close. The Cardinals have made one of the best under-the-radar free-agent pickups this offseason to sign running back James Connor. He is second in the NFL in touchdowns with 12, while also being tied for 10th in rushing attempts too. While Connor's production as of late has been better than the Bears' running game, Montgomery is the better player and gives the Bears the edge here.
Advantage: Bears
Wide Receivers
Allen Robinson will not be playing again this week for Chicago, and neither will speedster Marquise Goodwin. This means Jakeem Grant will continue to get more playing time alongside number one option Darnell Mooney. Look for the Bears to give these receivers a couple of rushing attempts to add a wrinkle to the offense and compensate for the lack of separation the unit will get downfield. Regardless, an already thin group remains depleted from injury.
The Cardinals have one of the better overall receiving groups in the room, led by All-Pro DeAndre Hopkins who is expected to be back after a three-week absence. Hopkins is a superstar, but he is not the only threat the Cardinals have at receiver. Christian Kirk is a very underrated player who gets a lot of looks and veteran AJ Green is still playing well in his first year with the team. Rookie Rondale Moore is a very exciting player in his own right that is used as a gadget guy and maybe the biggest threat to break a big play outside of Hopkins.
Advantage: Cardinals
Tight Ends
The one weakness on the Cardinals offense was addressed via trade mid-season by acquiring Zach Ertz from Philadelphia. Ertz instantly made an impact on the team and allows their offense to attack the middle of the field. The Bears' Cole Kmet had a great game on Thanksgiving bringing in eight catches for 65 yards. Jimmy Graham continues to get more playing time with Allen Robinson being out and caught a touchdown last week. Both players should continue to be utilized, but Zach Ertz is more involved than both and a better player.
Advantage: Cardinals
Offensive Line
The Bears offensive line continues to play well as of late. Reports are saying that rookie Teven Jenkins will be suited up for the first time this season, which means as early as next week we could see him starting. Jenkins' growth is a huge piece to the Bears moving forward, as it looks like fellow rookie Larry Borum is a good player on the line too. The Cardinals have a solid overall offensive line, lead by a group of veterans. Outside of their second-year guard Josh Jones, all of their other starters have been in the league for five+ years with the star center being in his 11th season. They have done a great job compiling veterans to fill out the group.
Advantage: Cardinals
Defensive Line
Akiem Hicks remains out for the Bears this week, as is Mario Edwards Jr. Getting pressure on Kyler Murray while keeping him in the pocket will be important, so this group will have to be ready to get him on the ground if the edge rushers at linebacker are able to keep him inside. The Cardinals lost star JJ Watt for the regular season due to injury, which means the best player on their line now is likely Jordon Phillips. Even with Hicks out, I give the Bears the advantage here.
Advantage: Bears
Linebackers
Robert Quinn is coming off a much-deserved NFC Defensive Player of the month for November, after collecting 5.5 sacks and being a bright spot in a bad stretch of games for the Bears as a whole. Roquan Smith is listed as a game-time decision and would be a huge blow if he was not able to play. The Cardinals have a good linebacking core as well led by pass rusher Chandler Jones. Jones had a game earlier this year where he registered five sacks by himself and has nine on the season. Isiah Simmons is another name to look out for due to his speed and versatility to play sideline to sideline and cover in the passing game. Assuming Roquan Smith plays for the Bears, I give the Bears the edge here.
Advantage: Bears
Secondary
The Cardinals have a bona fide playmaker at safety with All-Pro Budda Baker. Dalton has to know where he is at all times and make sure not to float a ball for too long because Baker likely will get there to make a play on it. Cornerback Byron Murphy Jr. has also had a good year with three interceptions. The Bears have failed to make big plays from the secondary all year long, but this week with them being a big home underdog would be a great time to change that narrative. They will have a very hard challenge with this Cardinals offense and hopefully, Jaylon Johnson is able to make his presence known against one of the best in the league with the DeAndre Hopkins matchup.
Advantage: Cardinals
Special Teams
Kicker Cairo Santos flashed his clutch gene again making the game-winning kick as time expired last week. The Cardinals have a very good kicker/punter combination in Matt Prater and Andy Lee. Rondale Moore in the return game for Arizona is a big advantage as well, which is why I give the nod to the Cardinals.
Advantage: Cardinals

Tags: Bears Football
,
Justin Fields
,
Andy Dalton
,
David Montgomery
,
Allen Robinson
,
Marquise Goodwin
,
Darnell Mooney
,
Cole Kmet
,
Jimmy Graham
,
Akiem Hicks
,
Robert Quinn
,
Roquan Smith
,
Jaylon Johnson
,
Cairo Santos