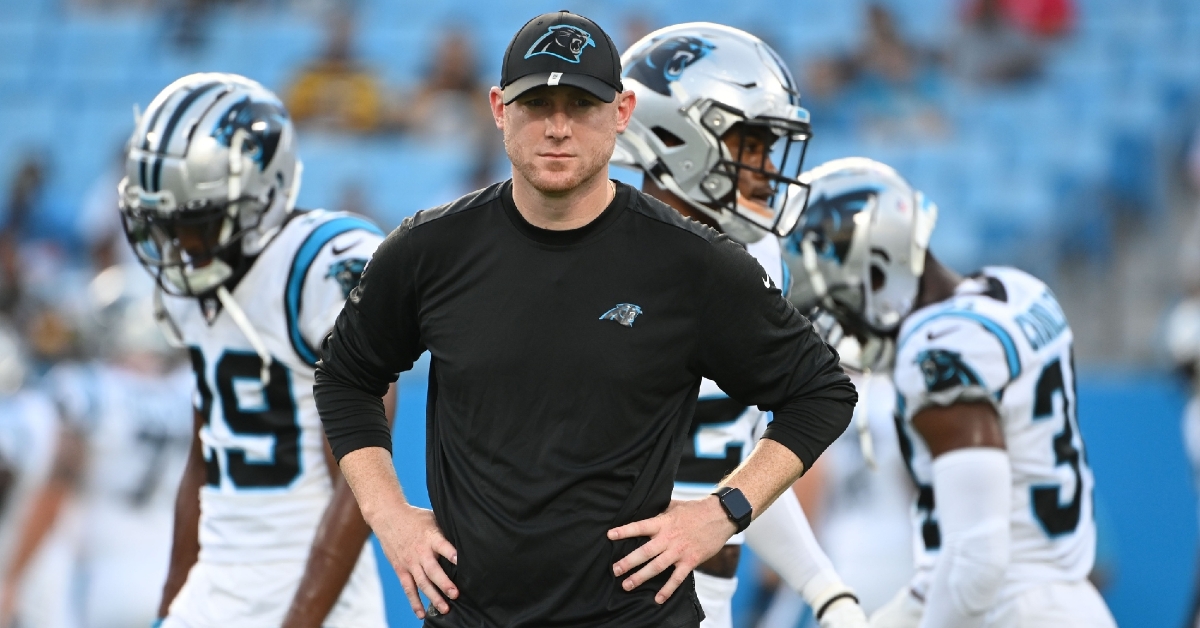 | | |
| --- | --- |
| Potential OC options for Bears | |
---
It is official. After coming to terms on Wednesday, Matt Eberflus has been named the 17th Head Coach in franchise history. Considering that he was one of the final three candidates that the Bears listed, it doesn't come as a surprise, yet some fans are questioning the hire.
All offseason long, fans wanted this team to go in an offensive direction by hiring one of the up-and-coming play callers. Instead, they go defense with Eberflus, and now it is time for him to build his coaching staff. Since joining the Colts, Eberflus has done a phenomenal job transforming that defense into one of the league's best.
Now that he is in Chicago, he will look to translate that success as a head coach and bring the Bears back to respectability. Like most head coaches, Eberflus will most likely bring in his own staff, which means the rest of the Bears staff will be looking for work elsewhere. You could argue that Special Teams coach Chris Tabor should be retained, but there are surfacing reports saying that Rich Bisaccia could be in the mix to be the Special Teams coach should Tabor not be brought back.
Outside of that, the most crucial position for Eberflus to fill is the offensive coordinator, as they will be given a tall task. Not only are they going to come in with hopes of improving one of the worst offenses in the game, but they will be tasked with developing Justin Fields and turning him into an NFL start. I am sure Eberflus has plenty of names in mind, but here are just a few names surfacing right now.
Joe Brady
Considering how Brady is represented by the same person that represents Poles and Eberflus, Brady is a name to watch in terms of Bears offensive coordinator options. One year after receiving several head coaching interviews, Brady is looking for work as he was fired midseason by Carolina. That doesn't seem like a good choice for the Bears, but keep in mind Brady was put in a bad situation with the Panthers, so I am not going to hold that against him.
Brady's offensive philosophy stems from his time at LSU when he had Joe Burrow, Jamar Chase, Justin Jefferson, and several others. Granted, those same weapons are not in Chicago, but he has Fields with whom he could do good things. This is a hire that might make Bears fans cringe, but there are some merits behind it that could prove dividends for the Bears.
Kevin Patullo
Another name to watch in the OC search for the Bears is Kevin Patullo, who recently worked as the Eagles passing game coordinator. Patullo may not be a household name, but he does have experience with the Chiefs, Bills, Titans, Jets, Colts, and most recently, the Eagles. He has held various positions on the offensive side of the ball, so moving him to OC may be a good thing.
Looking back at the Eagles season, you have to give Patullo a ton of credit to go with Nick Sirianni. After the team started 2-5, many thought they would be in for a long season. Instead, the team finishes the year 7-3 to clinch the final playoff spot in the NFC. Over that time, the offense came to life as they scored 40 points in two of those games and 30 points in three more contests.
Known as a run-first team as they had the top rushing offense in the NFL, Jalen Hurts improved as a passer as the season went on, which you can credit to Patullo. Fields and Hurts offer a very similar skillset, so this guy would know what he is doing when it comes to helping a young QB come into his own.
Kyle Shanahan
Another name to keep an eye on is Kyle Shanahan, but for different reasons. The head coach of the 49ers is preparing for his second NFC Championship game as a head coach, so there is no way he takes a step down to join the Bears. Why mention his name if he will remain the Head Coach in San Franciso.
According to ESPN Chicago, a lot of people expect Eberflus to look at the Shanahantree to find his next OC. Whether that is Mike McDaniel, who is the current offensive coordinator for the 49ers, or someone else, the name Shanahan is well respected and highly successful in the NFL. This is a name that Bears fans would entertain, and having someone join their staff that learned under him would be huge.
We are just one day into the Eberflus era, so there are many things to sort through. However, one thing remains the same: Eberflus will build a great coaching staff to help him be successful at this level. If that happens, this team has the talent to make some noise so let's see how things unfold in the coming days.