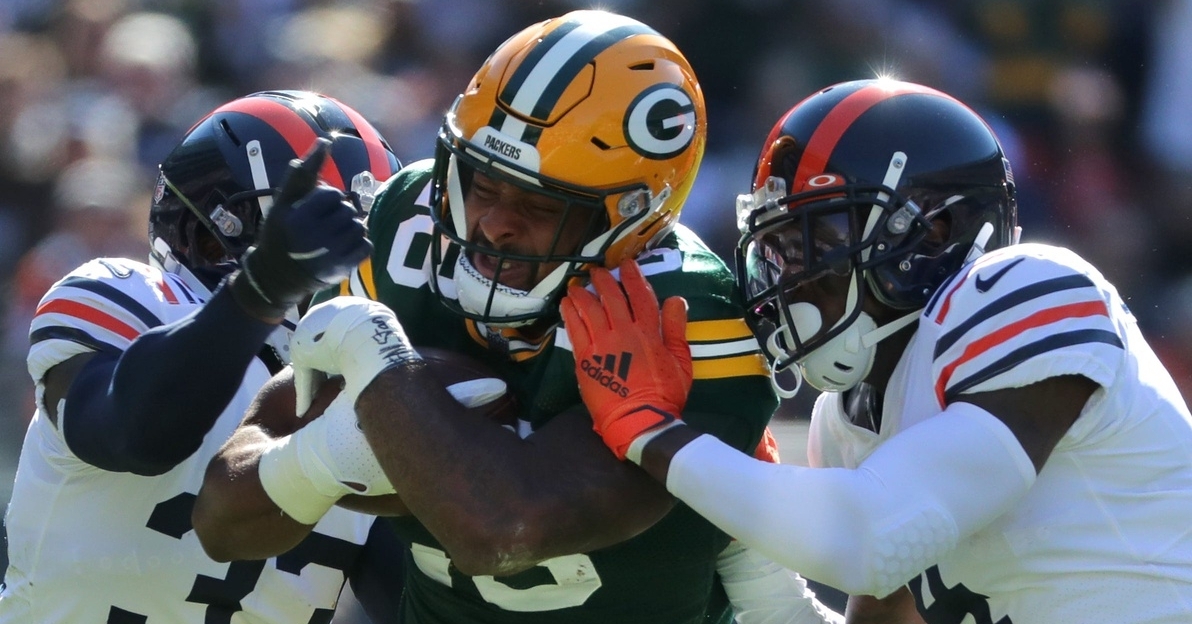 | | |
| --- | --- |
| Prediction, Preview for Bears-Packers | |
---
| | | |
| --- | --- | --- |
| Sunday, December 4, 2022, 10:10 AM | | |
It is getting close to that time again when the NFL's oldest rivalry between the Green Bay Packers and Chicago Bears is set to take place for a second time. Unlike in past seasons, where the packers have held a stranglehold on the NFC North by this time, Green Bay comes into play at 4-8 while the Bears are just 3-9. That is good for third and fourth place in this division which is hard to fathom when Aaron Rodgers is on the other side.
This week will also come with a lot of intrigue as Justin Fields is still nursing a sore shoulder as his status remains day-to-day, while Rodgers left his last start with an abdominal injury. All signs point to him playing this weekend, but how severe that injury will determine how much success he has against the Bears this season.
At this point in the season, the Bears are playing for draft positioning as their playoff hopes are over. Green Bay is in a similar position, although they could still sneak in if they manage to win out and get help from other teams. An easy task, no, but we have seen something like that happen before with Green Bay, and it helped lead them to a Superbowl win.
Here are some things to look for as week 13 approaches between the Bears and Packers:
How will the loss of Mooney affect the passing game?
In case you missed it earlier in the week, the Bears injury report is not good, and it is the worst it has been at any point this season. With so many bodies hurt, the initial injury report looks like a preseason roster, as it is hard to figure out who is hurt or not hurt.
Perhaps the most significant injuries on this team are on the offensive side of the ball, and all three play a huge role in the team's success. Khalil Herbert and Fields were out last week, but now a new name Darnell Mooney has landed on the list, and it could get worse from there. According to reports, not only will Mooney miss this game, but there is a good chance he will be done for the season as surgery is possible.
That is not good when you consider the Bears passing attack is dead last in the NFL, and now you are taking away the best WR on this team, and this attack will be worse. If Chicago expects to get the passing game going, it won't come easy, and they will need guys like Chase Claypool, Cole Kmet, N'Keal Harry, and others to step up.
786 and counting
Not only is this the longest-tenured rivalry in the NFL, but these are two of the oldest franchises in the game. With that comes tons of accolades, as both of these teams rank No. 1 and No. 2 in all-time NFL championships won. That doesn't include Superbowls, however, where the Packers have four wins compared to the Bears one.
Moreover, Green Bay has dominated this series over the last 30 years and has taken a 10-game lead all time because of that. Add in the overall success of the Packers compared to the Bears in that same time frame, and Green Bay has reached 786 wins. That is the same number of wins as this Bears team, as bragging rights will be on the line this weekend.
While a win will not push the Bears over the top in the all-time series, it would give them 787 wins to move them ahead of Green Bay in that category. At this point, any advantage over the Packers is worth noting, and the Bears are hoping to come away with some bragging rights this weekend.
I OWN YOU
Chicago fans will never forget those words from Rodgers as he screamed them at Bears fans last season. While that is still a tough pill to swallow for any Chicago fan, in Rodgers defense, he is not wrong as he has posted a 21-5 all-time mark against them. That includes an NFC Championship victory over Chicago as part of his lone Superbowl ring.
The success the Packers have had against this team over the past three decades is well documented, but having Brett Favre and Rodgers as the QBs during that time has certainly helped. While it is impossible to think Rodgers will play long enough for the Bears to draw even with him, they can at least make him eat his words sooner or later. Maybe that comes this week as the Bears try to pull even with Green Bay in the standings.
Prediction: Bears lose 34-14
This is going to be a very interesting game for a variety of reasons. First, you have to look at the injury front and what the Bears are dealing with. Not only is their leading WR done, but so is their backup RB and potentially their starting QB. That puts this team at a huge disadvantage, especially if Trevor Siemien is called on to start again.
Before last week, Chicago was making offensive strides offensively, but their lack of defense did them in. That defense could be in trouble again this week as the Packers still have the weapons to make them pay and could use this game as a get-on-track showing. I'm not too fond of the Bears chances in this one at all, with or without Fields, as they limp into the bye week, losing 34-14.