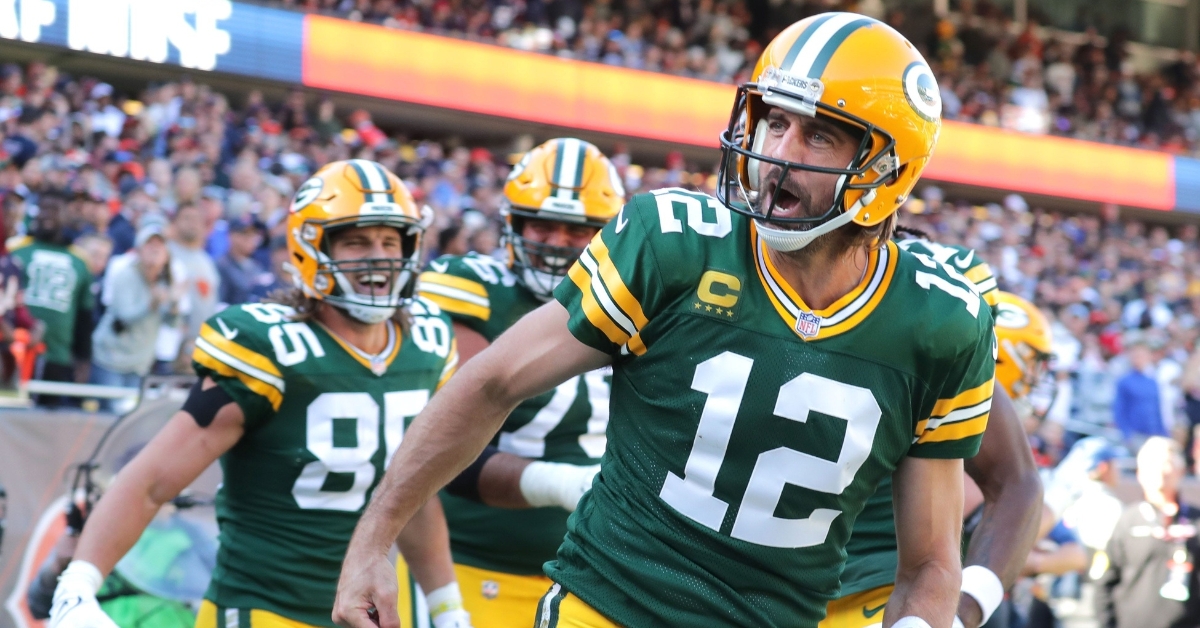 | | |
| --- | --- |
| Prediction: Three things to watch for Bears-Packers | |
---
| | | |
| --- | --- | --- |
| Saturday, September 17, 2022, 3:00 PM | | |
The Chicago Bears will renew their historic rivalry with the Packers on Sunday as they get to treat their fans to some primetime football. This has the potential to be a massive game for Chicago as a win over Green Bay would put them two games up on them in the standings and three if you count the tie-breaker.
Not only have the Packers had the Bears number for the past 30 years, but Lambeau Field has been a house of horrors with just two wins in their last 15 tries and their last win coming in 2015. If the Bears want to dethrone the kings of the North, Chicago needs to find a way to win in Green Bay. Here are some things to look for ahead of week 2.
Revenge against Aaron Rodgers
This is not necessarily a revenge game against the Bears, but a revenge game against the NFL. After a lot was made of the Packers trading away Davonte Adams to the Raiders and a cast of new receivers coming in, fans found out how quickly Rodgers can get frustrated.
After the rookie Christian Watkins dropped a sure touchdown in the first quarter last Sunday, you could see Rodgers trust with his receivers slowly diminish as the game went on apart from Randall Cobb. As a result, Rodgers had one of his worst career games against Minnesota, and the sheer body language from Rodgers was not great.
However, the Bears can't take that lightly, as he has owned Chicago since becoming the starter for the Packers. Both teams know how important it is to avoid an 0-2 start, and Rodgers wants to come out and show the world that week one is just one game. Chicago needs to be ready for whatever he can throw at them.
Aaron Rodgers against the Chicago Bears since 2014:

13-2
40 TD
2 INT pic.twitter.com/UpBRCQMi4I

— CBS Sports (@CBSSports) September 16, 2022
An Eddie Jackson resurgence must continue
Not only did the Bears defense play exceptionally last week, but Eddie Jackson had a phenomenal game and was starting to look like the player from the 2017-18 seasons. The play he showed those two years landed him the highest-paid safety contract in NFL history, but he has been a shell of himself since then.
After new head Coach Matt Eberflus put Jackson on notice this offseason, the message was received loud and clear as he was phenomenal on Sunday. Jackson picked up his first interception since 2019, but was around the ball for what seemed like the entire game.
When he plays as he did on Sunday, the Bears defense is at an entirely different level and one that can be championship caliber. While that may not happen without another pass rusher across from Robert Quinn, this team does have the potential to be very good on defense, and that all starts with Jackson.
Mentally, physically & spiritually, @BoJack4 is in the best place he's been since 2018. pic.twitter.com/ykKswfgOER

— Chicago Bears (@ChicagoBears) September 17, 2022
Despite earning the win last week, there was a lot left to be desired when discussing Fields and his play on the field. I understand the weather conditions were not ideal, but he played a terrible first half that saw him register just 19 yards passing. Once the second half began, Fields started to play the style that fits him best, which sparked a massive comeback for Chicago.
Fields is one of the more athletically gifted QBs in this league, and for him to reach the levels the Bears want him to, he needs to use that athleticism to his advantage. The problem is he doesn't use it consistently enough, which is why you have games like you saw on Sunday.
When it comes to playing Green Bay, Fields needs to be at his best early and often as the Bears can't afford to fall behind early. Hopefully, first-year offensive coordinator Luke Getsy learned a few things during the second half of last week's game that he can use to his advantage against his former team.
Prediction: BEAR DOWN
Judging by what the fans have seen from the Bears throughout the preseason and then again in week one, Chicago may not be that far off from competing for an NFC North title. They can further prove they belong with a big win against Green Bay.
This is the longest-lasting NFL rivalry and has a ton of history attached to it. Records aside, these two teams will lay it on the line, and more often than not, the games are close until the final minutes. Look for that again this week, as the Packers could be facing a must-win scenario while the Bears are looking to remain unbeaten. I expect Rodgers to play much better, but it may not be enough as Chicago wins 20-17 to move to 2-0.
https://www.youtube.com/watch?v=jHX9oKm7Y3w