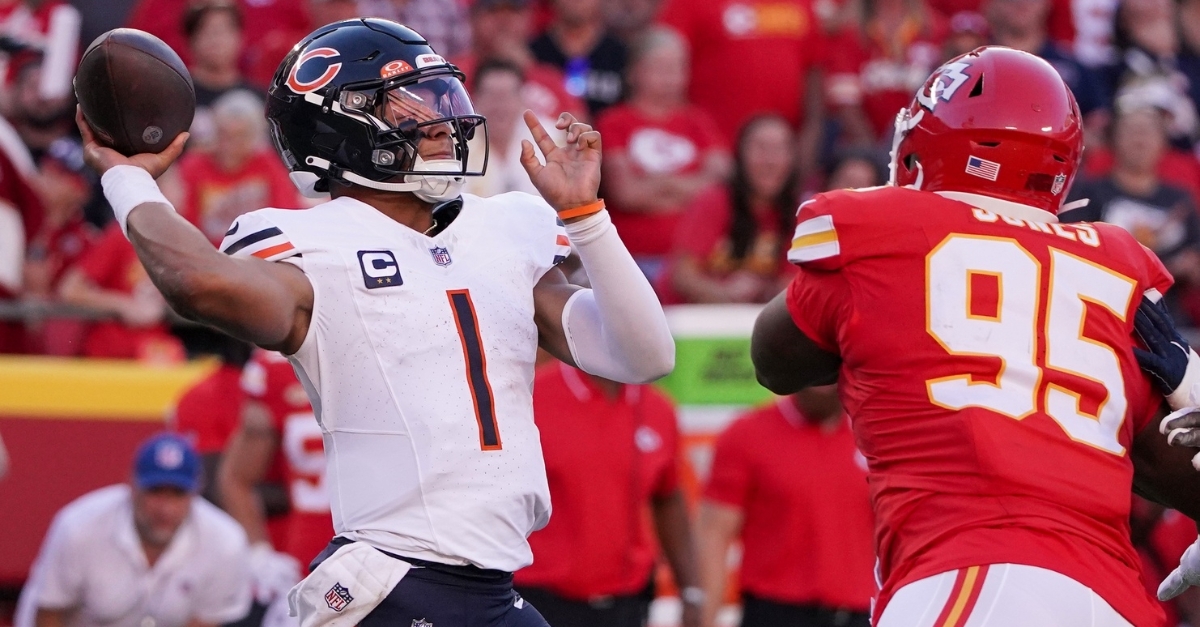 | | |
| --- | --- |
| Report Card: Bears Position Rankings after loss to Chiefs | |
---
The Bears began this season with heightened expectations after they finished with a league-worst 3-14 and traded the No. 1 overall pick in a deal to acquire DJ Moore and draft capital. The Bears added exponentially to the offensive line and the defense and were widely anticipating a big improvement in 2023.
However, it has gotten off to an extremely rough start week on against Green Bay, Tampa Bay, and Kansas City. It was already ugly, but I don't think anybody could have expected it to look this abysmal for the Bears.
The Bears fell to the Chiefs 41-10 in Kansas City on Sunday.
It's time for us to hand out some week 3 grades:
QUARTERBACK: F
Justin Fields was the Bears QB on Sunday and was the team's leading passer and rusher against KC. Fields was 11-22 for 99 yards with one interception and one touchdown. Fields carried 11 times for 47 yards but was under pressure and was thoroughly overmatched on the field. Although he only mustered up three yards on the ground. Once again, he was under heavy pressure, getting sacked three times. Fields was terrible. If the Bears want to get where they want to go, he needs to be better. Otherwise, it may be time to start thinking about Fields' replacement.
RUNNING BACKS: D
Khalil Herbert led the way in a backfield that added former Panther D'onte Foreman (who was a healthy scratch) and rookie Roschon Johnson. Herbert had seven carries for 31 yards and two catches for four. The rookie Johnson had eight carries for 38 yards and two catches for 11 yards. The Bears were the league's top rushing offense a year ago, expect them to continually get this unit involved, and it should open up the pass game as well.
WIDE RECEIVERS: F
This unit was one that was supposed to take one of the largest steps from last season to this one, and it has not been much better. Chase Claypool had just one catch for 15 yards. DJ Moore had three catches for 41 yards and a TD which was nice to see. Darnell Mooney was the star of the group in week one and has not had a catch since. Tyler Scott had one catch as well. This group needs to be better in the coming weeks.
TIGHT ENDS: D
Highlighted by the newly paid Cole Kmet, this group was average. Kmet had two grabs for 22 yards and was neither dynamic nor detrimental in the loss.
OFFENSIVE LINE: F
Similarly to last season's debauchery, the offensive line was horrid in week three. Justin Fields was under heavy pressure, which resulted in three sacks. The line also struggled to open up holes in the run game. A good Bears season is dependent on this group improving.
DEFENSIVE LINE: D
The defensive line was poor in both stopping the run and generating pressure in the passing game. The Bears did not generate even one lone sack in this unit's disappointing outing for the second straight game.
LINEBACKERS: C-
No Roquan Smith headlining this group, but they are still the defense's strengths. New additions T. J. Edwards and Tremaine Edmunds combined for 24 tackles. They will remain the base of this Bears defense. Jack Sanborn added a garbage time pick off Blaine Gabbert.
SECONDARY: D
Patrick Mahomes shredded the Bears. Kyler Gordon suffered an injury last week, Eddie Jackson was not out there, and Jaylon Johnson was not very effective. Jaquan Brisker was solid, but it was not enough to save this unit's grade. The Bears were gashed for over 300 passing yards. Quindell Johnson came away with an interception late.
SPECIAL TEAMS: C
Nothing special here. Cairo Santos was 1/1 on field goals and made his PAT, and Trenton Gill got one of his five punts inside the 20.
PLAY CALLING: F
The third game of the second season of the Matt Eberflus era was embarrassing for the play-calling department. Either the organization has no trust in Justin Fields, or they have no idea what he can do — and both are an issue. We'll see if it turns in the coming weeks, but I am tired of screen passes and lateral moving runs. This offense needs to get downfield.
The Bears play the Broncos this week and will try to get their first win over a team who just lost by 50.

Tags: Bears Football
,
DJ Moore
,
Justin Fields
,
Khalil Herbert
,
Roschon Johnson
,
Chase Claypool
,
Darnell Mooney
,
Tyler Scott
,
Cole Kmet
,
Roquan Smith
,
Tremaine Edmunds
,
Jack Sanborn
,
Eddie Jackson
,
Jaylon Johnson
,
Jaquan Brisker
,
Quindell Johnson
,
Cairo Santos
,
Trenton Gill