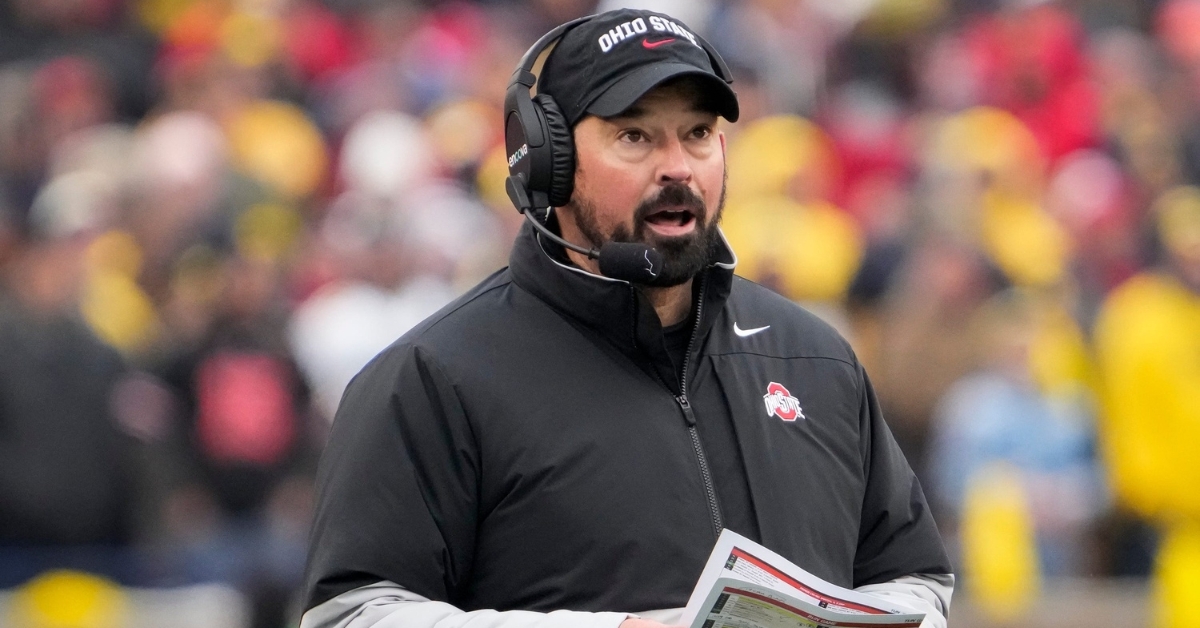 | | |
| --- | --- |
| Ryan Day could be an option for Bears | |
---
Over the last few days, the College football world was turned upside down as several big-name coaches have found new homes for the 2022 college season. Much like the transfer portal for players, the coaching carousel appears to be a hot commodity this year as the landscape of College Football will look different next season.
For starters, Florida found their new head coach prying the coach from Louisiana Lafayette away from the Rajon Cajons. USC upped the ante by grabbing Lincoln Riley away from Oklahoma before LSU made the biggest splash by landing Brian Kelly from Notre Dame. That creates some intrigue in the NFL market as several experts expect current Arizona Cardinals coach Kliff Kingsbury to be a hot commodity for one of the top NCAA jobs in the near future.
None of these have correlations to the Bears and their future, but one coach may find his way into the Bears plans should he want the gig. I am talking about Ohio St. Head Coach Ryan Day, who is coming off a loss to Michigan on Saturday. Prior to the game, ESPN College Football analyst Lee Corso insinuated that Day wasn't long for the Ohio St. gig and that the fans need to appreciate him while he is there.
Whether that means he is ticketed for another NCAA job or an NFL job is a whole different story, but it is worth talking about, especially for the Bears. Corso not only thinks that Day is going to the NFL when he is ready, but he feels he is NFL ready now and that it is only a matter of time until a particular team comes calling to appoint him head of their organization. Later in that same segment, the Bears were mentioned as a possible destination, and let me tell you what, that is intriguing.
Many Bears fans are not going to settle for mediocrity again and have insisted that the next head coach of the Bears needs to come with prior experience. However, hiring a college coach, and a successful one for that matter, may not be the worst idea in the world. We have seen it work in the past, with Kingsbury working wonders at Arizona and Matt Rhule building a tough program in Carolina even though the wins haven't translated yet.
However, some of the most successful college coaches, Nick Saban and Steven Spurrier, never had the same level of success at the NFL level, so hiring a college coach doesn't always work out. Day is an intriguing name mainly because of what he has accomplished in such a short time with Ohio St. Not only has he posted a 33-4 record with the Buckeyes, his loss to Michigan on Saturday was his first Big 10 loss as a head coach which is an impressive feat, to begin with.
Day is also someone who fits in the Kingsbury mold and knows what it takes to build an offense. Looking at what Kingsbury has done with Arizona, he drafted a QB in Kyler Murray and then created a system around him to help him succeed, put up points, and lead to wins. Not only has that happened, but the NFL is copy cat league, and Day is someone who I feel would do the same.
Getting back to the Bears for a moment. Should Day come to Chicago, he already has one step out of the way as Justin Fields was drafted this season. That means that Day doesn't need to find his future star, but instead add pieces around him to create the best offense possible. It does help that Fields was the starter under Day at OSU for a few seasons, so the two are incredibly familiar with each other and have worked well together.
When you consider that OSU is a college football juggernaut, I find it highly unlikely that Day would leave for any NFL job. He is a great coach, loaded with success, and someone who is making a ton of money. To come to the NFL, he would need to be paid handsomely, and it would have to make sense. The Bears job is intriguing because of the tradition and history of this organization. It also presents the ultimate challenge to win, and if Day or anyone can win here, there are enriched in Chicago immortality.
The final six games of the season will tell fans a lot about this organization and what they feel about Nagy. It seems that unless this team can pull off a miracle and make the postseason, Nagy will be out the door come black Monday. Get ready for an offseason filled with coaching rumors, and Day is finding his name listed as just one of what could be plenty of coaching rumors in the coming weeks.