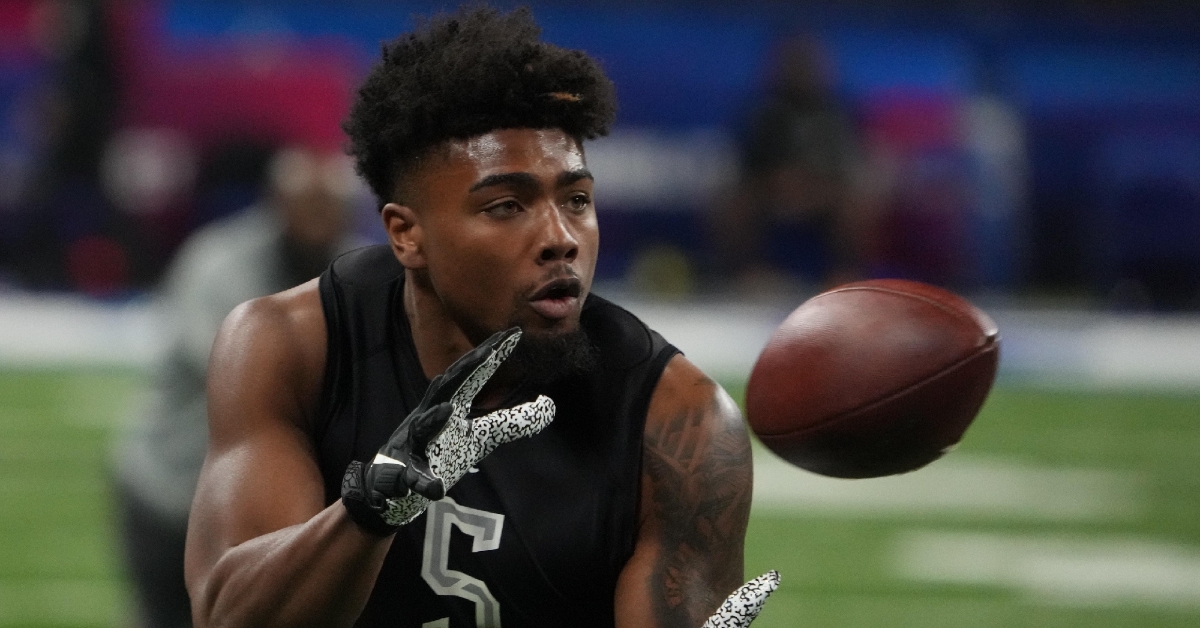 | | |
| --- | --- |
| SEC playmaker Treylon Burks could fall to Bears in Round 2 | |
---
When you talk about college football, college football is king in the SEC conference. Again, that was the case this season with the Georgia Bulldogs bringing home the National Championship. That makes three consecutive National Champions hailing from the SEC as that conference continues to set the standard for the rest of the NCAA.
As you look up and down the Bears roster, you can see an improved roster, but a roster that still has some holes. One of those holes is at the WR position, where they still need to replace Allen Robinson. Darnell Mooney was the most trusted option on this roster last year and will return for his third season. Apart from him, the Bears don't have many options, so that will have to be taken care of.
There have been rumors about the Bears trying to draft Justin Fields former college teammate Chris Olave, but I don't see that happening unless they trade into the first round. However, when you pick No.39 and No. 48, there will still be plenty of great options to have.
One of those WRs has long been considered a first-round talent, but may be falling to the second round due to the rise of other prospects. That man would be Arkansas WR Treylon Burks. Yes, another SEC playmaker is being highly regarded, and that shouldn't come as a surprise, but Burks has the potential to be a game-changer.
Burks has long been seen as a first-round talent, but with other prospects starting to improve their stock at pro days, he could find himself falling to day 2. If that is the case, he falls right into the Bears lap, and they would be foolish not to make a run at him.
At 6-3 and 225 pounds, Burks is a big receiver, which this team needs. Since the departure of Robinson, Chicago doesn't have a WR on the roster taller than 6-2, so adding size to that position is a must. Going back to 2019, you will see that Burks has been one of the best receivers in the NCAA and has become one of the more accomplished ones.
After earning all-freshman honors in 2019 to go with second-team SEC in 2019 and 2020, Burks upped his play to take home first-team SEC honors this past season. This past year was his most productive season, which bodes well heading into the draft. Not only did he haul in 66 receptions, but he tallied 1114 yards. He added 11 touchdowns to that line which is incredible production.
He added 14 carries for 112 yards to go with one touchdown to make things better. That shows how versatile he is, which is something the Bears would love to maximize that versatility in more ways than one as the offense needs to get more creative.
When you look at the WR draft class this year and compare resumes, Burks may have the best resume, which is noteworthy when you look at the conference he came from. Not to get too excited on this, there is an excellent chance that he goes in the first round, but should he fall to day 2, the Bears have to be ecstatic and ready to make a move.
One thing fans need to consider is when you hear first-round talents falling to day 2; it doesn't mean they are bad. That means that teams will be reaching for other players, particularly QBs. The Bears need to hope that happens again as it will open the door for them to land Burks.
Whatever happens, the Bears are positioning themselves to be in a good spot to draft one of the better playmakers in this draft. That alone will help Justin Fields and could help this team unlock some of the offensive issues they have dealt with the last few seasons.