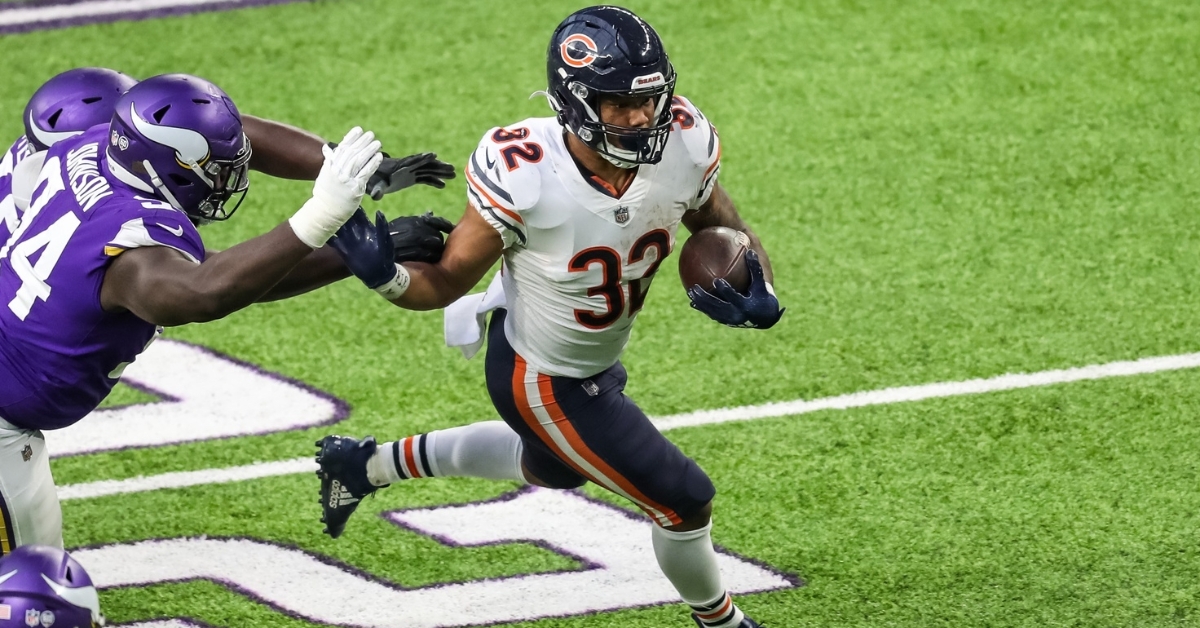 | | |
| --- | --- |
| Sit or Start 'em in Fantasy Football: Bears vs. Commanders | |
---
This past Sunday, David Montgomery had a solid game against the Minnesota Vikings, while Darnell Mooney only had 52 receiving yards. However, Justin Fields had his best fantasy game of the season, so there may be some fantasy upside for him later in the season.
David Montgomery - Start
Montgomery had the best game of the season so far. While he only had 20 rushing yards, he had his first touchdown of the season, as well as four receptions for 62 yards. Prior to the game against the Vikings, he only had five receptions for 38 yards on the season. He's back to full health, and the Bears always rely on their running backs, meaning Montgomery will get a lot of touches going against the 14th rushing defense in the NFL in the Washington Commanders, this could provide a challenge for Montgomery, but he will still have solid production Thursday Night.
Darnell Mooney - Start in some Leagues
As he proved last week, he's too much of a risk to start in 8- or 10- team leagues. But, Mooney did have 52 receiving yards, so that at least allowed him to have some decent fantasy numbers. With bye weeks starting in Week 6, there are some key receivers that will not be playing this week, such as Brandin Cooks with the Texans and Davante Adams with the Las Vegas Raiders. This provides more of a reason to start Mooney in some fantasy formats. Washington has the 19th-ranked passing defense, which could provide Mooney with an opportunity to get some more receptions.
Cole Kmet had his most receiving yards of the season, with 45 yards on four receptions. While this could suggest that Kmet is on the rise and could be getting some better numbers, he hasn't had that break-out game yet that would lead to starting him. He's not a bad idea to keep around and maybe start if you are without Darren Waller (Raiders) or TJ Hockenson (Lions). But overall, he should be kept on the bench until he has gotten some more receptions and yards.
Justin Fields - Sit
The Chicago Bears are still last in passing yards per game with an average of 116.6 passing yards per game (31st in the New York Giants with 154.2 passing yards per game). However, second-year quarterback Justin Fields is coming off his first game of the season with over 200 passing yards. He also rushed for an additional 47 yards. In addition, the game against the Vikings marked his first game with a passing touchdown since the season opener. Still, Fields has not proven to be consistent with his fantasy numbers, and there aren't any of the top fantasy quarterbacks with a Week 6 bye. So, Justin Fields is still not considered a starter at this point in the season. Week 7 may be a better time to start him since Jalen Hurts, Matthew Stafford, Kirk Cousins, and Josh Allen will all be on bye.
With David Montgomery back, there is no reason to consider starting Herbert. He will still see some action every now and then, but not enough to warrant starting him. However, it may not be a bad idea to keep him on your bench if you can in the event that Montgomery has any other injuries later in the season.
Chicago Bears Defense - Start
The Washington Commanders rank No. 26 in scoring offense, which bodes well for the Bears fantasy defense. This could garner a good amount of points, as well as getting a few sacks. Furthermore, the Commanders have the second-worst turnover margin in the league, only generating one turnover on defense and turning the ball over eight times on offense. Six of these turnovers were from interceptions and the other two were lost fumbles. The Bears defense has five interceptions this year and three fumble recoveries. So, it seems promising that the defense will be able to generate some turnovers on Thursday.