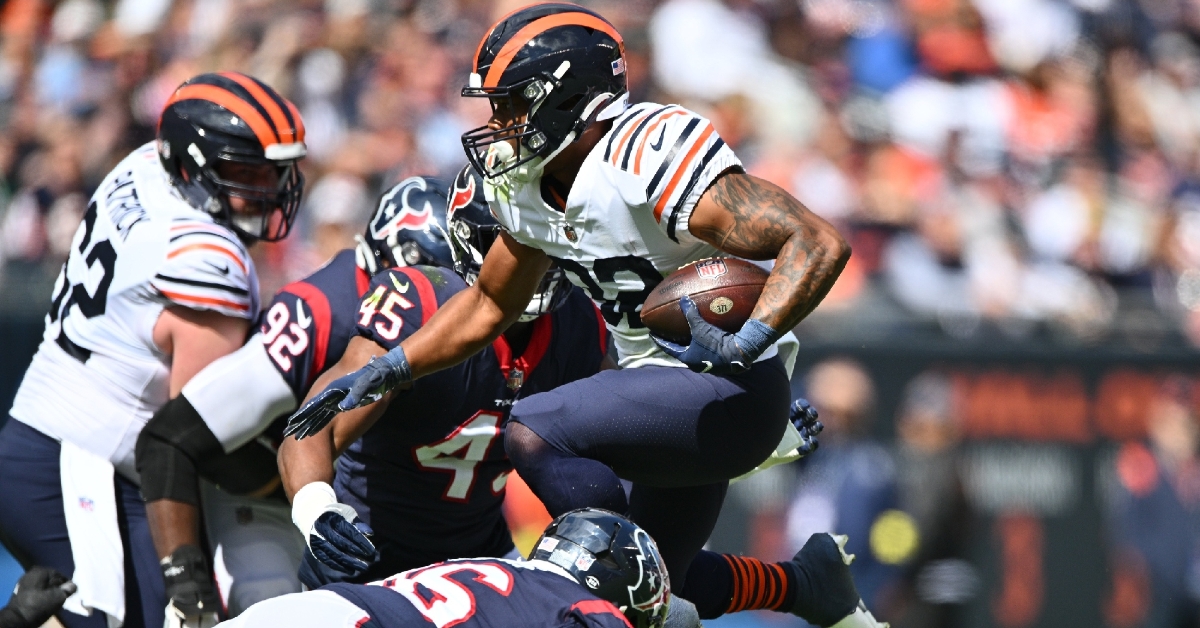 | | |
| --- | --- |
| Sit or Start in Fantasy Football: Bears vs. Giants | |
---
After the Chicago Bears' game against the Houston Texans, their fantasy players may seem pretty dismal right now. But, there are some fantasy bright sides for the Chicago Bears players right now that are definitely worthy starters.
Currently, Montgomery is questionable to play against the Giants after suffering knee and ankle injuries early in the first quarter against the Texans this past Sunday. The Giants are currently ranked 25th in rushing defense, allowing an average of 138.3 rushing yards per game. This bodes very well for Bears' running backs, especially given the fact that the Bears still do not have a solid passing attack or top receiver. Montgomery has actually gotten some attention in the passing game, with a total of five receptions for 38 yards. His ranking, according to Yahoo, may say that he is #165, but this is really because of the injuries he suffered during last week's game. So, if he is available, he should be starting.
Khalil Herbert is 2nd in the league in YPC with 7.3. When David Montgomery comes back the Bears have a top 5 RB room. #DaBears #ChicagoBears

— Clay Harbor (@clayharbs82) September 29, 2022
His ranking increased from #379 to #338 since he actually had two receptions. The increase in targets last week was promising with six. Only getting 23 yards out of those six targets is not. Until the Bears can establish any kind of passing attack, Mooney should be on the bench. This is especially true given the fact that the Giants are currently ranked 10th in passing defense, allowing an average of 203.3 passing yards per game. Depending on how Mooney performs this week, perhaps he will be in consideration for Week 5 going against the Minnesota Vikings, who currently rank #29 in passing defense.
#Bears WR Darnell Mooney:

"Still a little frustrated right now. Just not happy about my performance…without Eddie and Roquan on that last one, what did we really do? Just passing game wise, I was just frustrated. Not being a play maker that I plan to be."

— Mark Grote (@markgrotesports) September 28, 2022
Kmet finally got his first two catches of the season for a total of 40 yards. His ranking jumped from #1,114 to #335 now that he actually has some fantasy points. But, given that quarterback Justin Fields has the worst passer rating out of any quarterback in the NFL (50.0) and the Bears are last in passing offense with an average of 78.3 passing yards per game (The Panthers are 31st with an average of 161.3 passing yards per game), Bears receivers really cannot be started in fantasy football until there is some measure of growth in the passing game.
#Bears TE Cole Kmet:

"I want to be part of the reason why we win. I don't know if that sounds selfish offensively, but I want the offense to be the reason why we win a game, and that's what we are working towards."

— Mark Grote (@markgrotesports) September 26, 2022
Justin Fields - Sit
His fantasy ranking took quite a plunge after his incredibly dismal and disappointing performance against the Houston Texans. His ranking has dropped from #61 to #99 (Needless to say, he is no longer ranked higher than Aaron Rodgers and Tom Brady like he was last week). The only thing that leaves Fields as a viable option for the future is his rushing yards. He had a total of 47 rushing yards against Houston, and now has 95 on the season so far. Again, the Bears need a passing attack before he can be considered a starter in fantasy.
Chicago Bears running back Khalil Herbert said on Marquee Sports Network that nobody in the locker room has lost faith in quarterback Justin Fields.

Khalil said the passing game will start to open up especially with the defense being worried about the run game.

— Daniel Greenberg (@ChiSportUpdates) September 29, 2022
Per usual, the running backs are the highlight of the Chicago Bears' offense. After Montgomery went down, Herbert took full advantage of his starting role in the offense. He had 20 carries for 157 yards and two touchdowns. In addition, he had two receptions for 12 yards. This isn't even his first game with involvement in the Bears' run attack this season. He got a rushing touchdown in the Bears' opener against the 49ers and now has 240 rushing yards so far this season. His ranking skyrocketed from #149 to #38. Even if Montgomery can start against the Giants, he will not be 100%, which means for playing time and opportunities for Khalil Herbert. If Montgomery cannot play, Herbert has already established himself as a reliable starting running back. Either way, Herbert should be started on all fantasy platforms as he will be having a lot of involvement with the offense.
Yards Per Rush Leaders (through Week 3):

Lamar Jackson: 9.3
D'Andre Swift: 8.6
Khalil Herbert: 7.3

Herbert is available in 16% of CBS Sports leagues pic.twitter.com/F4epjenrqq

— Fantasy Football Today (@FFToday) September 28, 2022
Velus Jones Jr - Sit
First, he has yet to start in an NFL game this season. He came into the season ranked #189 by NBC Sports Edge Fantasy Football Draft Guide. Given the fact that Jones hasn't even started a game, his ranking is now down to #678 according to Yahoo. Further, he is still questionable to play on Sunday because of his hamstring injury. Any player the Bears can get back at wide receiver could potentially help to jumpstart their production, which serves to help all players on the Bears' offense. Velus Jones Jr could be a player to watch out for later in the season since the Bears WR1 is completely up for grabs.
#Bears WR Velus Jones Jr. (hamstring injury) asked if he too could help the offense by way of the jet sweep as Equanimeous St. Brown did. Jones responded...

"House call."

— Mark Grote (@markgrotesports) September 28, 2022