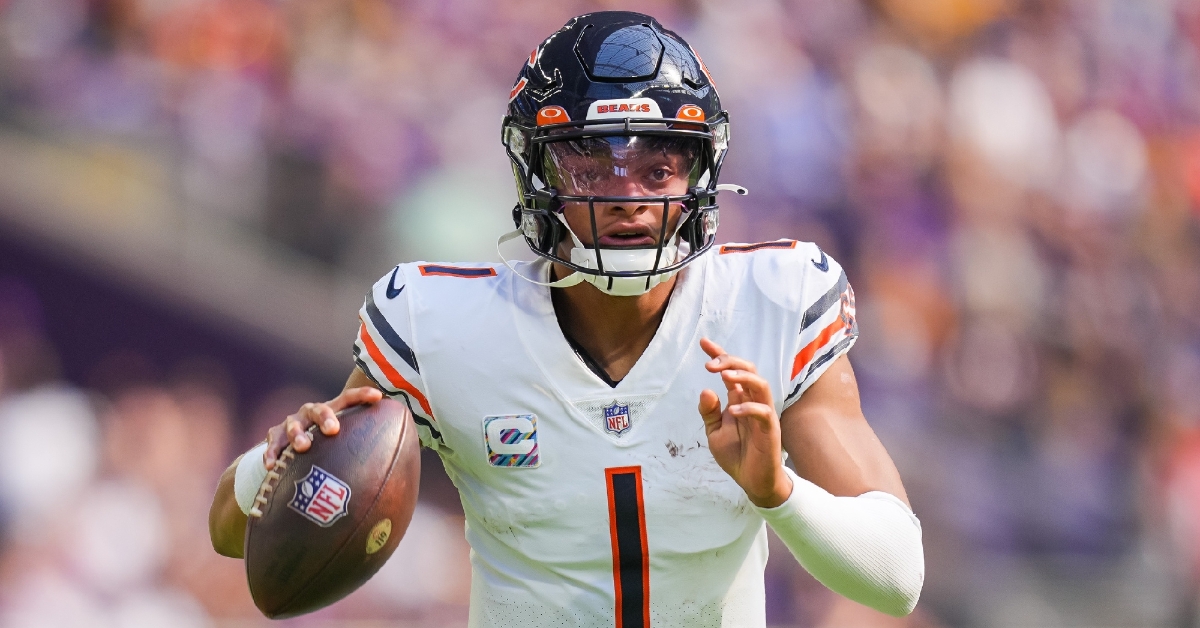 | | |
| --- | --- |
| Start or Sit'em in Fantasy Football: Bears vs. Cowboys | |
---
| | | |
| --- | --- | --- |
| Saturday, October 29, 2022, 10:00 AM | | |
After a solid performance all around from the Chicago Bears, there is definitely a lot to talk about on the fantasy football side of things. Justin Fields is becoming a fantasy quarterback worth starting, while Montgomery is putting up some average numbers. But, he is still worth starting.
Justin Fields - Start
The Chicago Bears will be going against a defense that allows the fourth-least amount of fantasy points to quarterbacks. The Dallas defense gives up an average of 120.1 rushing yards per game, while the Bears' offense leads the NFL in rushing yards per game with an average of 181. Fields has rushed 68 times for 364 yards as compared to last year when he had a total of 72 rushes for 420 yards. He also has two rushing touchdowns this season, equal to the amount that he had last year. While he doesn't pass the ball a lot, as the Bears still rank last in passing yards per game with 126.3, his rushing yards make him a valuable quarterback in fantasy. Furthermore, with Justin Herbert and Patrick Mahomes on bye, Fields is someone worth starting in their place this week.
Justin Fields and Micah Parsons were betting who would be the fastest in their pro days a year and a half ago. Safe to say these guys are still pretty competitive against one another.

?? via @nflnetwork https://t.co/MqK36pr8oj pic.twitter.com/GGE0cuCYyG

— Brendan Sugrue (@BrendanSugrue) October 28, 2022
David Montgomery - Start
Montgomery rushed 15 times for 62 yards and got his second rushing touchdown of the season. However, this was his first game of the season where he played the entire game where he did not garner a reception. The Bears' receivers found a rhythm on Monday that they had not found yet to this point. Still, it is reasonable to say that Montgomery will be involved more in the passing game going forward. Furthermore, he is a reliable running back with at least 12 running attempts in all of the games that he has played in full. Montgomery is definitely still worthy of starting in all fantasy formats.
"We feed off of each other's energy."@MontgomerDavid discusses the success of the run game in your #BearsUpdate with @lscreeden. pic.twitter.com/HcPtSfTyCA

— Chicago Bears (@ChicagoBears) October 28, 2022
Darnell Mooney - Start in some Leagues
Despite the offensive success the Bears' had against the Patriots on Monday, Mooney was not heavily involved. He was targeted six times and had three receptions for 53 yards. While that is definitely better than how he started the season, there are a number of wide receivers who can put up similar numbers. That is why, according to the Yahoo! fantasy football rankings, Mooney ranks No. 212 overall. With Mike Williams of the Los Angeles Chargers and Juju Smith-Schuster of the Kansas City Chiefs both being on bye, Mooney isn't a bad idea for a substitute.
Darnell Mooney is starting to get going.

Last 4 games:

28 TGT, 14 REC, 267 YDS

That's a full season pace of 119 TGT, 60 REC, 1,135 YDS.

— Frank Ammirante (@FAmmiranteTFJ) October 27, 2022
Cole Kmet - Sit
Even with the overall dismal performance of tight ends this season, Kmet is not worth starting. Justin Fields threw for 179 yards, with only 32 of those going to Kmet through two receptions; he was targeted three times. He has been targeted three times in four games this season and has been targeted at least once in every game. So, he usually gets some yards, but not enough to justify starting him in any fantasy format.
Bears offensive coordinator Luke Getsy on TE Cole Kmet: "The guy's been a stud for us. He makes critical plays. He plays as hard as anybody on this team."

— Kevin Fishbain (@kfishbain) October 27, 2022
Cairo Santos - Start
The Chicago Bears kick a lot of field goals; in fact, they have made 15 this season which ranks third in the NFL. Santos is an accurate kicker, as he hasn't missed a field goal this season. He is a reliable kicker and an underrated player overall. The kicker of the Buffalo Bills, commonly ranked as one of the best fantasy kickers, has four fewer fantasy points than Santos. Furthermore, according to Yahoo! fantasy football, Santos is only rostered in 2% of fantasy leagues.
Fun fact: K Cairo Santos has been 67/73 (92%) since taking over as the #Bears kicker back in 2020.

— Aaron Leming (@AaronLemingNFL) October 25, 2022
Dante Pettis - Sit
The Bears proved a number of things against the Patriots. One of those things is that anyone can step up to be their top receiver. Against the Commanders, it was Pettis. Against the Patriots, it was Equanimeous St. Brown, the free agent signee from the Green Bay Packers. Pettis only had one reception for two yards, but he did have one rush for 29 yards. Pettis had his one game, but it's unclear when he will have his next game. Also, he has muffed three punts this season, losing two of them. This makes him a little bit of a liability going against one of the best defenses in the NFL in the Dallas Cowboys.
Dante Pettis gained more yards on that punt return (27) than the Bears have had in any game this season. Their single-game high was 19 punt-return yards.

— Kevin Fishbain (@kfishbain) October 25, 2022