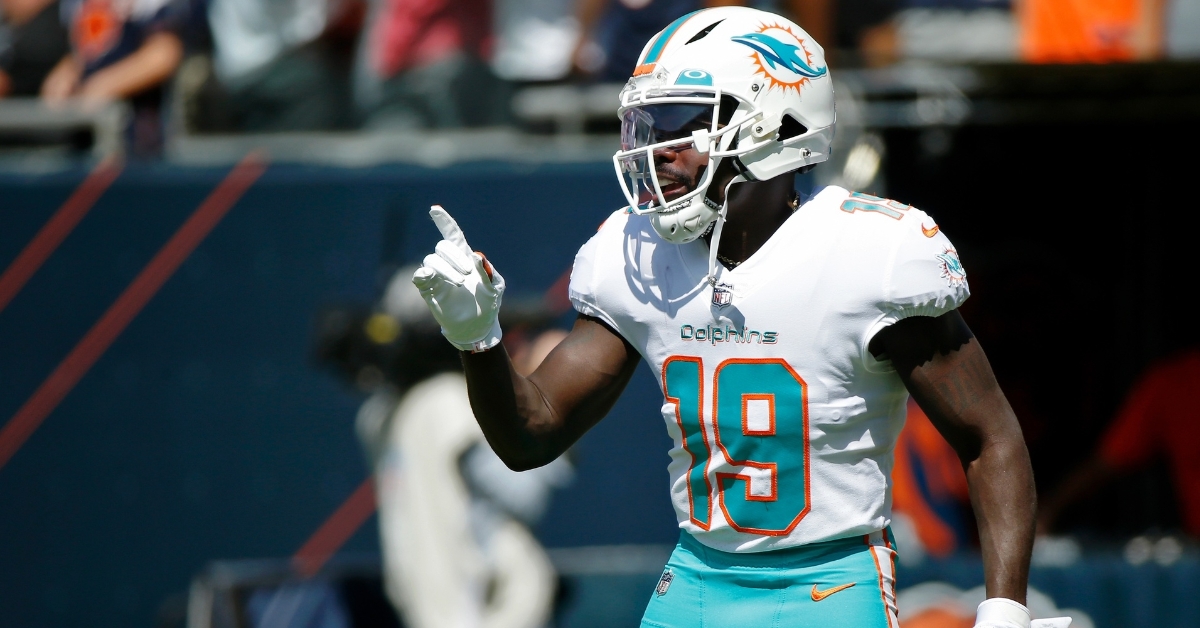 | | |
| --- | --- |
| Takeaways of Bears trade for Jakeem Grant | |
---
| | | |
| --- | --- | --- |
| Thursday, October 7, 2021, 1:00 PM | | |
Coming off a week four win against the Detroit Lions, things are a bit more relaxed this week at Halas Hall as the Bears played well. Yes, the win came at the expense of the Lions, but a win is a win in the NFL, and it was certainly an excellent bounce-back game for the Bears after getting beat down by the Browns.
However, not all was good for the Bears on Sunday as perhaps their best offensive weapon will miss significant time with a knee sprain. I am talking about David Montgomery, who injured his knee during the second half of the game, which was later revealed to be a knee sprain. It could have been worse, but it is still an injury that the Bears couldn't afford.
Expecting to make a roster move, the Bears are bringing back Artavius Pierce from the practice squad and immediately adding him to the roster. To go with that, look for rookie Khalil Herbert to play a more prominent role in the running game, which takes him out of the return game for the time being. That move signaled another move that the Bears needed to make, which the Bears did by trading a 2023 sixth-round pick to the Miami Dolphins for return specialist Jakeem Grant.
A bit of a surprise, but this was a move that made sense, and now the Bears need to figure out how to use him on this roster. Here are some takeaways from that signing and what he brings to the table.
An elite return man
When you look at the Bears this season and the job they have done, special teams have been the best unit on the field in terms of performance. From Cairo Santos and Pat O'Donnell in the kicking game to a return game that has made do without Cordarrelle Patterson, the Bears have done a great job in the special team's department.
With return man Herbert now taking over more RB reps, Grant will come into Chicago and will immediately replace Herbert in the return game. Special teams are no stranger to Grant, compiling 101 punt returns and 89 kick returns across his career. The Bears had an up-close seat as to what he could do during their joint practices this season and then went on to watch him run one back 34 yards during their preseason opener this season.
More WR depth
Now that Justin Fields has cemented himself as the team's starter, the Bears are looking to add as many offensive weapons around him as they can. Darnell Mooney has emerged as Fields favorite target, but no one has stepped up outside of him. Allen Robinson is having a terrible start to the season, Marquis Goodwin hasn't been used at all, and the production from Jimmy Graham and Cole Kmet has been next to nonexistent from the TE spot.
Grant will not come into Chicago and challenge for one of those spots, but he does offer the Bears more receiver depth for Fields. Across four games this season, Grant has hauled in just two catches for seven yards, but he has done way more than that over his career. Through 70 career games, Grant has brought in 90 receptions for 1001 yards and five touchdowns.
Although not great, it is more production than what some of the Bears receivers have given the team this season, and any production will help Fields. This is primarily a special teams move, but look for Grant to find time in the receiving game also.
Plugging holes that need to be filled
The Bears have been very busy this offseason, but for the most part, Chicago has done what they needed to do to remain competitive. Ryan Pace has been crucified for some of the moves he has made in the past and some of the decisions he has had to make, but give him credit for what he has done this season.
Since the end of the 2020 season, Pace knew the holes this team had to fill and has done a great job filling those holes apart from the offensive line. The Bears needed QB help; he went and added Andy Dalton and Fields. They needed more weapons; he signed several offensive pieces this offseason.
With Herbert set to get more carries and less time in the return game, he makes a trade to bring in Grant, which will ultimately solidify that part of their game. As rough as things have been for Pace during his tenure, he is doing a much better job putting a winning product on the field this year.
New #Bears returner Jakeem Grant on what he knows about Chicago:

"Honestly, nothing. Besides Devin Hester. Just knowing that he left an absolutely great mark here being a great returner. So I know I have some big shoes to fill."

— Adam Hoge (@AdamHoge) October 7, 2021

Tags: Bears Football
,
David Montgomery
,
Khalil Herbert
,
Cairo Santos
,
Pat O'Donnell
,
Cordarrelle Patterson
,
Justin Fields
,
Darnell Mooney
,
Allen Robinson
,
Jimmy Graham
,
Cole Kmet
,
Andy Dalton