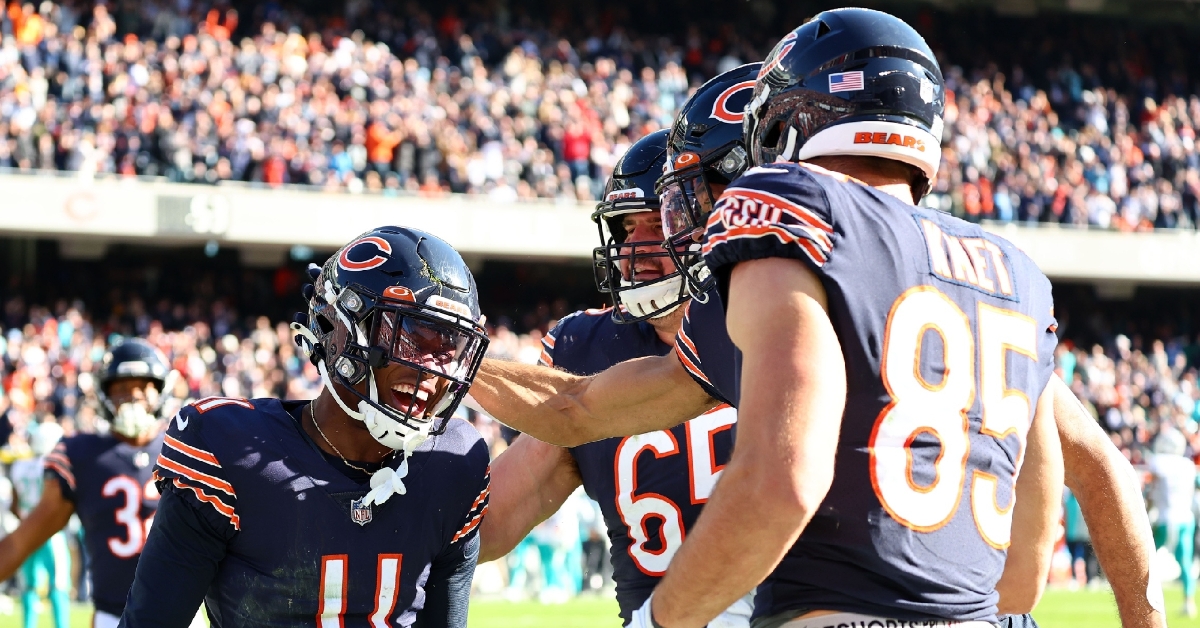 | | |
| --- | --- |
| Three Takeaways From Bears loss to Dolphins | |
---
Although the Bears are still struggling to win games, watching this team in recent weeks has been fun as their offense has started showing plenty of signs of life. The problem has become a defense that has only gotten worse with the departure of Robert Quinn and Roquan Smith.
A team known for defense and had to win by holding teams under 20 has completely reversed in a matter of weeks, as they now need to outscore their opponents to win. That is much easier said than done, especially when you look at the offenses the Bears have seen lately and what is still to come. Still, there is a ton of excitement building, and something the Bears fans are starting to get excited about for the future.
It has taken nearly two years for Justin Fields to come into his own, but that time has finally arrived. Granted, his passing numbers are still terrible when you look at the yards; it all comes down to touchdown passes, as he has six TD passes over his last two games.
However, one aspect of Fields game hasn't changed and has actually gotten better if you can believe it. That aspect is his running ability, as Luke Getsy has untapped Fields full potential. Yesterday, that potential was on full display as Fields rushed for a team-high 178 yards in helping the Bears top 200 yards for the fourth straight game. That also broke Michael Vick's record for rushing yards by a quarterback as fans witnessed history in the making.
This defense is terrible of late
Associating a strong defense with the Chicago Bears has been a common theme for the longest time, but that time has ended. You saw it last year during the season as the team struggled to play defense consistently. Still, it was better than what fans are seeing this year, and it may only get worse from here.
It started last year with Kyle Fuller being dealt to Denver and then continued this offseason with Khalil Mack getting traded, Akiem Hicks signing with Tampa, and Eddie Goldman not being retained. Now add in trades to Quinn and Smith, and most of the team's defensive contributors the last few seasons are no longer with this team, and it hasn't made life easy for the Bears.
Chicago not only has an extremely young secondary with rookies Kyler Gordon and Joaquin Brisker joining Jaylen Johnson and Eddie Jackson, but with the loss of so many other pieces, Chicago has had to count on plenty of young and inexperienced guys to shoulder the load. Trevis Gipson has shown plenty of potential from a pass-rushing side of things, but take him away, and many of these players haven't shown much up to this point.
That doesn't bode well for this season, but it will only improve things for next season. The more experience these players get this season, the better they will be next year when they need to be called upon again. On the flip side, the more playing time these guys are getting this season, the more opportunities the Bears will have to see who will be on this team next season and beyond.
Speed kills
One thing we have talked about this season has been the Bears WR room and its lack of overall speed. Sure, Darnell Mooney and the recently acquired Chase Claypool add a little more speed to that unit, but the overall WR room is one of the slower units in the NFL.
That can't be said for Miami, as they not only have the best WR duo in the league this season, but two of the fastest WRs in the game in Tyreke Hill and Jaylen Waddle. Covering one of these guys is hard enough, but keeping both guys in check is nearly impossible.
The Bears had to pick their poison and elected to contain Waddle holding him to 85 yards with a score. The problem is Hill torched the Bears for better than 140 yards, has topped the 1000 yards on the season and leads the NFL with 1104 yards. He is well on his way to reaching 2000 yards receiving this season and has proven that he is, without a doubt, a top-five WR in this league.
Miami has the type of passing game that the Bears are hoping they can have, but is it the best decision for them to play that way? If you ask me, I would continue to be a run-first team as they have the most success running the ball, opening things up for the pass.

Tags: Bears Football
,
Robert Quinn
,
Roquan Smith
,
Justin Fields
,
Kyle Fuller
,
Khalil Mack
,
Akiem Hicks
,
Eddie Goldman
,
Eddie Jackson
,
Trevis Gipson
,
Darnell Mooney