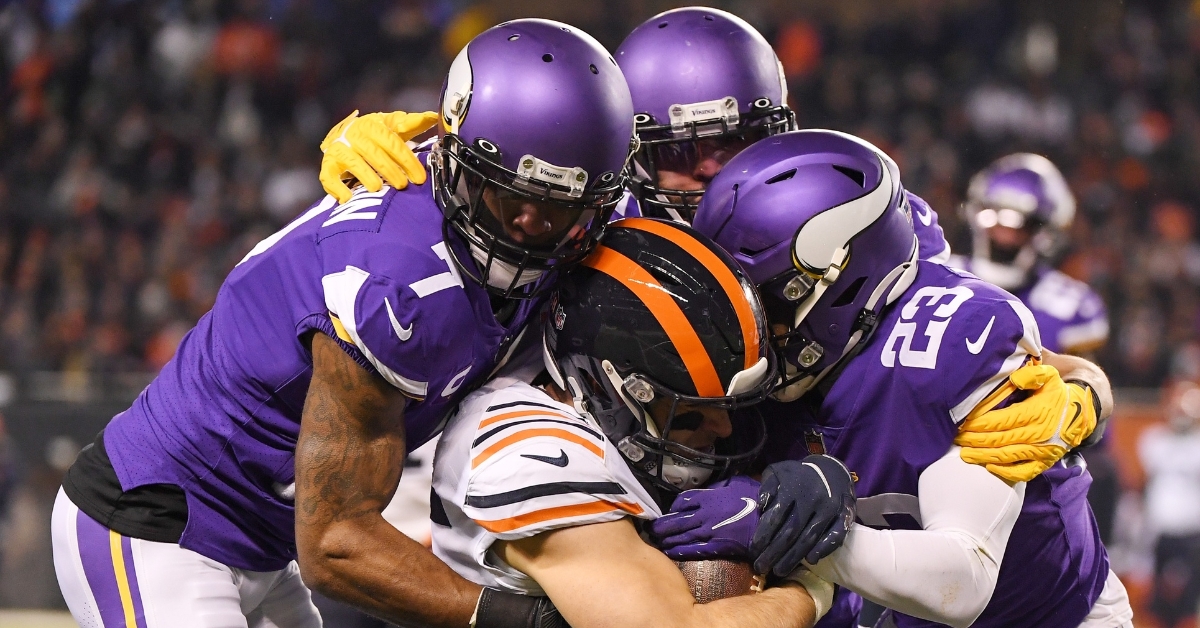 | | |
| --- | --- |
| Three Takeaways from Bears loss to Vikings | |
---
| | | |
| --- | --- | --- |
| Thursday, December 23, 2021, 10:08 AM | | |
Once again, the Bears let their fans down with another lackluster performance on Monday night. However, this time, the defense played up to their standards, while the offense failed to come through when it mattered most. Chicago held the Vikings to 193 on offense while racking up nearly 300 yards on offense, but they were held out of the endzone until the final seconds of the game.
This is a microcosm of how things have gone for the Bears this season. It is either the offense playing well and the defense terrible or the defense playing well and the offense terrible. There haven't been too many cases where both sides of the ball have played well, and their 4-10 record is the direct result from it. Unless Chicago does a major organizational shake-up from the top-down, these are the results fans can expect on a yearly basis.
Here are three takeaways from Monday's game:
Have a night, Thomas Graham Jr.
Before Monday's game, it was revealed that both Jaylen Johnson and Eddie Jackson were going to miss the game due to COVID. That meant that the entire Bears secondary would be facing a tall task trying to stop Kirk Cousins and Justin Jefferson. With a group of players that never played snaps together, it had the potential to be a long night.
Instead, this unit put together one of their best, if not their best, performances of the season. Deon Bush came through with an interception while rookie Thomas Graham Jr made his NFL debut. The 2021 sixth-round pick out of Oregon spent the entire season on the practice squad and hadn't played a competitive snap in over a year. Once he found out that he would play and start, he wanted to prove his worth.
#Bears CB Thomas Graham just gave us a "if I shoot for the stars I might land on the moon."

— Patrick Finley (@patrickfinley) December 22, 2021
Not only did he do that, but he showed plenty of promise in the process. Graham Jr recorded seven tackles and broke up three passes as he was all over the field. There were several instances where the Vikings had a chance at a big play only to have Graham Jr come away with an excellent play. Watching him play on Monday leaves me wondering what took so long for him to see action. He seems like a legit player and someone the Bears could count on for a while.
#Bears CB Thomas Graham Jr. on his NFL debut (3 pass break ups, and 7 tackles).

"It was just my time to step up."

— Mark Grote (@markgrotesports) December 22, 2021
It has been made clear for a while that Fields is the future of this franchise. Despite that, Matt Nagy and his staff seem to be holding him back as he has yet to reach his full potential. Looking at his last five games, and Fields ranks No. 1 in most categories among rookie QBs outside of wins. We all know that the NFL is all about wins, so nothing else matters at this point.
Fields continues to have more interceptions than touchdowns which is a concern, but not all of that is his fault. The Bears haven't put him in the best situation to succeed. They are often playing from behind, which forces Fields to throw more than they would like him to. You also notice how things have looked in the past two weeks in the fourth quarter, where Fields all of a sudden looked like a seasoned veteran.
For whatever reason, it takes the Bears three quarters for them to start letting Fields play the way he can. The uptempo offensive style not only keeps defenses guess, but seems to be the way Fields likes to play. It is time for this staff to realize that and stop holding the kid back. Let him play the way he wants to play, and the results will be better.
3. Justin Fields stat line through his first 5 starts.

57.76% completions
746 yards
2 TDs
5 INTs
64.8 passer rating

Stat line through the last 5 starts.

60.43% completions
1,054 yards
5 TDs
4 INTs
84.0 passer rating

That is tangible improvement. #Bears pic.twitter.com/aC25azjycx

— Erik Lambert (@ErikLambert1) December 22, 2021
Chicago fans deserve better
With week 16 set to begin next week, teams are one week away from being able to interview coordinators for head coach openings. The Bears seem to be a safe bet to fall on that list as the Nagy experiment has run its course. However, if Ryan Pace is not gone with him and has a say in the next head coach, the current trend the Bears have been on will continue.
Chicago is a historic organization that has struggled for the better part of the last 30 years. Bears fans, much like the rest of Chicago sports fans, are passionate fans who are loyal to their teams. However, they deserve a better product than what has been on the field this season and for the better part of the last three years.
It is time for this team to not only move on from Nagy, but for this team to go through an organizational overhaul from the top down. The Bears need to bring in people who not only want to win, but know how to win in the process. Once they do that, you will see a new culture being built, which could go a long way.
Winning changes everything, and if this team can start to win, you will see the rewards reaping. Players will want to come here and be a part of history. The fans will again show the energy they showed in the early 2000s when Lovie Smith got them back to the Superbowl. Winning needs to be the focus for the Bears over the next several years, and that all starts this offseason by changing things for the better.