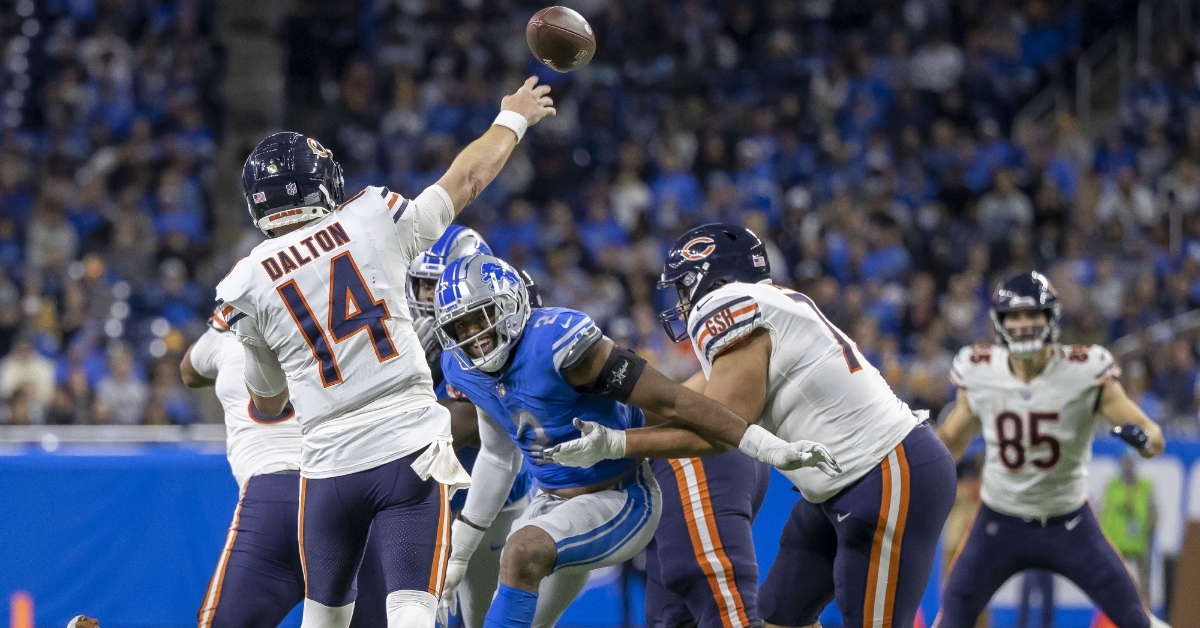 | | |
| --- | --- |
| Three Takeaways from Bears Thanksgiving Day win | |
---
| | | |
| --- | --- | --- |
| Friday, November 26, 2021, 11:54 AM | | |
Even the Bears can't lose them all! After going winless in their last five games and having no wins since October, the Bears took the field against the winless Lions on Thursday, hoping for some Thanksgiving day fun. With all the drama in the organization during the week, it was amazing that the Bears cleared their head enough to play a game.
Despite not winning a game yet this season, you have to give the Lions a ton of credit for the fight they are showing this season. They have come close in so many games, but haven't been able to close things out to this point. That was indeed the case yesterday as the Lions gave the Bears everything they could handle through three quarters.
If it wasn't for some questionable play-calling from Dan Campbell in the fourth, the results of this game might have been different as the Lions held a one-point lead until the final seconds. That was until Cairo Santos kicked a game-winning 28-yard field goal to put an end to the Bears five-game losing streak and gave Chicago and their fans a much happier Thanksgiving with a 16-14 win.
Are the Bears better off going with Dalton?
Remember when Matt Nagy insisted that Justin Fields wasn't ready to be the starter and that Andy Dalton gave the Bears the best chance to win? That seems like forever ago, but had a week two injury to Dalton not happened, and it would be interesting to see if Fields would have been the starter when he was.
I get that Fields is the future of this organization and that his development is important, but given what this regime did to Mitch Trubisky, is he the best option for this team the rest of the way. Fields has shown plenty of promise this season and plenty of rookie struggles as he has just four touchdowns to eight interceptions.
Not only did Dalton come in to relieve Fields against Baltimore on Sunday, but he got the start Thursday and looked good. Across his last six quarters, Dalton has thrown for more than 500 yards passing to go with three touchdowns and one interception. Darnell Mooney has thrived with Dalton under center, hauling in two-straight 100-yard receiving games.
With the Saints losing to the Bills last night and someone having to lose between Minnesota and San Francisco, the Bears could move within one game of the final playoff spot in the NFC. Given what fans have seen from Fields this season and what they have seen from Dalton the last two weeks, I would argue that Dalton may be the best option for this team the final stretch run of the season.
#Bears-#Lions

Andy Dalton's TD pass to Jimmy Graham…

13 personnel. Four verticals. Getting 3-deep coverage here in the high red zone.

Can see Dalton look-off/move the post safety.

Open window throw — when the defense doesn't match/carry the inside seam.@NFLMatchup pic.twitter.com/ogJ0Pfufd4

— Matt Bowen (@MattBowen41) November 26, 2021
Are the Bears offense better without Allen Robinson
When the season started, many people, including myself, expected a ton from Allen Robinson. After all, he was coming off consecutive 1000-yard seasons and is playing on a franchise tag which you would think would lead to significant production to sign a long-term deal.
Instead, not only is Robinson going through his worst season as a Bear, but quite possibly his worst season as a pro, and his future value is suffering because of it. Robinson has proven to be the Bears no. 1 receiver in the past, but this season has shown he is a good No. 2 option, but not a number one.
With guys like Mooney stepping up this season and Cole Kmet getting more involved, I would argue that the Bears offense could be better off without Robinson. Whether it be Dalton or Fields, Mooney is the one that is trusted more than Robinson. Sure, the Bears offense only had 16 points, but Dalton threw for more than 300 yards without Robinson on the field. The Bears may be better off without him on the field, especially since he will not be around next season.
Fun fact: Darnell Mooney has more yards in his last 3.5 games than Allen Robinson has all season. pic.twitter.com/3xeZAysBnB

— OddsChecker (@OddsCheckerUS) November 25, 2021
Who will be the coach next week?
Alright, now comes the moment of truth. What is going to happen to Nagy? We all saw the report come out earlier this week that Nagy would be gone following yesterday's game. Nagy not only denied that report, but it seemed like Ryan Pace was trying to backtrack on it when asked about the topic.
Given that the Bears beat the Lions, I find it very difficult to find a scenario where Nagy isn't coaching to finish out the season. This franchise has been around for more than 100 years and has never fired a coach midseason. I don't think this season is any different. For as bad as things have gone for Nagy this season, I have to give him a ton of credit for this week and being able to drown out the outside noise to put a winning team on the field Thursday.
He may have coached for his job yesterday to at the worst finish out the season this year. However, should those reports be accurate and the Bears indeed fire Nagy, who would become the coach the rest of the way. Chris Tabor filled in for him while he was out with COVID, so he seems like the most logical fit. However, the Bears also have Mike Pettine on the staff, and he has head coaching experience in the past. Regardless, the next few days could be interesting to see if the reports were accurate about Nagy or not.