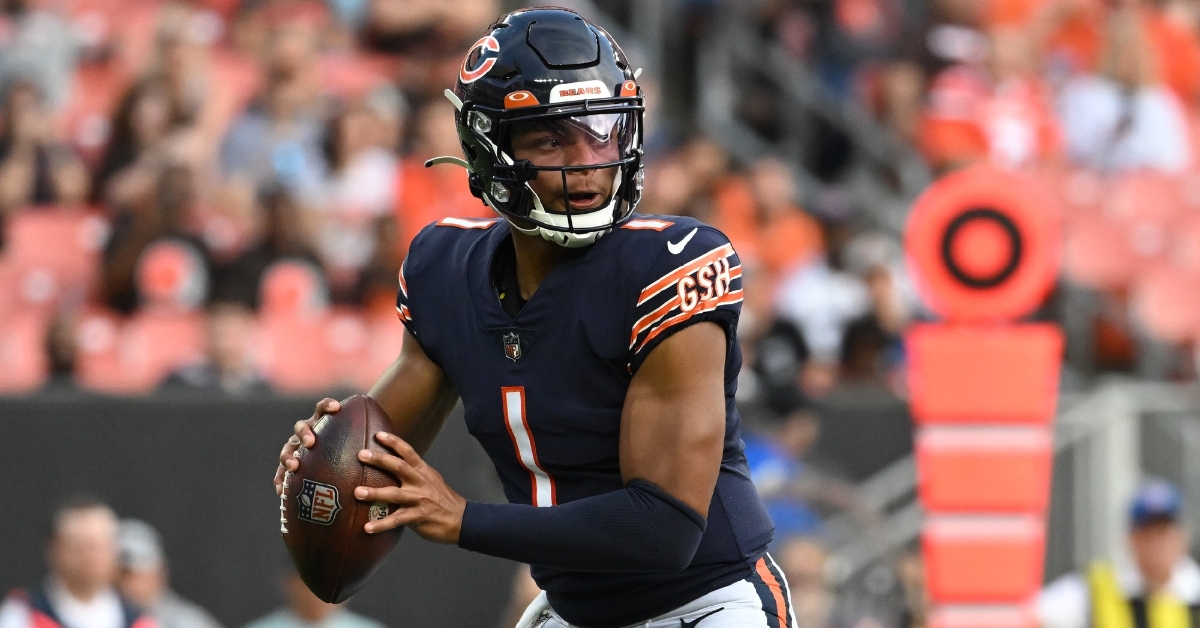 | | |
| --- | --- |
| Three Takeaways from Bears win over Browns | |
---
| | | |
| --- | --- | --- |
| Monday, August 29, 2022, 10:32 AM | | |
Preseason doesn't mean a thing except for the players fighting for a job, but the Bears have to love how they played this preseason. Not only did the team go 3-0, but they won in various ways, which has to be refreshing for the fans of this team.
Saturday saw the team play a complete game for at least the first half as most of their starters played the first half of the finale that helped them build a 21-6 lead before holding on 21-20. Matt Eberflus and his staff have done a phenomenal job this entire offseason getting the players to buy into this new system, and you are starting to see that translate on the field.
Now with a week off until the regular season starts, there will be a lot of anticipation at Halas Hall, with most fans eager to see if what they saw in the preseason will translate to the regular season.
Here are some takeaways from the Bears preseason finale win:
What a difference a year makes for a young QB. After being drafted No.11 last season and having an up-and-down rookie year, there were still plenty of questions surrounding Fields and his ability to lead this team. Through two preseason games, fans saw limited action from the signal caller, but if week three is any indication of what is to come, Fields is the franchise QB the Bears have been waiting for.
Fields was flawless in his first half of play, completing 14-16 and tossing for 156 yards and three scores. While those numbers are great, it was the difficulty of some of those throws that stand out as Fields seems to be gelling just fine with the new look Luke Getsy offense. He was finding his WRs, using his ties to his advantage, and spreading the ball around, which is what you look for every game.
This was a massive step in the right direction, even if this game doesn't count, because it gives him something to carry over to the regular season. If this is the type of play you can expect from Fields this season, the Bears will surprise many teams in 2022.
The Defense is looking like the 2018 version of themselves
Although not quite at that level yet, the Bears' defense has been looking like their old selves, which played a role in their 2018 division title. That season, they led the league in points allowed per game and finished in the top three in sacks and turnovers.
Granted, they may not be at that level right now, but they are starting to show signs of that under new defensive coordinator Alan Williams. Throughout the preseason, the Bears made a living on forcing turnovers which is something they have to do a better job with this season. They have also done a great job getting teams off the field on third down, which was a problem in 2021.
If I could point out one thing they would like to fix on the defensive end, it would be putting more pressure on the QB. Without Khalil Mack this season and Robert Quinn playing on the Line instead of the LB spot, it will be curious to see where the pressure comes from this season and how much they can get. The more they generate, the easier it will be for their defense to make the plays they hope to make this season.
The remaining position battles will come down to the wire
With the 53-man roster needing to be finalized by 4 PM on Tuesday, Eberflus and his staff have a lot of tough decisions on who gets the remaining spots. When you look at how the WR room played all preseason and the injuries they have dealt with, this team has plenty of options to sort through, and many players deserve those few final spots.
The same can be said on the defensive side of the ball, where a lot of the second and third-string players made a lasting impression all preseason long that will make the coaching staff's decisions that much more challenging. Regardless of what happens and who is selected to the final 53-man roster, expect the Bears to try and retain most of these guys to their practice squad for some in-season insurance if they need it. Either way, the roster is in a better position now than it was a season ago, and Ryan Poles deserves a ton of credit for that.