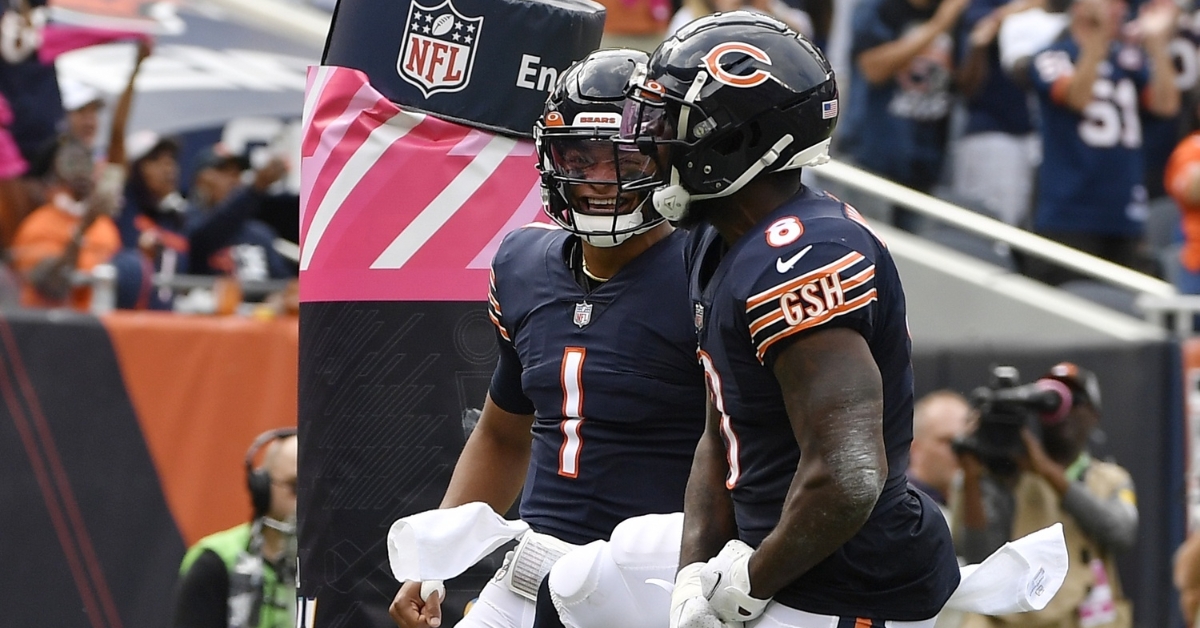 | | |
| --- | --- |
| Three takeaways from Bears win over Lions | |
---
| | | |
| --- | --- | --- |
| Monday, October 4, 2021, 10:07 AM | | |
There was a lot to like about the Bears win against the Lions on Sunday. The Defense played well up until the fourth quarter, and the offense finally started showing signs of life. It was a game against the winless Lions, so fans are not getting too excited quite yet, but it was a pleasant showing after watching this team stumble for the first three weeks.
One of the biggest things you will notice from this week as opposed to the first few weeks of the season is the overall flow of the offense. Justin Fields looked great minus his interception, but it was the running game that stole the show. Not only did Montgomery finish with over 100 yards and two scores, but Damien Williams added a third score on the ground. That is what Matt Nagy wants his offense to be about, and he has to like what he saw this week.
Here are a few takeaways from the win:
Matt Nagy gives up play-calling again
There were a lot of questions as to whether Nagy would retain play-calling duties this week, but the answer was finally revealed. Although not as easy as you would think, Nagy eventually admitted that Bill Lazor would be calling plays on Sunday after taking a ton of heat for his offense through three weeks.
You could immediately see the difference when the game started as the Bears offense seemed to be in a better rhythm. Granted, Nagy may still have had some input as to what was being run, but ultimately it was Lazor making the calls, and Nagy just stepped in if he felt the need to.
Ideally, fans would love for Nagy to do away with all play-calling duties. That is not in his DNA, but at any stretch, him giving up most of the play calls is a good thing for this team. The Bears took a positive step in the right direction this week, and now they need to build off that success.
David Montgomery looks great, then gets hurt
One of the lone bright spots on the Bears offense this season has been Montgomery. Going back to the first game of the season where Montgomery ripped off a 50-yard run against the Rams, he has been the one player on offense this team has been able to count on.
He scored two touchdowns yesterday and rushed for over 100 yards, which this Bears offense needs from him consistently. Chicago wants to be a run-first team, and they need a workhorse to shoulder the load. Montgomery is becoming that workhorse, and the more yards he gets, the better the offense will be.
The big question heading into next week surrounds the health of Montgomery, who left in the second half with an apparent knee injury. While there has not been a diagnosis as to how severe the injury is, losing him for any amount of time would be a terrible blow to this team. Williams would be more than adequate to handle the RB for a short time, but being already down Tarik Cohen, losing Montgomery could cripple this offense. Hopefully, things are looking up for him in the coming days.
Bears don't believe RB David Montgomery tore his ACL, but they are doing further testing today to determine the extent of the injury, per source.

— Adam Schefter (@AdamSchefter) October 4, 2021
Still room for improvement
The Bears took giant steps forward on Sunday, as did Fields when you look at how he played. Not only was he 12-18 passing, but he connected for more than 200 yards while displaying one of the better deep balls the Bears have seen since Jay Cuttler. However, with the good comes the bad, and there are still a few things this team needs to work on heading into next week.
For starters, converting on third down remains a massive issue as the Bears went just 1-11 on third down. That is 9% and well below their season average, which was not good, to begin with. No one expects a team to convert 50% or more of their third-down attempts, but you must extend drives if you want to score points. The fact that they put up 24 points and converted just one third down makes you think they picked up most of their yards on first and second down.
Wrong, as the Bears also had just five first downs through the air compared to the Lions 15. That is not something you want to hear, especially when you look at that Cleveland game last week, but most of the Bears first downs came on big chunk plays to move the chains. This is something Chicago needs to get better at. You can win against Detroit when you play like this, but this kind of an effort won't get it done against Green Bay or other teams. Chicago did look better, but they still have a ways to go if they are to be taken seriously.