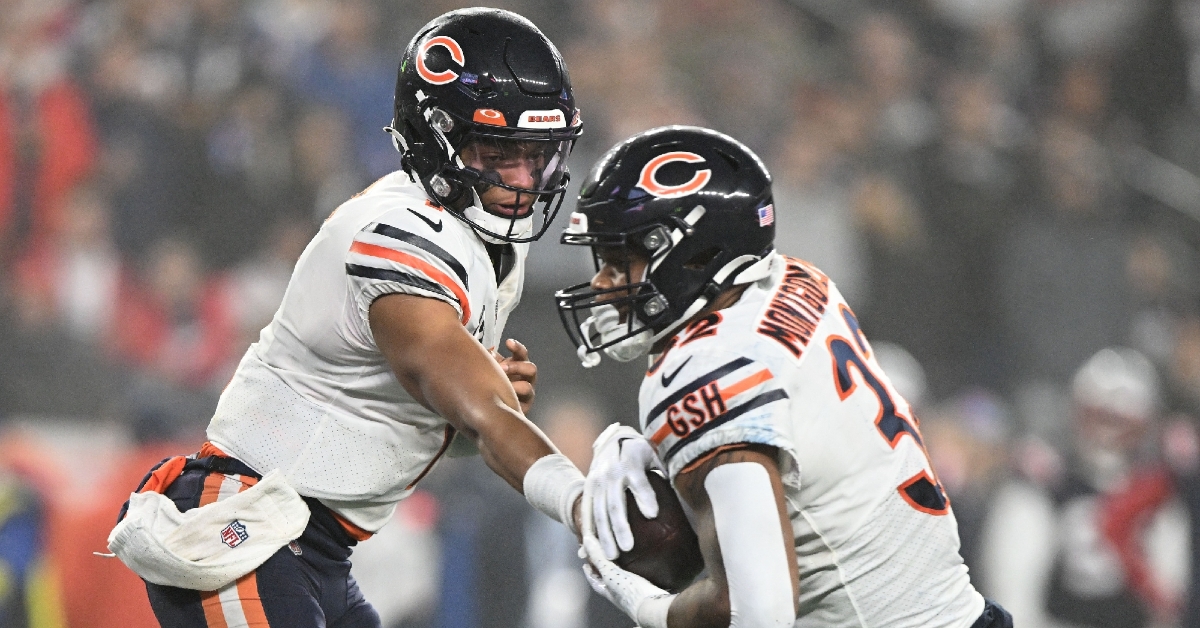 | | |
| --- | --- |
| Three Takeaways From Bears win over Patriots | |
---
| | | |
| --- | --- | --- |
| 2022-10-26 10:04:11.0 | | |
When you look at the Bears first two wins this season, one came in the week against the 49ers, while the other came against a team they should beat in Houston. Then came Monday night against the Patriots, where the Bears not only delivered a complete game effort, but perhaps played their best game in over two seasons.
Led by a ferocious defense that came away with three interceptions and four turnovers, mixed with an offense that was clicking on all cylinders, the Chicago Bears made quick work of the Patriots with an impressive 33-14 showing. Hopefully, this is not just a one-game fluke, and this is a sign of things to come for the Bears, as their offense looked great.
Typically when you win a game like this, there are endless takeaways you can dive into. While that may be the case, there are three takeaways to look at a bit more than others which is what we will focus on today.
History will have to wait
Prior to the game on Monday, everyone knew the magnitude of what was on the line and what could happen. Bill Belichick came into the game with an unbeaten record against the Bears, and Chicago also entered winless all-time at Gillette Stadium.
Throw in the Patriots win the week before, and Belichick entered the game with 324 wins which had him tied for second place with the late George Halas. That meant that with a win, Belichick would reach No. 325 and would be in second place all by himself, with only Don Shula ahead of him.
Many things and history could have happened on Monday night, and most of it was not in the Bears favor. With Chicago winning, they not only managed to keep Belichick from passing Halas in front of them, but gave him his first loss ever against the Bears as a head coach while the Bears finally solved the Gillette Mystique.
Don't worry, be Zappe
I know things didn't go well if you are a Patriots fan, but there was a ton of excitement for two drives. With Mac Jones looking brutal in his first game back from an ankle injury, Belichick elected to bench the second-year man and go back to his rookie Bailey Zappe.
In the three games and two starts Zappe has played since taking over, this Patriots team has looked much better offensively, leaving the possibility open that this may be his job going forward. Not only did he go a perfect 3-3 with a touchdown pass on his first possession, but Zappe hooked up with Davante Parker for 43 yards to help set up a second score to give New England the lead.
It felt like momentum was entirely on the Patriots side at this point, as the magic of Zappe was again in full swing. Chicago managed to respond, forcing a fumble and picking him off twice later in the game, but once again, Zappe was very good at the QB position.
When asked after the game which QB would be moving forward, Belichick was not only mum on the situation, but didn't give anyone a clue as to his thinking. That isn't out of the norm for Belichick to do that, but clearly, there is a controversy in New England surrounding the QB. I get Jones was a first-round pick last season, but if the team is looking better with Zappe, you need to stick with the hot hand.
There has been a lot to like about Justin Fields and his game since being drafted a year ago, but also a lot not to like. For starters, he sometimes holds on to the ball too long and takes too many sacks. He has also struggled with consistent accuracy, which is why he has more interceptions than touchdowns at this point in his career.
However, when he does show up and play well, you can see his potential and why the Bears moved up in the first round to make that pick happen. There have been a lot of promising moments for Fields, and the Minnesota game earlier this season was one of them.
Monday was by far the best game of his career and will go down as the Fields game for Bears fans. Not only was he much more accurate with the football, but his legs continued to be a big part of his arsenal as he led the team in rushing with 82 yards.
Belichick has been in the league for more than four decades as a defensive coach or head coach, and never before has he looked so confused. Credit Luke Getsy for putting Fields in a position to succeed; hopefully, this is the start of a long and successful run for Fields.
Six times since 1948 has a Bears QB had 175+ passing yards & 80+ rushing yards in a game

Justin Fields has done it three times ??pic.twitter.com/aJKAxcg2m1

— Marquee Sports Network Plus (@MarqueePlus) October 26, 2022