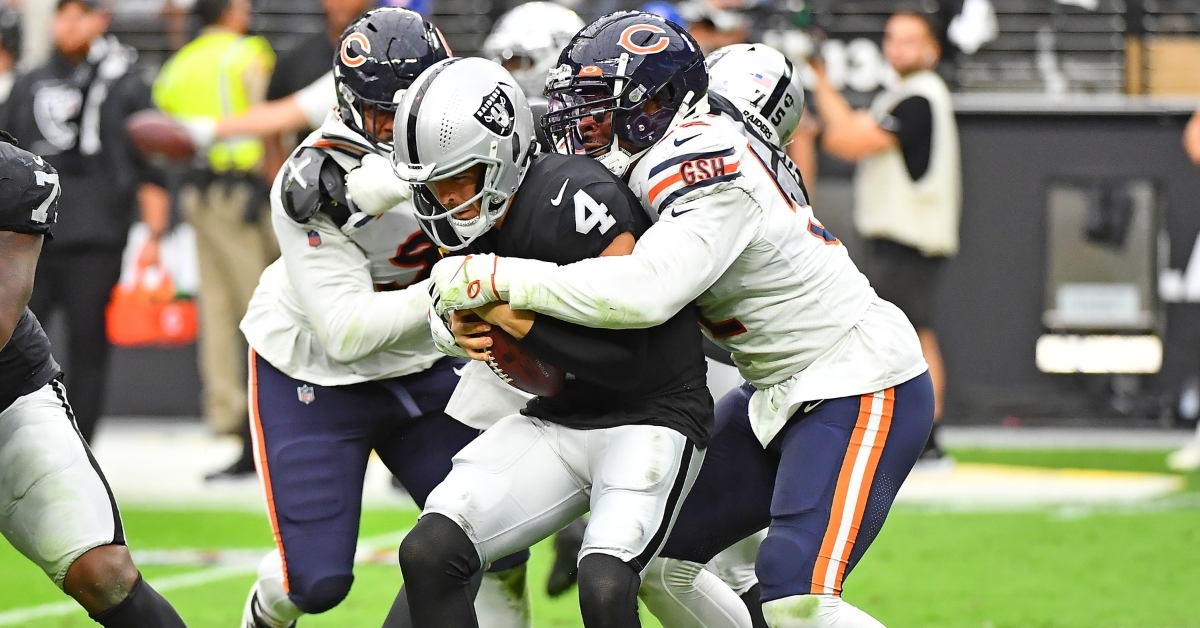 | | |
| --- | --- |
| Three Takeaways from Bears win over Raiders | |
---
It has been a long time coming, but for the first time since October of 2020, the Chicago Bears are back above .500, sitting at 3-2 this season. On Sunday, their third win came when they downed the Las Vegas Raiders 20-9 and have now won two straight and three of their last four.
The wins haven't always been pretty this season, but a win is a win, and that is all that matters when it comes to the NFL. Justin Fields continues to go through some rookie growing pains, injuries are starting to pile up, but the Bears are finding ways to win games. Given what the schedule looks like for the next month, this will make or break the Bears season, and so far, things are going well.
Here are some takeaways following their win on Sunday:
The defense is starting to gel
Perhaps the biggest key to the Bears decline since 2018 has been the loss of Vic Fangio as he went on to become the Denver Broncos head coach. In the process, the Bears lost their defensive coordinator, who helped orchestrate a top-five defense for several seasons.
That defense was a big reason for the Bears success in 2018, and it hasn't been the same since. Chicago tried to fill his void with Chuck Pagano in 2019 and 2020, but despite the defense still being a top 10 unit, it was a far cry from what it once was. As the Bears defense continues to age, there isn't much time left for this group to try and make things happen together.
Enter Sean Desai as the team's 2021 defensive coordinator. A Fangio disciple, Desai got off to a rough start over his first two games, but it seems like he and the defense are starting to figure things out. Not only have they gotten back to that 2018 style of football where they bend but don't break, the Bears are also getting after the quarterback, which has lacked from this unit the last two seasons.
Another thing the Bears defense is starting to do once again is forcing turnovers. That was a massive part of the Bears success in the past, and for them to continue to win games, they need to force turnovers to take pressure off Fields and that offense. Slowly, but surely, the Bears defense is starting to look elite once again and credit Desai and his staff for the job they have done so far.
Running back by committee may work
When the Bears found out that David Montgomery would be lost for the next month, it shocked the entire organization. The job he did the first four weeks of the year showed that Montgomery was the team's best offensive threat, ranking in the top five for most rushing categories.
One would argue that Montgomery is the best running back this team has had since Jordan Howard or Matt Forte, and he has started to show why he was a third-round steal this year. However, with his absence, the team knew they needed to stick to their bread and butter, and now Damien Williams and Khalil Herbert will have to shoulder the load.
Both have the capabilities to start, but offensive coordinator Bill Lazor is adamant about leaving them as a running back by committee tandem for the time being. Despite neither one topping 100 yards, they combined for close to 140 on the ground, with Herbert leading the way with 73 yards and Williams adding 64.
With Tarik Cohen set to come off IR in the coming weeks, the Bears will have plenty of RB options to go with for the rest of the season, and it will make this offense better. Running back by committee teams doesn't always have a ton of success, but this could be something the Bears use to their advantage and be good at it.
Bears with a sigh of relief
As mentioned, a win is a win in the NFL, but Justin Fields hasn't looked great in his two road starts combining for under 175 yards passing in two games away from Soldier Field as opposed to 215 at home. I understand Fields is a rookie, but the Bears need him to be more consistent as 111 yards passing isn't going to translate to many wins.
As happy as fans are to see Fields leading this team not only this season, but for the future, they got a big scare during the second quarter of the Bears Raiders game on Sunday. Looking to avoid a sack and escape pressure, Fields was brought down behind the line of scrimmage with his knee landing awkwardly on the turf.
That forced him out of the game holding his knee and limping off the field as fans immediately feared for the worst. Enter Andy Dalton once again, who stepped in for three plays only to see Fields return to finish off a scoring drive. Although Fields did return to help lead the Bears to another win, that play was the harsh reality of the NFL that one injury can alter a team's season one way or another.