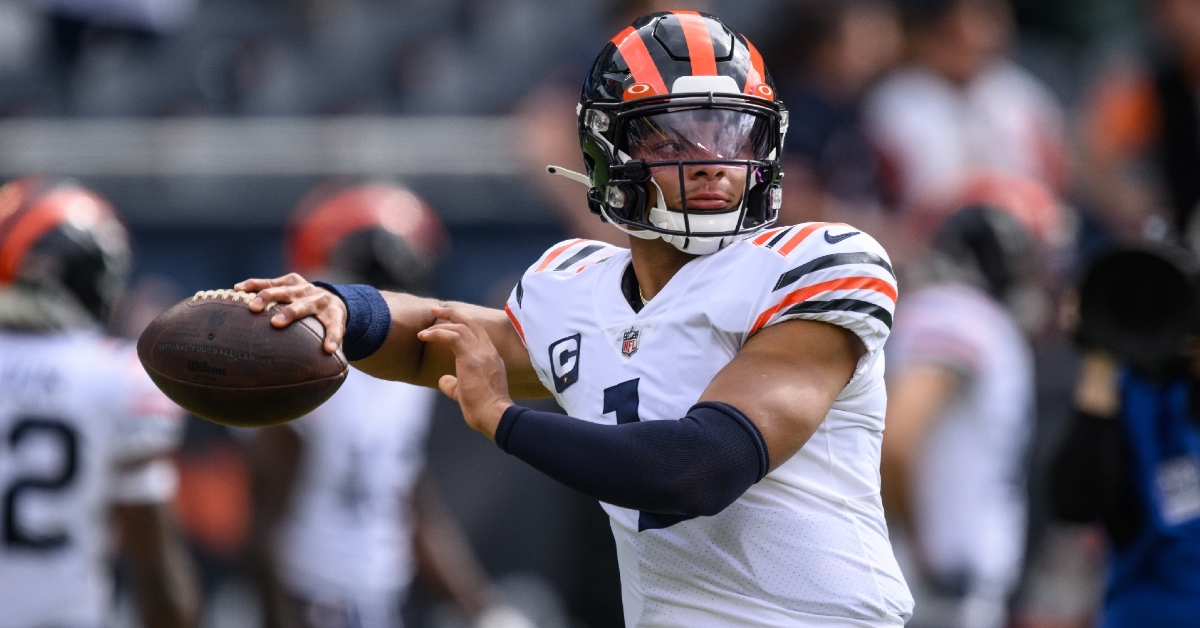 | | |
| --- | --- |
| Three Takeaways from Bears win over Texans | |
---
It wasn't easy, and some would argue that it was ugly, but the Bears managed to take down the Houston Texans this weekend. A win is a win in the NFL, and the Bears will not trade that win for anything as they remain tied for first in the NFC North.
However, there is a lot to improve upon, and the Bears need to start being more efficient, especially on offense, if they want to be taken seriously by the rest of the NFC. From an outsider's vantage point, this team is still a year or two away from being a legitimate contender in the NFC, but any positive momentum this season with a new head coach is a positive sign for the future. Here are some takeaways from the game.
Look, I am not one to give up on someone this soon or anything like that, but you have to wonder what the Bears are feeling about Justin Fields right now? Yes, I understand the Bears offensive line is not that great, but it is way better than it was a season ago.
Even with that, Fields is struggling under center, so much you wonder how long the Bears will trust him. Yes, this is a 2-1 team right now, but can fans honestly sit here and say Fields is the reason why? Sure, he made two nice passes against the 49ers in week one, but outside of that, the Bears defense saved the day.
Same thing this week against Houston, where he had a couple of nice plays with his arm while also making a few first downs with his legs. Regardless, he needs to be more efficient and figure out how to pass the football better, as he is barely over 400 yards passing in three games. As a team, you will not win games consistently when your QB is that suspect at best.
It has been four years since Eddie Jackson was a legitimate defensive threat in this league, but if the early season games are any indication, he could be returning to that level. After becoming one of the best safeties in the league in 2018, the Bears rewarded him with a lucrative deal that made him the highest-paid safety in the NFL.
In the years since, not only has Jackson failed to live up to that deal, but he has become a defensive liability at times and had his new head coach put him on notice before training camp. That message has appeared to be received the way the Bears were hoping it would be, as Jackson is looking like the player from a few years ago when he agreed to that contract.
Not only has he gotten back to making plays against the run and remembering how to tackle, but he has two interceptions in three games which was when he was at his best. If you remember back to 2018, Jackson and the Bears defense were a turnover machine, which was a big reason they went 12-4 that season.
Although not at that level yet, it is nice to see the new Alan Williams-led defense get back to forcing turnovers. Should this continue the rest of the season, this Bears team can contend for a playoff spot as long as their offense can hold up their end of the bargain.
Although the passing game has yet to take off, the running game has been solid all season, and David Montgomery is a big reason why. Now in his fourth season out of Iowa St., Montgomery has proven to be a bell-cow back capable of consistently getting you 1000 yards per season.
He is the offense's focal point, and when he is getting yards on the ground, the offense appears to be more in sync. However, like last season, it looks like he will miss some time as he was lost early in the first half with an ankle injury. The Bears felt the effect of his absence last season as no Tarik Cohen meant Damien Williams and Khalil Herbert would should the load in his absence, which didn't go well.
Should he miss some time again this season for his most recent injury, Herbert again will have to fill in, but he looks ready to shoulder a more significant load this season. After rushing for better than 150 yards and two scores on Sunday, Herbert has proven he can take on a more prominent role on the offensive side of the ball if the Bears choose to give him that.
Hopefully, the injury to Montgomery isn't serious, and he can be back out there soon. Regardless, Herbert made an impression on Sunday to, at the very least, take on a larger role on Sunday, and I fully expect the Bears to give him more opportunities going forward.