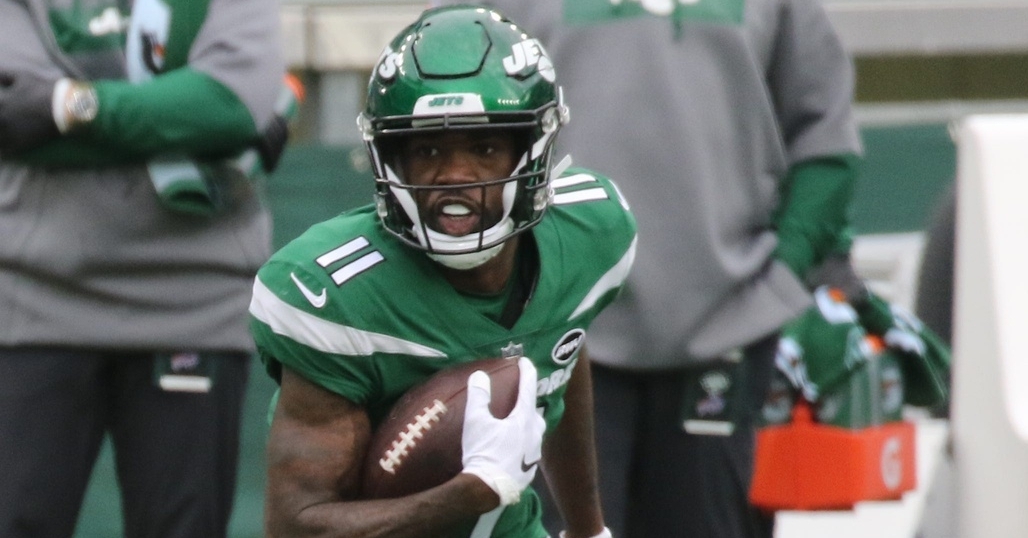 | | |
| --- | --- |
| Trade rumor has Bears landing speedster Denzel Mims at WR | |
---
| | | |
| --- | --- | --- |
| Friday, July 29, 2022, 8:18 AM | | |
Just when you thought you were safe from the trade rumors this offseason, there is another one circling Bears camp. After Ryan Poles made two huge free-agent signings to beef up the offensive line this week, talking about future trades is never a bad thing. After watching the Bears get N'Keal Harry for next to nothing, I wouldn't put it past Poles to look into adding more firepower on offense.
In the most recent trade rumor to speak about, this one revolves around the Bears and Jets talking that has the Bears landing former second-round draft pick and WR Denzel Mims. The former Baylor University star has been decent since his selection, but hasn't been the player the Jets envisioned when they made the pick hence the possibility of him being dealt.
This is similar to the Harry trade, where he never turned into the player the Patriots hoped for and thus traded him away for a seventh-rounder. Considering the Bears only had to give up one pick for Harry, should they be interested in Mims, it would cost a little more. He would bring back more because he has two years left on his rookie contract, but probably not much more.
Coming off a senior season at Baylor where he had 66 receptions for 1020 yards and 12 scores, the Jets expected big things from him as he was going to be the team's No. 2 WR.
Known for his blazing speed, Mims has not panned out in two seasons, and should the Bears have interest in him; they could easily have him for two day three selections.
In the 11 games he played last season, Mims caught just eight passes for 133 yards (16.6 yards per catch). It was a downgrade from his rookie season in 2020, when he had 23 catches for 357 yards (15.5 yards per reception) playing with QB Sam Darnold. At 6-foot-3, 207-pound, Mims has yet to score a touchdown in the NFL, and he didn't vibe on the field with New York's new franchise quarterback Zach Wilson. Given the pure size and speed that Mims brings to the table, perhaps a change in scenery is what he needs to reach his potential.
Mims is said to have had a standout opening day at training camp, and if the Bears could get him for a fifth- or sixth-rounder — or perhaps a fifth and a sixth — it might be worth a shot. Fans know how aggressive Poles has been this offseason when it comes to improving this offense, and this would be another way to do that as Justin Fields would have another WR to throw to.
What looked like an issue heading into the offseason with the departure of several key WRs is quickly becoming a strength that could get better if Mims is added to the mix. While it is unclear how he would fit in with Chicago, we know his speed would give Fields another home run threat to stretch the field and use that big arm.
Also, with his 6-3 size, Mims can go up and get it in jump ball situations which Fields would use more frequently this season compared to last. I want to rehash that there haven't been too many talks about this, and this is only a rumor, but where there is smoke, there tends to be fire. Poles haven't steered fans in a wrong direction at this point in his tenure, and he has shown that he will do what he needs to do to win. Adding Mims is another way of doing that.