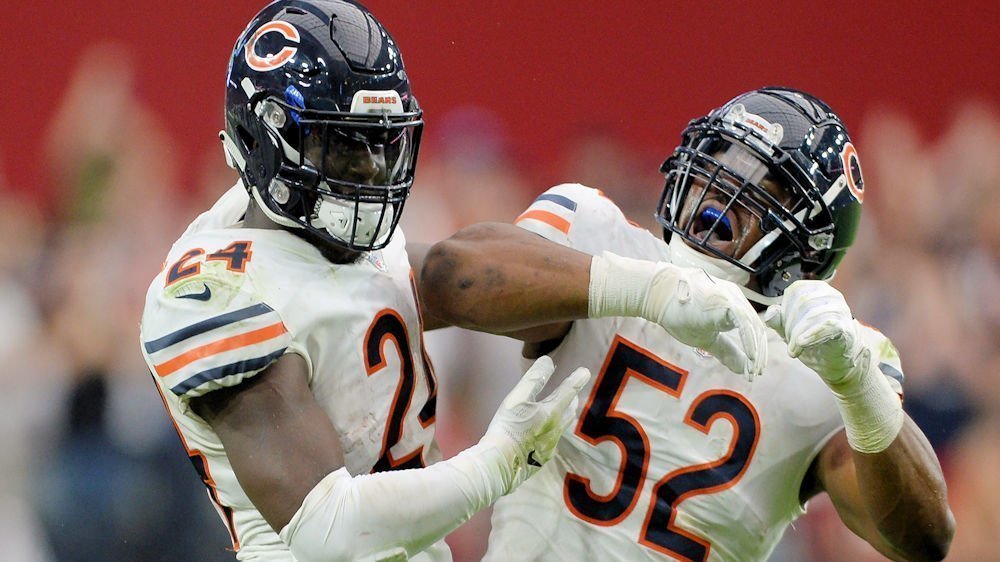 | | |
| --- | --- |
| Bears to hold players only meeting ahead of Week 8 | |
---
There is something not right for the defending NFC North champs this season as they are sitting at third in the division with a 3-3 mark. Not only that, the two teams ahead of them are playing some of the best football in all the NFC while the Bears struggle to find their identity as a team.
Injuries aside, this team has not looked anywhere near the team we thought they would be coming off the season they had last year. The defense has not been as consistent, the offense lacks an identity as to what they want to be this year, and the whole team is missing that it factor that led them to nine wins in the team's final ten games last year.
With most fans panicking, and the coaches left searching for answers, the Bears players appear to be taking matters into their own hands to right the ship. Two days after dropping their contest against the Saints, the Bears returned to practice where their veterans revealed that they would be holding a player only meeting soon.
"I think that's huge," said cornerback Prince Amukamara in an interview with ChicagoBears.com. "I think that's when guys can really be transparent and genuine, and it's a safe place. Guys can say what they feel, and other guys can hear it. I don't think anyone's going to take it personal. I think guys are going to really listen and take it to heart."
Some players, only meetings are conducted to talk about the negative things a team is doing. That will not be the case with this one as this meeting is being conducted to help everyone stay positive while making sure they are all on the same page moving forward about what needs to get done and accomplished.
Although the defense continues to outperform the offense every week, there hasn't been any negativity between the units during their recent struggles.
"We're a team that's not pointing the finger; we point the thumb," Amukamara said. "And we have thick skin. Guys aren't afraid to call other guys out, and I'm thankful that we have that kind of camaraderie."
Following yet another disappointing loss to the Saints on Sunday, Head Coach Matt Nagy spoke with the media about remaining positive and battling through this adversity to become better. He wants his team to work on improving and drown out all the negative outside noise. If anyone knows about adversity, it is Nagy who was part of the staff in Kansas City that started a season 0-6 before winning 11 straight games and losing in the postseason. Some of the players on the Bears offense hope to rally around Nagy's confidence as the outside noise continues to get louder each week.
"You just can't listen to all the noise on the outside," said right tackle Bobby Massie to the media. "Everybody on the outside of this building, they're taking shots at us, rightfully so. But as a team, we just must stay together and keep working hard. Just keep grinding. Turn the ship around."
You can't point to numerous things on offense and see where the outside noise is coming from, but much of the talk surrounds starting quarterback Mitch Trubisky and his recent play. Not only did he struggle in his return from a shoulder injury, but he has struggled all season long and has had to endure a fair amount of criticism this season. That doesn't matter to his teammates as they all firmly stand behind him and believe he is their man.
"We're behind him 100 percent of the way," Massie said. "He's our quarterback. That's our guy. There are a lot of things getting thrown at him right now. We just [need to] keep the pocket clean and give him time to make decisions and make his throws."
No doubt that the Bears need to turn things around in a hurry if they expect to make the postseason again, but this is undoubtedly a step in the right direction. This once again shows you how close this team is that no matter how difficult things are getting, they refuse to point fingers at someone else. Everyone takes their fair share of the blame and wants to be on the same page as everyone else. Who knows, this meeting could be the best thing that happened to the Bears, especially if they come out looking like a new team.
Upgrade Your Account
Unlock premium boards and exclusive features (e.g. ad-free) by upgrading your account today.
Upgrade Now