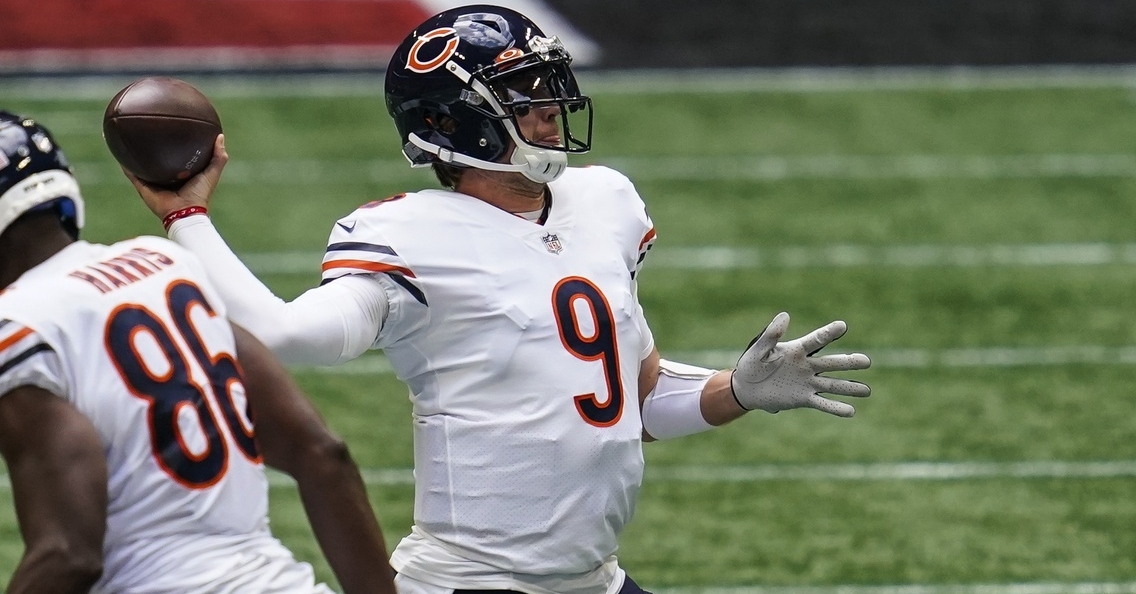 | | |
| --- | --- |
| Bears Report Card: Position Grades on loss to Colts | |
---
| | | |
| --- | --- | --- |
| Thursday, October 8, 2020, 5:09 PM | | |
It was a crazy week for the Chicago Bears. The first full week with the quarterback change, a lackluster performance, and ultimately the first loss in a season that will not get any easier.
Let's give out our position grades for the Bears, who lost to the Colts 19-11 on Sunday.
Quarterbacks C-: Nick Foles earned the starting job with a dazzling come-from-behind win over the Falcons and did not show us why on Sunday. Foles threw for 249 yards and a garbage-time touchdown, as well as an interception. Foles and the entire offense seemed out of rhythm in their first week as a unit. If Mitch were still the QB, he would have been pulled again if the offense looked the way it did on Sunday.
Running backs D: This can easily be blamed on the play calling or the roster construction or going up against a strong Colts defense, but the running game was nowhere to be found. The longest run of the day for the Bears was six yards. David Montgomery had ten carries for just 27 yards, and the rest of the carries went to the gadget-man, wide receiver turned running back Cordarrelle Patterson. This unit needs to turn it around.
Wide Receivers C+: In a dud of a game, this unit performed admirably enough to earn a C+. Allen Robinson had another over 100-yard game and added a touchdown, and rookie Darnell Mooney grabbed five passes for 52 yards. However, the rest of the unit was not so good — including multiple drops, one by Anthony Miller, which allowed a Colts interception. This unit often goes hand and hand with QB, but nonetheless needs to turn it around quick.
Tight Ends C: This unit, with an overfilled position room, had an okay day on Sunday. Although rookie Cole Kmet didn't get involved, Demetrius Harris caught one pass, and Jimmy Graham seemed to have solidified himself as a big part of this offense with another four catches for 33 yards. Nothing special from this unit but nothing bad.
Offensive Line C: The offensive line did a solid job protecting against the league's best defense. The o-line gave up just one sack and did enough to protect the Bears in a pass-first attack. On the run side of the ball, the line was generating no push to help the backs. Not exactly a strong unit, but a solid game from the o-line.
Defensive Line C: The D-line was fine, but not great at all. One sack from Brent Urban helped, but there was not consistent pressure on Philip Rivers, perhaps at all. The Bears need more out of this unit.
Linebackers C: It was a quiet day from the linebackers on Sunday. Roquan Smith had ten tackles, and an interception almost had another. Mack should have had one as well. Once again, however, a unit that boasts Smith, Trevathan, Mack, and Quinn needs to do more.
Secondary C+: The Colts did not have hardly any big plays, and the receivers were mostly slowed down. This unit could use an Eddie Jackson pick-six soon.
Special Teams C-: Cairo Santos made his one field goal on one try, and some strong returns from Cordarelle Patterson help this grade. In the end, okay performance reflects an OK grade for this unit.
Playcalling D-: We can not blame Trubisky for offensive woes and a lack of the run game when he isn't playing —so a lot of the blame has to go to Nagy and the play-calling on the offensive side. More than two-thirds of the plays were passing, and the offense never got into a rhythm. Hopefully, another week under the belt will help Nagy and Foles.
Nonetheless, this team is 3-1 and looking to make it 4-1 at home against Tampa Bay on Thursday Night Football this week.