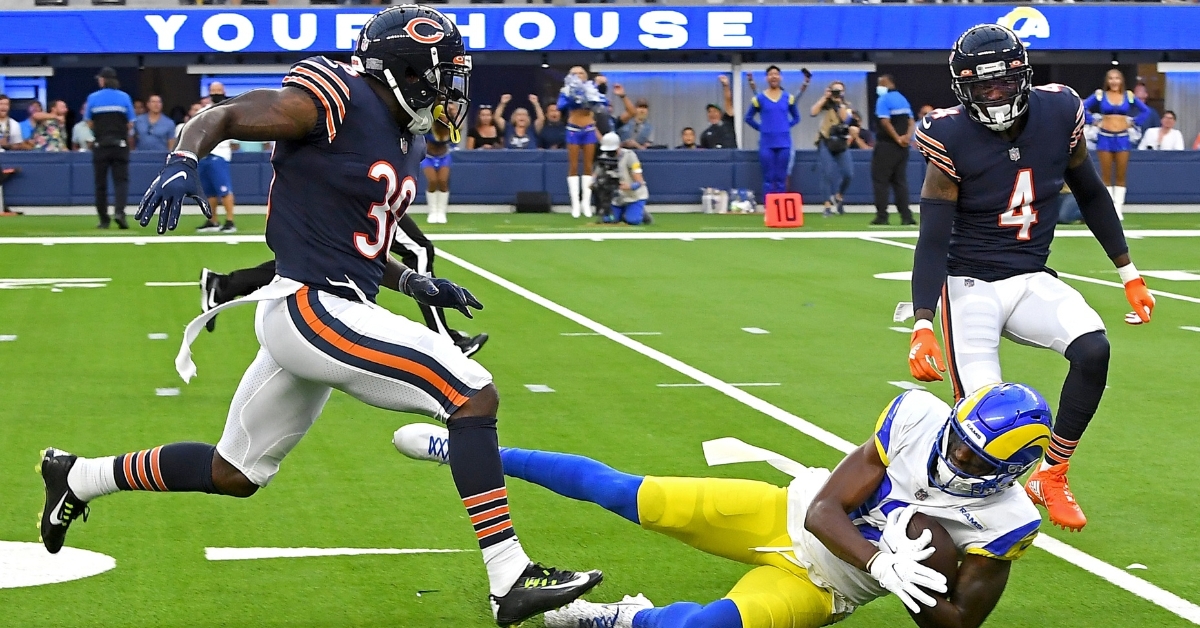 | | |
| --- | --- |
| Bears defense shaky in season-opening loss to Rams | |
---
LOS ANGELES – Week one of the 2021 NFL is nearly complete as the Baltimore Ravens take on the Vegas Raiders tonight. However, there were still 14 games going on yesterday, including the Chicago Bears (0-1) matchup with the Los Angeles Rams (1-0) on Sunday night from SoFi Stadium. Not only was it a big moment for the Bears, but an even bigger moment for the Rams as they got to showcase their new-look roster in front of fans for the first time since SoFi Stadium was constructed.
Led by a new, but familiar face if you're a Bears fan, Matthew Stafford is now donning Blue and Yellow instead of blue and Silver. Coming into his start with an 11-9 record against the Bears for his career, Stafford looked every bit of the No.1 pick he was over a decade ago as he torched the Bears all game long. Not only did he complete 20-26 passes for 321 yards and three scores, but two of those scores were over 50 yards as the Bears had no answers for the Rams offense.
Add that to a defense that continues to wreak havoc on opposing teams, and it was a nightmare scenario for Chicago all night, who didn't do much of anything offensively. In the end, the Rams capped off a perfect 4-0 weekend for the NFC West as they downed the Bears 34-14.
Things looked to be getting off to an excellent start for Chicago, with Khalil Herbert returning the opening kick near midfield to set the offense up with excellent field position. From there, it was the running game and a few short passes that moved the ball into the Rams red zone. As they were looking to come away with points on their opening drive, Andy Dalton was intercepted in the end zone as the Rams took over.
That was the momentum shift in the ball game as the Rams needed just three plays to come away with a score as Stafford hooked up with Van Jefferson for 67 yards giving Los Angeles the early 7-0 lead. Things continued to worsen for the Bears on their next two possessions after turning it over on downs which led to a Matt Gay 53-yard field goal, the Bears offense got the ball back only to see Dalton fumble it in Rams territory giving Los Angeles the ball near midfield yet again.
Once again, the Rams offense knew what to do with it and turned that turnover into three more points as Gay connected from 22 yards to extend the lead to 13-0 less than four minutes into the second. For as bad of a start that the Bears offense had, their defense did a fine job limiting the damage and allowed the offense to figure things out. It took nearly the entire first half, but the Bears did indeed put a great drive together, which resulted in their first score of the game.
With Dalton using Allen Robinson and Cole Kmet to move the chains, you could see the Bears finally building some momentum as the half ended. David Montgomery was also a big part of that drive using his legs to do the damage the Bears hope he will this season. In total, Chicago ran nine plays covering 55 yards and took over four minutes off the clock. Montgomery capped off that drive with a three-yard score as the Bears headed into half down 13-7.
As the second half got underway, the Rams offense got the ball first, and they needed just one minute to extend their lead. Following a pair of plays that didn't amount to anything, Stafford went to Robert Woods for 19 yards before going up top to Cooper Kupp for the 56-yard touchdown strike making things 20-7 in favor of Los Angeles.
Then ensuing possession for Chicago was not only huge, but proved the Bears wouldn't go down without a fight. Not only did Chicago take nearly 10 minutes off the game clock, but they did so, running 18 plays which is impressive when you think about it. Dalton had the short passing game working early, finding Darnell Mooney and Robinson, which helped set things up for Montgomery again. Add in some carries for Damien Williams, and another pass to Kmet, and the Bears were moving the ball inside the Rams 40.
There was a brief Justin Fields sighting on this drive as he completed one of his two passes in the game, keeping the Rams defense guessing for the time being. Fields wasn't going to go away empty-handed as he capped off this lengthy drive by using his legs to score his first career touchdown as the three-yard run made things 20-14.
Justin Fields with his first NFL touchdown! #BearDown pic.twitter.com/YAkNzWherd

— ChicagoBearsHQ (@dabearshq) September 13, 2021
Hoping the defense could match the offense, the Bears needed to stop the Rams more than ever, but couldn't figure out how to solve the Sean McVay offense. Darnell Henderson and Sonny Michel look to take over for the injured Cam Akers this season, and both had great moments. Stafford continued to use his weapons on the outside, including getting Desean Jackson involved before finding Kupp over the middle for what looked to be another 18-yard touchdown.
Upon official review, it was determined that Kupp was down at the one-yard line preventing a touchdown for the time being. Henderson took care of the rest by punching it in from one yard out, extending the Rams lead to 27-14 after another long, but short drive on the field.
The Rams added another late-game touchdown on a two-yard strike from Stafford to Woods as the Rams made quick work of the Bears 34-14.
The seat is getting warmer
When the season started, many people felt that Nagy was one of the coaches on the hot seat. From an underperforming offense to not consistently winning games, you can see why this season is a must-win for Nagy to keep his job. After watching what happened in week one, that once warm seat is not starting to heat up as Nagy should be looking over his shoulder.
Typically, I don't want to overreact after one game, but if things don't change quickly, Nagy is as good as gone. Having an inconsistent offense is one thing, but it is a recipe for disaster when your defense is equally as bad, if not worse. This was not the start the Bears were hoping for, and things will only get tougher from here.
Stafford paired with McVay is lethal
Remember when the NFL said the league figured out McVay and his coaching style? Yeah, either do I, as the Rams offense looked like a well-oiled machine on Sunday. With a change at QB, McVay finally has a partner instead of a student, and that alone is a match made in heaven.
Stafford has always had the ability to be a top-five QB, but never had the supporting cast around him to reach that level. He has that now, and McVay is not going to hesitate to use this to his advantage. Everyone saw how good this Rams defense was last season, but the offense was holding them back. That won't be the case this season, and the Rams could have the most complete team in the NFC.
Good Luck, Justin Fields
As the game went on and the Bears offense continued to struggle, you could hear fans chanting for Justin Fields louder than ever. While he did see time on the field on Sunday, it was in limited action even though he did pick up his first career touchdown on the ground.
This was the result that Bears fans were hoping for because most feel Fields should be the starter now over Dalton. While I agree with that, if the Bears play calling and the offensive line doesn't improve, it won't matter who is playing QB. Regardless, after watching last night's game, Fields will have to be ready because this could be a long season if things don't get fixed quickly.
QBs Andy Dalton & Justin Fields met with the media following #CHIvsLAR.@Hyundai | #DaBears pic.twitter.com/kU1fvOxuHl

— Chicago Bears (@ChicagoBears) September 13, 2021