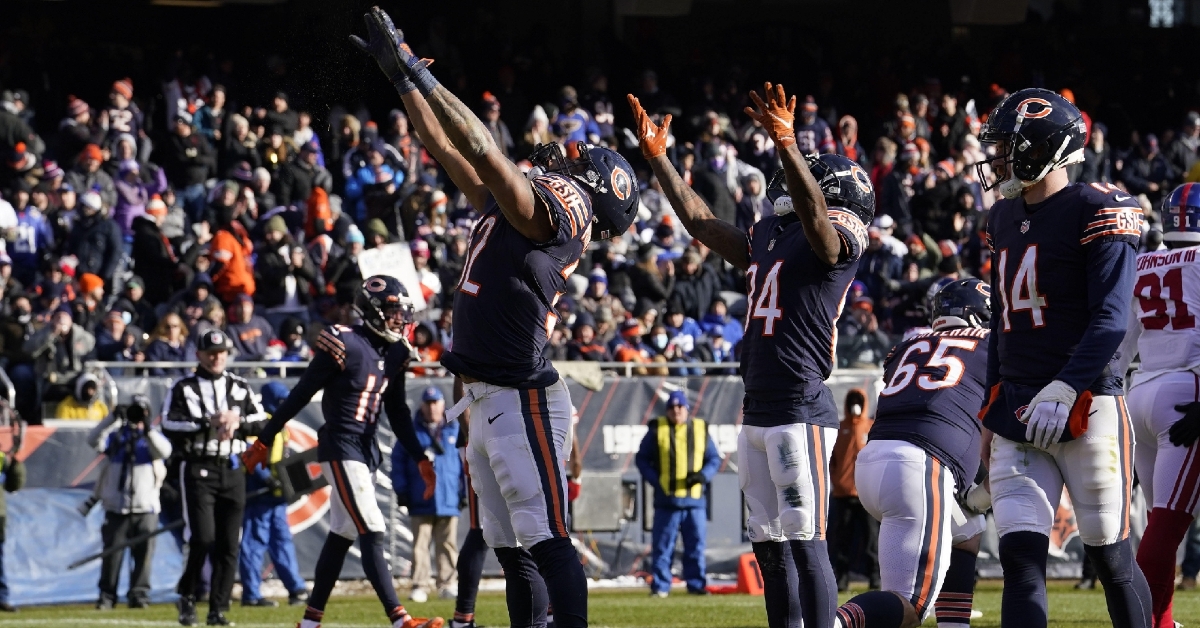 | | |
| --- | --- |
| Bears Fantasy Player updates for Week 3 action | |
---
| | | |
| --- | --- | --- |
| Friday, September 23, 2022, 6:48 PM | | |
This football season is off to quite an unusual start; the same applies to fantasy football. Before the beginning of the season, the Chicago Bears came into the season with six players ranked in the top 200 fantasy players according to the NBC Sports Edge Fantasy Football Draft Guide.
Those players were David Montgomery, Darnell Mooney, Cole Kmet, Justin Fields, Khalil Herbert, and Velus Jones Jr.
David Montgomery
Montgomery started the season ranked at #45 overall. According to the current Yahoo Fantasy Football season rankings, he is now ranked #96. This is primarily due to the fact that in the first game of the season, he only had a total of 50 yards. Against the Packers, he had 122 rushing yards with another 14 receiving yards. If the Bears continue to utilize Montgomery as they did against Green Bay, he will probably climb up the fantasy rankings. Getting his first touchdown of the season would also help.
Darnell Mooney
While he started ranked #62 overall and #24 among the receivers, since he only has two receptions this season for four yards, that ranking obviously is not the same. He is currently ranked #379. This is due to several reasons, primarily the offense's lack of a stable passing game. The Bears are currently ranked last in passing offense. If they can find some rhythm in the passing game, perhaps Mooney can start to have some fantasy value again.
Cole Kmet
Kmet is undoubtedly the biggest disappointment for the Chicago Bears thus far this season from a fantasy perspective. He came into the season ranked #165. He is now down to #1,114 because he has not caught a single pass this season. There is no reason to start him in fantasy with no yards and no production. Again, if the Bears can get the passing game going, then maybe this will change.
Justin Fields
Where Fields ranks in fantasy is quite shocking, given the Bears' lack of a passing attack. He came into the season #168 but is now ranked #61. While #61 does not sound that good by itself, that is higher than Aaron Rodgers (#69) and Tom Brady (#74). This can be attributed more to Fields' rushing stats, as he has 48 yards rushing and a rushing touchdown. The Bears need to establish a WR1, as they did with Mooney last year. If the Bears can get this done, Fields may be a realistic option to start at quarterback in fantasy.
Khalil Herbert
The Bears overall have always been good at having a good running game. They have gotten Montgomery going, and Herbert has gotten some production in both games this season. Unlike Montgomery, however, Herbert has a touchdown this season. That is probably why his ranking has jumped from #171 before the season to #149. He does seem to be rather touchdown-dependent in fantasy. So, he probably wouldn't be someone you would start. However, it is promising for the Bears to see both running backs with some productivity.
Velus Jones Jr
Jones Jr came into the season at #189. However, he has been injured and has yet to have his first start. So, he is currently at #654. Once he gets back in the lineup, this could help his overall production and the entire offense, as Fields would have another wide receiver to throw to. He only had one reception for four yards in the preseason, which puts into question just how productive he will be when he comes back.