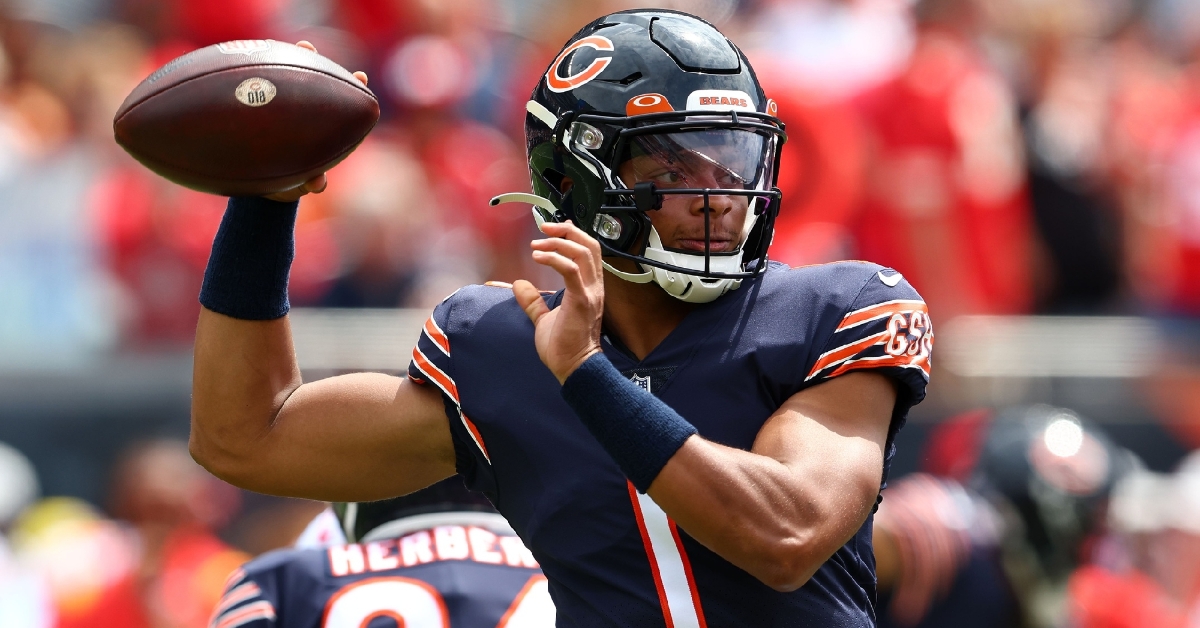 | | |
| --- | --- |
| Breakdown: Bears 80-man roster competition | |
---
| | | |
| --- | --- | --- |
| Wednesday, August 24, 2022, 9:32 AM | | |
As we inch closer to the final preseason game of 2022, the Bears continue trimming their roster. With 53 being the number they must reach by week one, the Bears will have to cut upwards of 27 people by September 1 to reach the roster regulation rules.
Today and tomorrow, we will look at how this roster looks and if there are any significant battles to pay attention to. As expected, Day one will be about the offense as that went through the most extensive makeover this offseason.
Quarterbacks
Justin Fields, Trevor Siemian, and Nathan Peterman: Not only is this not a QB battle, but you have to wonder if the Bears will carry three QBs once the season starts. In terms of a backup, but Siemian and Peterman have shown potential, but neither of them is going to be the answer if Fields goes down.
Based on the preseason and how things have played out, Siemian seems like the favorite to land the No.2, which could push Peterman out. He could always sign with the practice squad, but that seems unlikely.
Running Backs
David Montgomery, Khalil Herbert, Darrynton Evans, De'Montre Tuggle, and Trestan Ebner: The running back room is Montgomery and then everyone else as he will once again be the workhorse. Another question is who gets the backup role, as Herbert and Ebner have seen tons of reps this preseason.
Carrying five RBs is a lot, but there is a reason why the Bears have yet to sign Montgomery to an extension. I believe they have his replacement on the roster and are waiting to see how things pan out. Despite a good showing in the preseason, Evans is most likely on the way out with Tuggle.
Fullbacks
Khari Blasingame and Jake Tonges: This is the first time the Bears are going with a fullback in a long time, and there is not a ton of debate about who is going to get the job. Baring an injury, Blasingame will be the FB come week one, and the only question is whether or not Tonges can squeeze onto this roster as a special teamer.
Wide Receivers
Darnell Mooney, Velus Jones Jr, Byron Pringle, Tajae Sharp, Equanimeous St. Brown, Isaiah Coulter, Chris Finke, N'Keal Harry, Dante Pettis, Kevin Shea, and Nsimba Webster: The WR room is by far the busiest room right now as they still have 11 bodies in camp.
Obviously, not all of these bodies will make this roster, but there doesn't seem to be a ton of openings right now. Mooney, St. Brown, Jones, Sharp, and Pringle will make this roster, leaving seven guys for one spot. Pettis seems like the guy to take that spot, but Harry is still an intriguing option despite his injury. Regardless of who makes the team, most of these players are likely to land on the practice squad.
Tight End
Cole Kmet, Ryan Griffin, Chase Allen, and James O'Shaughnessy: Remember when the TE room was the most crowded in camp last season? It is amazing what one year can do as the Bears have their No.1 TE in Kmet ready to break out in 2022.
Behind him is the biggest question, and it becomes a matter if the Bears are going to carry three TEs or not. Should they go with two, look for Griffin to get that final spot as he brings plenty of NFL experience with him. If they go with three, Allen seems to be turning more heads at camp even though O'Shaughnessy would likely be the third option.
Offensive Line
Braxton Jones, Cody Whitehair, Lucas Patrick, Larry Borom, Teven Jenkins, Ja'Trye Carter, Shon Coleman, Jean Delance, Corey Dublin, Dieter Eieslen, Sam Mustipher, Riley Reiff, Michael Schofield, Lachavious Simmons, and Zachary Thomas.
The offensive line room continues to be an extremely busy spot with 15 guys vying for roster spots. Not only will all of them not make it, but I would be surprised if the Bears carry more than eight or nine guys at most. Barring injuries, the ones who are locked to make this team would be Jones, Whitehair, Patrick, Borom, Jenkins, Mustipher, Reiff, and Schofield.
If you do the math, that is already eight guys, but Patrick is hurt right now, which opens a spot to start the season. Eieslen is one of those guys that could take the Patrick spot for the time being, but he may not stick around once he returns. Apart from that, I honestly have no clue who gets the final roster spot, as the Bears could realistically cut any of the guys mentioned above.


Tags: Bears Football
,
Justin Fields
,
David Montgomery
,
Khalil Herbert
,
Darnell Mooney
,
Nsimba Webster
,
Cole Kmet
,
Cody Whitehair
,
Larry Borom
,
Sam Mustipher
,
Lachavious Simmons