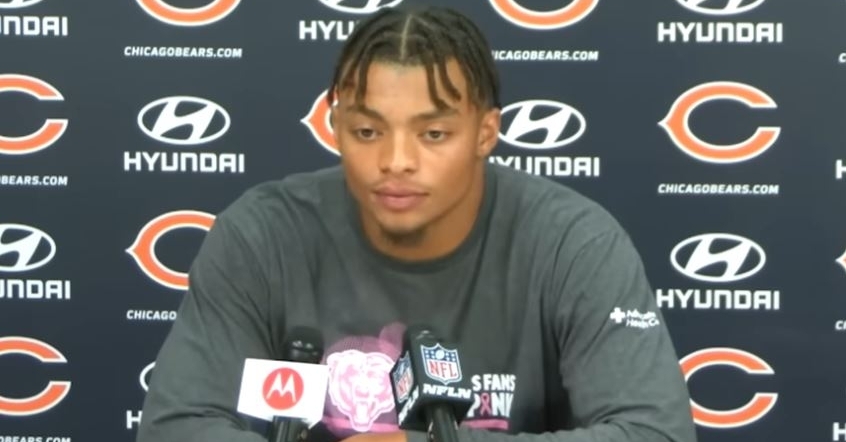 | | |
| --- | --- |
| Fields discusses Bears' loss to Packers and improving the offense | |
---
| | | |
| --- | --- | --- |
| Thursday, September 22, 2022, 10:52 AM | | |
The Chicago Bears' second-year quarterback, Justin Fields, spoke to the media Wednesday regarding the offense's poor performance against the Packers this past Sunday night. It was an emotional loss, as explained by Fields.
"First, it was the Packers," he says, "Then, it was just the emotional investment that you put in every day. I've never liked losing."
The play calling throughout the game was rather inconsistent and questionable, particularly with the fourth and goal call with the Bears inside the one-yard line. Nonetheless, Fields and the entire offense continue to have trust in the play calling and all of the coaches.
"I have a say in what pass plays I like, what concepts I like, but in terms of when we're going to call the play, how many passes, how many runs we're going to call, that's (offensive coordinator Luke Getsy's) job, and everybody in the building knows that Luke knows what he's doing and we put full trust in him."
Even with that said, many of the offensive playmakers from last season have not gotten the ball much this season.
Last year, wide receiver Darnell Mooney had 81 receptions for 1,055 yards. So far this season, he has had a dismal two receptions for 4 yards. Tight end Cole Kmet is yet another example. Although he did not have any touchdowns last season, he had 60 receptions for 612 receiving yards. He has yet to tally his first reception this season.
The one bright spot in the Bears' offense, which has been rather productive the past two seasons, is running back David Montgomery.
Montgomery had his first 1,000-yard season in 2020 and had 849 rushing yards in 2021. Currently, Montgomery has 148 rushing yards, putting him at an average of 74 per game. If he were to continue this pace, we would expect to have 1,258 rushing yards by the end of the season. However, due to various injuries, he has yet to play in an entire season.
Despite these numbers, Fields explained that the team is "not looking at individual stats" and is just trying to put points on the board.
Although, maybe this is something the team should be looking at as the Bears rank last in passing offense with an average of 76.5 passing yards per game (The New York Giants are second-to-last with 159 passing yards per game). His interception rate is also currently 7.1%, which was 3.7% in 2021. While this is partly because it is the beginning of the season, it is also concerning that he has thrown an interception in both games this season.
The Bears will be looking to improve on offense against the Houston Texans on Sunday, September 25 (12 p.m./CBS). Houston is currently ranked 29th in total offense, while the Bears rank last. However, the Bears are ranked eighth in the league for run offense, while the Houston defense is ranked 30th going against the run. Both teams have struggled to put points up on the board this season, with both being tied for 26th in the league in points scored per game, with an average of 14.5.