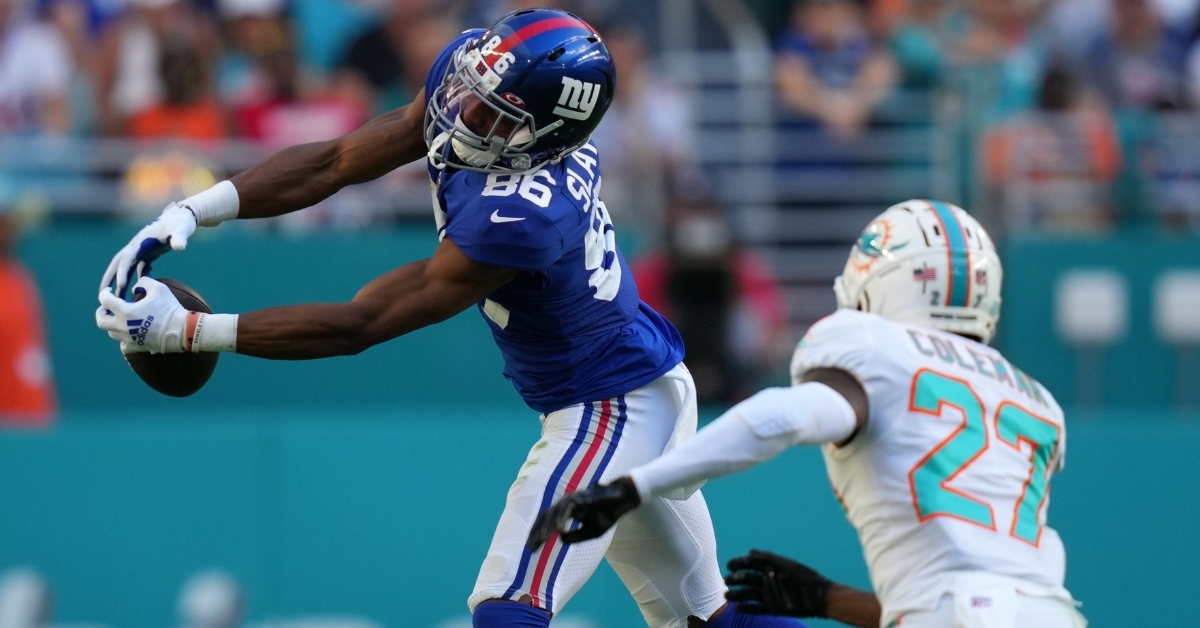 | | |
| --- | --- |
| Four players that would be a solid addition for Bears | |
---
| | | |
| --- | --- | --- |
| Friday, August 26, 2022, 10:44 AM | | |
Do you know the old saying that one man's trash is another man's treasure? That could hold true for the Chicago Bears. With NFL rosters needing to go from 80 to 53 by August 30th, there will be plenty of moving parts within the NFL, with the Chicago Bears included. That means several quality players are in danger of losing their job due to a numbers crunch at their positions.
If some notable names are going to hit the free agent market, Chicago better be paying close attention to the market as they could add to their team in various ways. Most of the players I see are on the offensive side of the ball, but four notable names could be gone by August 30th, and it makes sense for the Bears to look into them.
Darius Slayton
The first position that Ryan Poles addressed when he took over was the WR position. Given the rash of injuries that the group has seen since training camp opened, Poles could be in the market for more WR help and has hinted at targeting some options this week. Slayton was a name rumored with the Bears all offseason, and it may be revisited.
A talented WR in his own right, Slayton has shown plenty of potential, but on an inconsistent basis. That puts him in a difficult position as the numbers game appears to have him as an odd man out. Slayton will be a massive get for the Bears if he is cut or traded as he would instantly become the team's No. 2 option and could consistently give you 800-900 yards receiving.
OJ Howard
When the Bills signed Howard to a one-year contract, it was almost like the rich are getting richer situation. As if Josh Allen needs more weapons around him offensively. However, this was also a situation where Howard may have seen more targets, with the defense paying more attention to Stephon Diggs and other guys.
Instead, not only is Howard behind Dawson Knox on the depth chart, but he also appears to be behind two other TEs, which doesn't bode well for his chances to make the team. With a contract of just 2.25 Million for the 2022 season, should the Bills let him walk, he would be an excellent addition for Chicago if they picked up the phone to call him.
Alex Leatherwood
One thing the Bears have done much better with as the offseason went on was adding to their offensive line. Not only do they have young talent in Teven Jenkins, Larry Borom, and others, but they added some excellent veterans in Michael Schofield, Riley Reiff, and Lucas Patrick to give the Bears youth and experience across the line.
However, another talented player could be hitting the open market by the name of Alex Leatherwood. Considering he was a first-round pick in 2021, you have to wonder why the Raiders would consider cutting him. That is a question mark a lot of teams want to be answered. It could be the new regime and not having him fit their system. OK, if that is the reason, get him Chicago, as he could help anchor your line for years.
Mike Gesicki
The one name that I continue to be shocked to see is Mike Gesicki as the Miami Dolphins appear ready to move him. Granted, they will not cut him considering he is on the franchise tag, but they have already tangled his name on the trade market and have been taking calls on him for months. Whether or not the Bears have been one of those teams remains to be seen, but they better be soon.
Gesicki is more of a power slot receiver than a traditional tight end. His blocking leaves much to be desired, but his pass-catching and play-making abilities as a receiver are near the top of his class. The numbers he has put up the past five seasons are top five when it comes to TEs, and he is often overlooked when talking about the game's best. That alone makes him an attractive target if the Bears and Dolphins were to talk shop.
With Cole Kmet expected to be the guy in Chicago this season, you have to wonder if the Dolphins would ask for him in return. As much as the fans love Kmet, if getting Gesicki is a real option and they want Kmet for him, you pack that mans bags for him and send him to Miami. Justin Fields would love Gesicki and vice versa as he could put up the best numbers of his career.