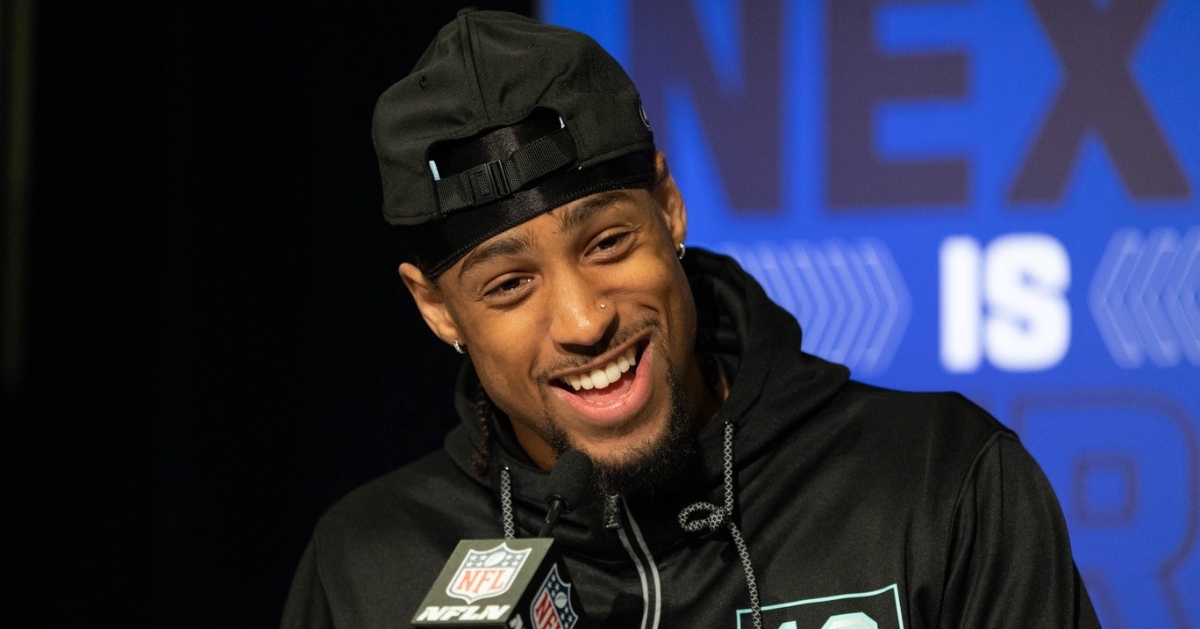 | | |
| --- | --- |
| Getting to Know: Bears CB Kyler Gordon | |
---
Now that the NFL draft is over and the Bears drafted 11 new players plus signed 15 undrafted free agents, plenty of new faces are coming into the organization. For the Bears and first-year GM Ryan Poles, you had to like what was done over the weekend, especially when you consider they gained additional picks on the back end to help this roster.
When the draft started, there were three pressing needs for this team. Those needs were WR help for Justin Fields, offensive line depth, and an improved secondary. Poles did a great job filling all those needs, but they did so across the first three picks, which started with drafting the University of Washington CB Kyler Gordon at No. 39.
Ever since Kyle Fuller parted ways with Chicago, it has been Jaylon Johnson and no one else in the secondary. Gordon is not only a guy who the Bears are bringing in to pair with Johnson, but someone who they think can filler the Fuller role of the past. When it comes to Gordon, it shouldn't come as a surprise as his name was floating around the Bears radar for weeks.
At 5-11 and 194 pounds, Gordon may be seen as a bit undersized for CBS, but he plays much bigger than his size indicates. Add in his 4.52 40-yard dash time, and he has shown the speed to keep up with some of the faster receivers in the game to a point. A top 25 CB coming out of High School, Gordon continued to prove his worth with the Huskies.
Despite redshirting in 2018, Gordon went on to earn honorable Pac 12 honors the next two seasons. 2021 was an impressive season for Gordon as he was voted to first-team Pac 12 honors with fellow teammate Trent McDuffie. Gordon picked up 46 tackles this season, two for a loss, while recording two interceptions. He also led the team with seven pass breakups across 12 starts.
Gordon is not only athletic, but that athletism shows up on tape and in person. His blend of play strength and explosive burst affects the passing game from press, off-man, and zone coverages. Gordon comes with an elite high-performance motor, but doesn't always show that on every play.
He plays with an alpha demeanor, and hitting is definitely part of his overall package. Gordon lacks polish and needs to play with better route recognition and anticipation, but if those elements click, his ball production could be near the top of the league as one of the top playmakers in the game.
Gordon comes with versatility as he can play on the outside and the nickel if the package is designed for it. His athleticism comes into play, but so does his size and strength, which he uses to his advantage off the line. He is highly disruptive when it comes to stopping the run and will be someone that Matt Eberflus loves to use all over the field.
Along with his strengths come apparent weaknesses, which every prospect has. Although his instincts are great, he is still working on the tactical aspects of his game. Gordon doesn't trust his eyes as much as he should, which often leads to him playing too handsy at times. He needs to work on making tackles after the catch where he missed way too many of those.
Initial comparisons have linked him to Byron Jones, a great corner in this league for years. Gordon may not be a No. 1 right now, but he is a great No. 2 and pairs well with Johnson. He is an athletic freak who many thought to be a first-round talent. The fact that he fell to the Bears in the second round is telling, and Chicago is fortunate enough to have him.