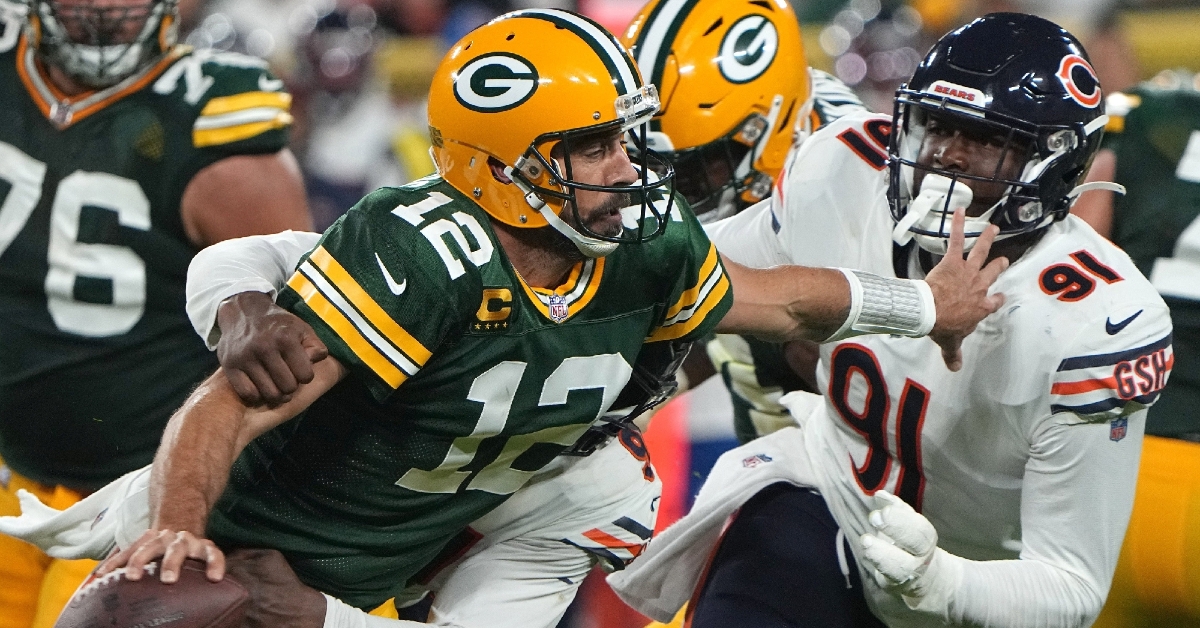 | | |
| --- | --- |
| NFL Power Rankings Week 3: Bears down three spots | |
---
The 2022 NFL season is underway, and what a wild week we had in weeks 1 and 2. As last year was, this year will also have 17 games in 18 weeks, with seven playoff positions in each conference. Last season, the Los Angeles Rams won the Super Bowl over the Cincinnati Bengals to cap off an excellent season. An offseason with a lot of roster moves brings us to an NFL with loads of parity, and here are BearsHQ's third power rankings of the 2022 season.
*We decided to explain the top 16 and the Bears*
1. Buffalo Bills 2-0 (no change)
The Bills are one of the league's best teams and had a heartbreaking end to the postseason a year ago. Josh Allen and the Bills won the AFC East and dominated New England in the playoffs before falling to Kansas City in overtime. Either way, the Bills are primed to own the AFC East and contend in the AFC. They are motivated and showed it in their week one blowout of LA and week two domination of Tennessee.
2. Kansas City Chiefs 2-0 (up 1 spot)
Patrick Mahomes and the Chiefs turned a rocky start into a dominating end of the season. Aside from two losses to the Bengals, the Chiefs have not lost since October. However, without Tyreek Hill, the offense will look much different, although the Chiefs did acquire Ju-Ju Smith Schuster, Marquez-Valdez Scantling, and rookie Skyy Moore to an offense with Patrick Mahomes and Travis Kelce. And that offense was clicking in weeks one and two. The Chiefs are one of the league's best teams.
3. Tampa Bay Buccaneers 2-0 (no change)
So we know the Bucs have a wildly talented offense and a defense with young stars — plus Tom Brady, so this team does not have any flaws — and that was on display Sunday night in Dallas. This week against New Orleans, Tom Brady had some struggles, but the defense came through at the end to make Tampa Bay 2-0.
4. Los Angeles Rams 1-1 (no change)
The LA Rams came into this season as defending champions. Throughout the season, they became improved even more with various acquisitions and had a Super Bowl trophy as a reward for it. They are the champions, so although a choppy week one performance did not prove much, we are not giving up on the Rams. The Rams got back on track Sunday over the Atlanta Falcons and are a top-5 team in our rankings.
5. Philadelphia Eagles 2-0 (up 4)
Philadelphia ended last season on a hot streak and added AJ Brown to an offense that was missing a WR 1, and all of a sudden, the Eagles look like a playoff team. 38 points in week one and a week two blowout on Monday Night Football over the Minnesota Vikings. Philly looks legit.
6. Miami Dolphins 2-0 (up 4)
The question surrounding the Miami Dolphins is how good Tua can be because the offense that features Tyreek Hill, Jalen Waddle, Chase Edmonds, and Raheem Mostert is loaded with speed. If Tua can tie it all together, Miami looks scary, and his six touchdown passes on Sunday in an epic comeback against Baltimore certainly looks like it.
7. Los Angeles Chargers 1-1 (down 2)
LA might have had the best off-season in the league. The offense had no problems, but the Chargers struggled to get stops. This year, the Chargers add pass rusher Khalil Mack and shut down corner JC Jackson to a defense that will get a healthy Derwin James and Joey Bosa back in 2022. This team might be the most complete in the NFL, and they looked like it was handling the Raiders in week one. A step back in week two against KC, where Justin Herbert was injured, will not knock the Chargers too far back in our rankings.
8. Baltimore Ravens 1-1 (down 1)
Baltimore has one of the league's strongest rosters, but they spent most of 2021 as the most injured team in the sport. But this team has speed all over the field, on both sides of the ball, and they know their identity. Led by an MVP in Lamar Jackson, the Ravens have the recipe for success — they need to stay healthy. The Ravens lost a shootout thriller in week two against Miami, but Baltimore is still a good team.
9. Green Bay Packers 1-1 (up 3)
For most of last offseason, the Packers were one of the most questionable teams — and it all depended on reigning NFL MVP Aaron Rodgers. Well, he led the Packers to the No. 1 seed in the NFC before getting upset by the 49ers. Despite Devante Adams switching teams, Aaron Rodgers makes Green Bay a solid team despite their week one loss and showed why during week 2 — dominating the Bears in primetime.
10. Minnesota Vikings 1-1 (down 3)
With an offensive-minded head coach and the best wide receiver in football, the Minnesota Vikings look like legit contenders early on. A blowout win of the division rival Green Bay Packers certainly helps, but getting blown out against Philadelphia certainly does not. But keep an eye on Minnesota.
11. San Francisco 49ers 1-1 (up 2)
San Francisco has one of the most talented rosters in the sport and rode their best players to an NFC Championship appearance. The 49ers made the change to Trey Lance, but with Kyle Shannahan and the defensive superstars the 49ers have, they are easily one of the NFC's best teams on paper — and with Trey Lance injured, Jimmy G is back under center, so we know what they are, and that is a good team.
12. Arizona Cardinals 1-1 (up 4)
After looking like the NFL's best team for most of the first half, a dramatic fall-off from injuries left the Cardinals with some question marks. However, Kyler Murray got paid, and the Cardinals added a few pieces to their roster; and they are more than good enough to be a top 10 team, even after getting throttled by KC in week 1. Arizona looked dead in the water in week two against Vegas but pulled off a historic comeback to give the Cardinals some life.
13. New Orleans Saints 1-0 (down 2)
No longer are the Saints an offensive powerhouse. They are a gritty, defensive-minded team with a few superstars on the offense. If Jameis Winston can continue to find Michael Thomas, the Saints could be great in 2022. The defense is legit, and if the offense clicks, New Orleans can see itself in the playoff race.
14. Pittsburgh Steelers 1-0 (no change)
Mitch Trubisky is now under center, not Ben Roethlisberger, but the strong defense and solid weapons allow Pittsburgh to remain in every game, which is how they beat Cincinnati on Sunday and nearly beat the Patriots in week 2.
15. Denver Broncos 1-1 (no change)
Down to the top 15 is the Denver Broncos, a loaded defense and young talented pieces on offense. All the Broncos were missing was a quarterback. Now, with Russell Wilson, they have one. Keep an eye on the Broncos to turn heads in 2022 after dropping their opener to Seattle and barely getting by Houston.
Cincinnati Bengals 0-2 (down 3)
The Bengals were the AFC's representative in the Super Bowl, but it has been a rocky start to the season for Joe Burrow and the Bengals. The Bengals have struggled to keep Burrow upright but still have the makings of a contending team.
17. Las Vegas Raiders 0-2 (no change)
18. New England Patriots 1-1 (up 4)
19. Dallas Cowboys 1-1 (up 6)
20. New York Giants 2-0 (up 8)
21. Chicago Bears 1-1 (down 3) The Bears go into the offseason with a new coach, a new general manager, a new staff, and a quarterback who many expect to take the next step. Now it's just time for the Bears to upgrade the offensive line, build around Justin Fields, and finally, show some promise on the field. Which they did in their week one win over the 49ers.
22. Detroit Lions 1-1 (up 6)
23. Jacksonville Jaguars 1-1 (up 7)
24. Indianapolis Colts 0-1-1 (down 5)
25. Tennessee Titans 0-2 (down 2)
26. Cleveland Browns 1-1 (down 3)
27. Washington Football Team 1-1 (down 3)
28. Seattle Seahawks 1-1 (down 3)
29. New York Jets 1-1 (up 2)
30. Carolina Panthers 0-2 (down 3)
31. Houston Texans 0–1-1 (down 2)
32. Atlanta Falcons 0-2 (no change)
Stay tuned as we update these rankings every week.
Upgrade Your Account
Unlock premium boards and exclusive features (e.g. ad-free) by upgrading your account today.
Upgrade Now