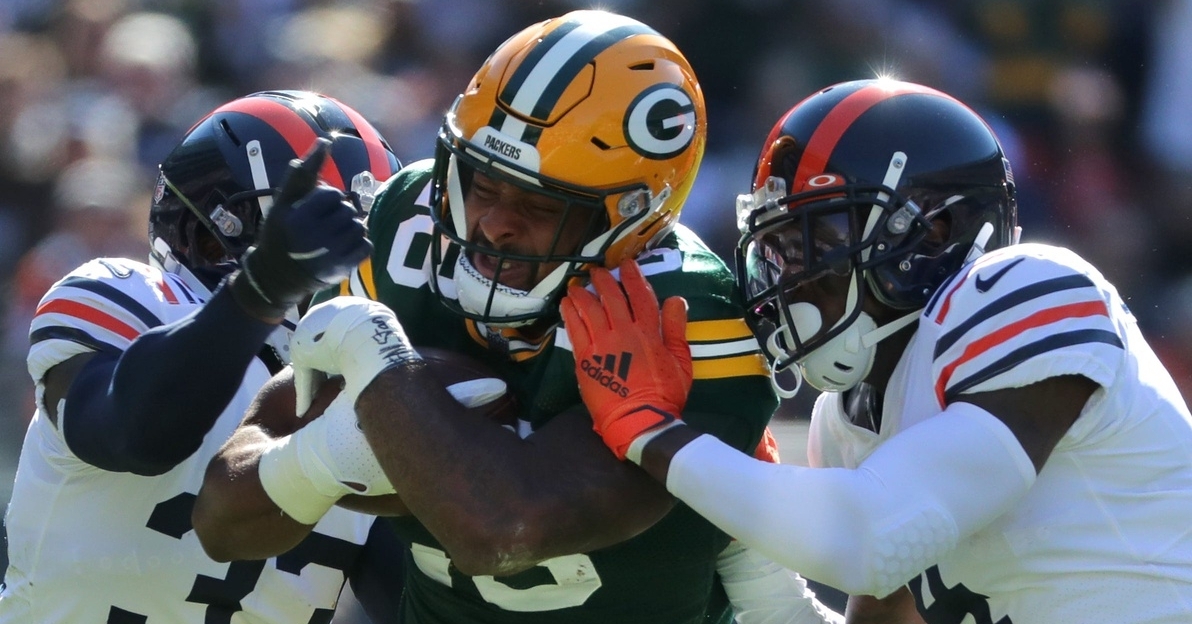 | | |
| --- | --- |
| Position-by-Position Breakdown for Bears vs. Packers | |
---
It is Packer week for the second and final time this season as the 4-8 Bears take the short trip north to Lambeau Field. These teams are trending in opposite directions with the Bears free falling losing six of their last seven, and the Packers sit as the second seed in the NFC with their 9-3 record.
Let's dive in and see where the Bears may have an advantage:
Quarterback
Justin Fields is back. Packers week has not been a fun one for Bears fans for a while now, but at least not having to watch Andy Dalton again will make it a bit better. Outside of the Ravens game where Fields sustained his injury that knocked him out of the second half of that game and the next two weeks, he was playing his best football of the season and getting better each week. Let's hope he picks back up where he left off and is not too rusty after his two-week absence.
We know who plays quarterback for the other team. Aaron Rodgers is still playing great this year and is currently the second-highest favorite to win MVP again after Tom Brady. The toe injury has not seemed to bother him much, but maybe the Bears will try to get him moving out of the pocket and test that further. The downfall there is how lethal Rodgers is when he rolls out and runs the scramble drill with Davante Adams. Matt Nagy mentioned this week that the team is aware of the "I own you" comments made after his touchdown run in their matchup earlier this year. Regardless of if Nagy has lost the locker room, this has to be a big motivator for this defense to step up and get in the face of Rodgers.
Advantage: Packers
Running Backs
David Montgomery was great last week in a terrible game from the Bears offense overall. The defense quickly realized that shutting him down and making Dalton try to beat them was the recipe for success and they were right. In a cold game like this will be the Bears will likely rely heavily on Montgomery again, and he should see 18+ carries again. The Packers have started using second-year power back AJ Dillon more each week and it has been a pretty even split between him and starter Aaron Jones as of late. Jones was a bit banged up and is likely feeling a lot better coming off a bye week, but Dillon will still get a lot of opportunities to wear down the Bears defense in the cold.
Advantage: Packers
Wide Receivers
Allen Robinson will be returning this week to help revive this lousy Bears passing game. Jakeem Grant has played well with his increased playing time and earned himself some snaps even with the return of Robinson. Darnell Mooney still will be the key here as he has been the biggest difference all year long from the receiving room. He should see a lot more favorable coverages now that Robinson is back.
Devante Adams is as good as they get at wide receiver. His route running and report with Rodgers is probably the best of any QB/WR duo in football. Adams is going to get his looks early and often, but the Bears really need to try and limit the damage he does on third down. Rodgers looks his way often, but they consistently move the chains on third down. With Randall Cobb out this week, I expect the Bears to put more attention on Adams and make someone else beat them. Marquez Valdez-Scantling is back for Green Bay and is always a threat to catch the deep ball. The Bears have a better duo at the position, but Robinson not playing well this year and Adams being as good as he is giving the Packers the edge here.
Advantage: Packers
Tight Ends
The Packers lost starting tight end Robert Tonyan earlier this season and now have turned to the young Josiah Deguara and veteran Mercedes Lewis. Mercedes is used very effectively in the run game as a blocker. Neither are big threats in the passing game, but they will have a couple of balls thrown their way. Jimmy Graham had one catch for one yard and one touchdown last week and now with Robinson back at WR he likely move back to just being a red zone or obvious passing down threat. Cole Kmet had a brutal drop last week that turned into a huge interception return in the first half. He ended up with three catches for 41 yards. The Bears have more talent at the position and get the advantage here.
Advantage: Bears
Offensive Line
Even with the Packers losing multiple starters to injury, they have played very well as a unit. They really have overachieved based on the personnel they have, but there still is an opportunity to expose them with a good game plan. One of the few bright spots for the Bears this year has been the progression of the o-line and how much better they have gotten from the first couple of weeks. Rookie Teven Jenkins may start getting into the mix more now that he suited up last week for the first time, and getting him some game reps will be an important task before the season ends. Even with the Bears' offensive line playing well, the Packers still get the slight nod.
Advantage: Packers
Defensive Line
Akiem Hicks looks like he will be back, and he is much needed. The defense has been very bad and is ranked near the bottom of the league in most categories, but Hicks immediately makes them better and opponents have to gameplan for him. Eddie Goldman has played well too in recent weeks and is an anchor inside. The Packers' Kenny Clark is the best player on their defense right now. He is having a Pro Bowl season and will see a lot of double teams come his way throughout the game. Clark is the best player in the group from either team, but overall the Bears line is better.
Advantage: Bears
Linebackers
Robert Quinn leads the NFC in sacks and continues his resurgent season. Roquan Smith is proving to be a superstar each week and ranks fifth in the NFL in tackles. The defense as a whole has been bad this year but these two are playing great individually and will be in the Pro Bowl. The Packers have a decent linebacking group but it is not one of their strengths. Krys Barnes and Rashawn Gary are the two players to watch on that side, but the Bears have the advantage.
Advantage: Bears
Secondary
The Packers found a gem in veteran free agent Rasual Douglas at corner. This was a position in question for Green Bay to start the year and then they lost All-Pro corner Jaire Alexander to injury on top of that, so Douglas filled a big hole along with rookie Eric Stokes. Former Bear Adrian Amos still is a great player for them too. The Bears' secondary has not been playing well and continues to not force turnovers. They only have five interceptions as a team on the year, and one of them is from Roquan Smith.
Advantage: Packers
Special Teams
Kicker Cairo Santos has been solid all year for the Bears, while Mason Crosby has been very up and down for the Packers. He has had some dreadful games and also has won them some games. I give the Bears the nod here.
Advantage: Bears

Tags: Bears Football
,
Justin Fields
,
Andy Dalton
,
David Montgomery
,
Allen Robinson
,
Darnell Mooney
,
Jimmy Graham
,
Cole Kmet
,
Akiem Hicks
,
Eddie Goldman
,
Robert Quinn
,
Roquan Smith
,
Cairo Santos