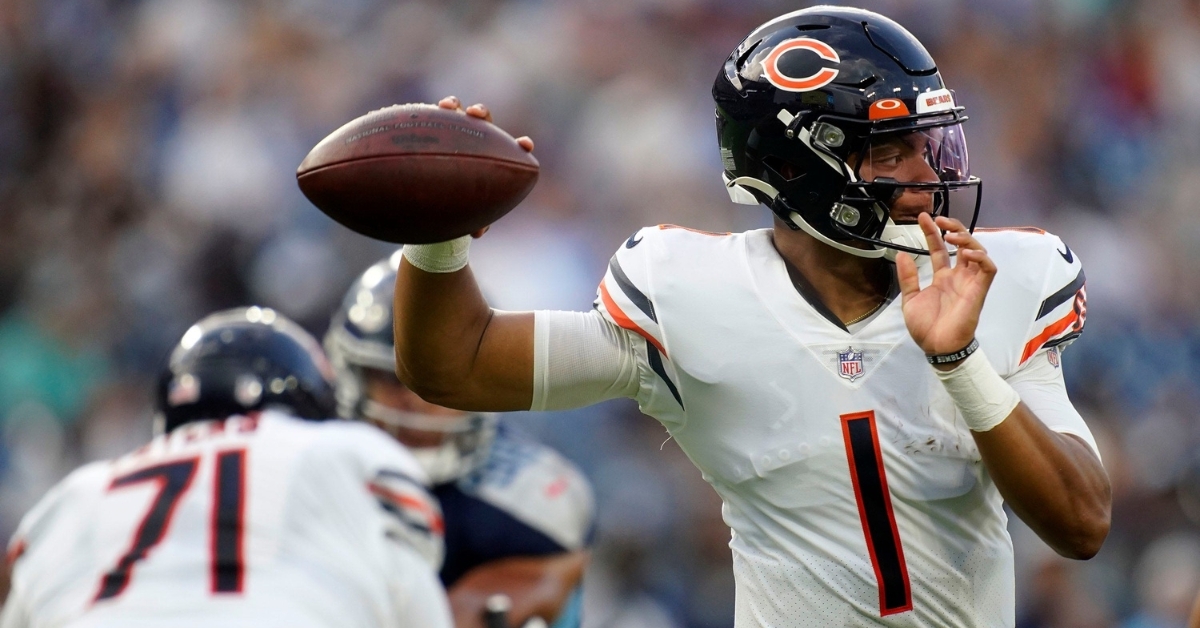 | | |
| --- | --- |
| Prediction, Three things to watch during Bears-Lions | |
---
No one wants to ever think of week four as a must-win game, but that could be the case for Chicago this weekend. Facing off against the winless Lions, the 1-2 Chicago Bears have their backs against the wall as this is as close to a must-win game as it gets.
Record aside, Detroit is one of those teams who has displayed great fights in every game this season. They very easily could be 2-1, but should be at worst 1-2 at this point. The Bears, on the other hand, are lucky to be 1-2, and some would say the Bears should be an 0-3 football team. One of the team's biggest questions this week remains at the starting QB position where Matt Nagy has yet to name a starter.
If healthy, Justin Fields will be under center, but after injuring his hand against the Browns, his status has not been confirmed for Sunday. With Andy Dalton still nursing a knee injury, Nick Foles would be under center if neither one of them could go. Fans saw how that experiment went last season, and it is not something they want to relieve.
Here are three things to look for in week three.
The QB position
Fans were up in open arms last week when Fields was named the starter only to see his start end as one of the worst in NFL history. A big reason for that was the offensive line allowing nine sacks to the Browns defense as the offense couldn't get anything going.
To make matters worse, Fields injured his hand during that game, and despite saying he is fine and ready to go, it has not been made official yet. The next option for Chicago would be Foles, and that is Bears fans biggest nightmare at this point. Foles was the starter for six games last season, and the team went into a season-long losing streak with him under center.
Foles has had moments where he looks like a starting QB, but those moments are few and far between. He also injured his back against the Vikings during a Monday Night game which ultimately put Mitch Trubisky back under center. I understand Nagy and his thought process of not wanting to name a starter, but you know the Lions are preparing to see Fields at this point, so why hide your plans.
The Bears' coaching staff has set Justin Fields up to fail.@EmmanuelAcho explains pic.twitter.com/eIA2MF6w8S

— Speak For Yourself (@SFY) September 30, 2021
After having a terrible first season in Chicago during the 2020 season, Robert Quinn has gotten off to a great start in 2021. Through three games, one could argue that he has been the MVP of the defense as he is starting to look like the player the Bears paid for. While most attention will go to Roquan Smith or Khalil Mack, Quinn plays a significant role on this defense and could be even more valuable this weekend.
As fans saw last week, Mack left the game with a foot injury, which was devastating for the Bears defense. Much like Fields, Mack's foot injury doesn't appear to be too serious, but it is a foot injury, and they all heal differently. That means he may not be the same player this week, which could hurt this defense in terms of getting a consistent pass rush.
That is where Quinn will play a huge role. The more pressure he can generate, the more likely it will be for the Bears to get by without Mack 100%. The better Quinn plays now, the better this defense will be when Mack gets back to 100%. If the Bears can continue to pressure the QBs, their secondary will start to look much better on the back end.
Robert Quinn is enjoying a bounce-back year for the #Bears through three games:

• 4 sacks (T-4th in NFL)
• 9 QB pressures (T-7th)
• 3 TFL (T-11th)
• 32% run stop win rate (7th for EDGE)

He's finally looking like the player they expected him to be.

— Jacob Infante (@jacobinfante24) September 28, 2021
Matt Nagy coaching for his job
There is never an easy win in the NFL, but this is a must-win game for the Bears this week. Should Chicago win this game, they would move to 2-2 on the season and keep them within striking distance in the NFC North for the time being. On the other hand, a loss would drop them to 1-3 on the season and would move them behind the Lions in the division, which is never a good thing.
Not many teams in NFL history have made the playoffs after starting 1-3, and that is the position the Bears will be in with a loss. Granted, some teams, including the Colts, a few years ago that started 0-3 and made the playoffs, but the Bears don't have the personnel on their roster to make up a lot of ground should they fall behind in the standings.
A big reason for that is Nagy and his inability to adjust on the fly. With that being said, Nagy could be coaching for his job not only this week, but for the rest of the season as Chicago needs to get back on track. The more the losses pile up, the less likely he returns to this team next year. Nagy knows that, the team knows that, and the fans know that. If his seat wasn't warm before, it is burning now as he is the coach under the most scrutiny.
After a rough first start, can Justin Fields keep Matt Nagy off the chopping block?@WCGridiron @sbnreacts pic.twitter.com/N4NlF4oeZP

— SB Nation (@SBNation) October 1, 2021
Prediction: BEAR DOWN
Say what you want about the Lions and their record, but this team has bought into Dan Campbell and his coaching style as they will never go down without a fight. After trailing the 49ers by 30 points, the Lions rallied late to lose by eight. They then took it to the Packers for the first half in week two before getting dominated in the second half and then saw Justin Tucker kick a 66-yard field goal to end their game last week.
The Lions have been on the wrong side of bad luck all year, and that sums up a lot of what this franchise has gone through since Barry Sanders retired. This is not a team to take lightly, as that is ultimately what will cost the Bears in this game. While the QB decision hasn't been decided for this week, Chicago still has more talent than this team and should be able to win. It won't come easy, but I do like the Bears in this one as they win a hard-fought 23-17 game.
Upgrade Your Account
Unlock premium boards and exclusive features (e.g. ad-free) by upgrading your account today.
Upgrade Now