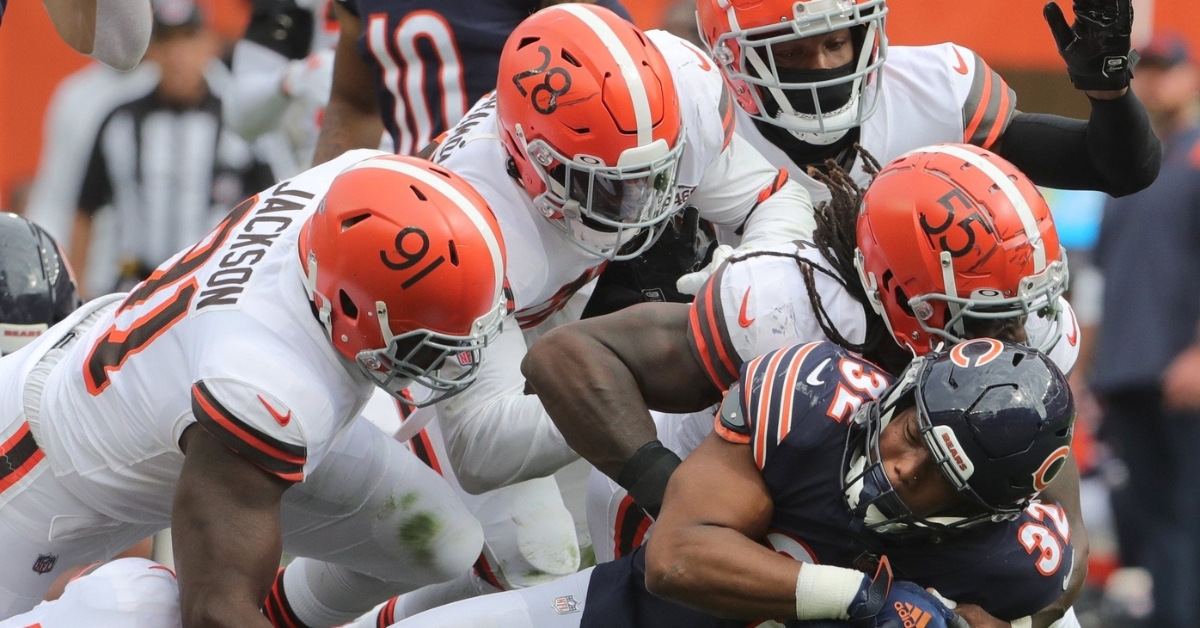 | | |
| --- | --- |
| Report Card: Bears Position Grades after ugly loss to Browns | |
---
| | | |
| --- | --- | --- |
| Wednesday, September 29, 2021, 12:37 PM | | |
On Sunday, the Chicago Bears looked like a college football team, getting run through by the Browns 26-6 Sunday in Cleveland. The Bears are now 1-2.
So let's take a look and give out some grades based on the performances by position after the loss to the Browns:
Quarterback D
Justin Fields got his first career NFL start on Sunday and it clearly did not go as planned. However, Fields was under such heavy pressure that it is hard to fully evaluate his play because he did not get much of a chance. Fields was just 6-of-20 for 68 yards and was only able to muster up 12 yards on the ground. It is unsure how long Andy Dalton will be out, but Fields deserve a better chance to show what he can do.
Running backs D+
David Montgomery carried the ball just 10 times for 34 yards, and like the rest of the bears offense struggled mightily to get going. The third year back also caught a pair of passes out of the backfield for 21 yards — accounting for most of the Bears' total yards on Sunday. The Bears certainly need to get him involved as much as possible.
Wide Receivers D
The Bears wide receivers were not good, but like the rest of the offense they didnt get much of a chance to perform either. Only three receivers caught passes, with Allen Robinson leading the way with two catches for 27 yards. Darnell Mooney was the only other receiver who caught a pass with just one catch for nine yards, Marquise Goodwin also was targeted.
Tight Ends F
This unit certainly has talent, with Cole Kmet and Jimmy Graham handling the tight end duties for this squad. This unit was nonexistent on Sunday though, only Kmet caught a pass and it was for no gain. Graham was targeted but did not catch a pass. But this unit receives an F because they also struggled to block. I'd like to see more out of this unit as the year progresses.
Offensive Line F-
The offensive line was terrible, spoiling the Bears' chance to move the football through a run game or a passing attack. Justin Fields was sacked nine times, which is unacceptable. For the Bears to be successful and for Justin Fields to be a Franchise quarterback, the Bears offensive line has to be better at protecting him. It's inexcusable.
Defensive Line B
The defensive line was solid, keeping the Bears in this game for a majority of the first half and into the second. The Bears forced five sacks, including Angelo Blackson picking up half a sack and Mario Edwards Jr getting one as well. However, the Browns ran the ball fairly easily on Sunday so this unit couldn't be an A.
Linebackers A-
Any unit that boasts Khalil Mack deserves some props, and this position group certainly delivered on Sunday. Khalil Mack had two sacks, Robert Quinn picked up one and a half and Roquan Smith led the team with five tackles. Would like them to be more active in slowing down the run game though.
Secondary B-
This unit was fine on Sunday. No particular player in the secondary played well, but nobody really played bad. There were no glaring pass plays that gashed the secondary, but Eddie Jackson, Jaylen Johnson and co. couldn't force a turnover.
Special Teams B+
Kicker Cairo Santos delivered two made field goals for the Bears and the return game was solid with Khalil Herbert. The punt unit was very active, punting the ball 7 times.
Playcalling F
The play calling was flat-out terrible, Matt Nagy's incompetence was on full display. The Bears boast one of the most mobile quarterbacks and a bad offensive line, so it would make sense to keep Fields moving and use his legs to their advantage, right? Wrong. Nagy refused to allow Fields to roll out, design bootlegs, or QB runs. The bottom line is the scheme was terrible, and Nagy was once again outmatched.
Nonetheless, week three is in the books, and the Bears are 1-2. They host the Lions at Soldier Field on Sunday.

Tags: Bears Football
,
Justin Fields
,
Andy Dalton
,
David Montgomery
,
Allen Robinson
,
Darnell Mooney
,
Marquise Goodwin
,
Cole Kmet
,
Jimmy Graham
,
Angelo Blackson
,
Khalil Mack
,
Robert Quinn
,
Roquan Smith
,
Eddie Jackson
,
Cairo Santos
,
Khalil Herbert