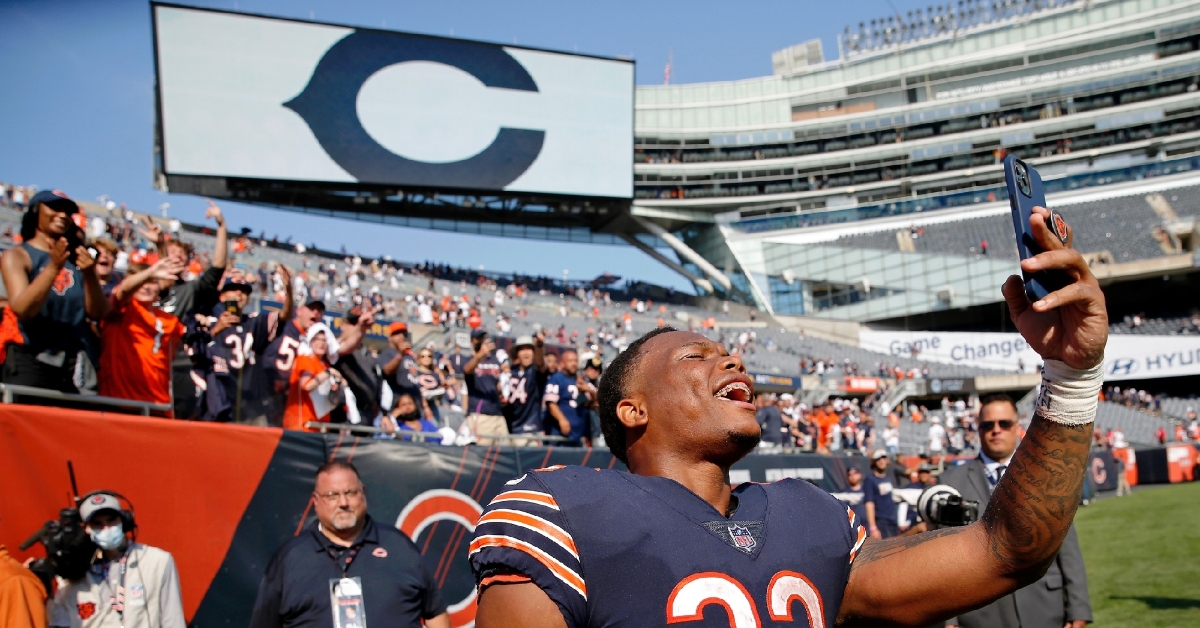 | | |
| --- | --- |
| Report Card: Bears Position Grades from Week 2 | |
---
| | | |
| --- | --- | --- |
| Wednesday, September 22, 2021, 9:06 AM | | |
The Chicago Bears have netted their first win of the 2021 season, but it wasn't pretty. The Bears defeated the Bengals 20-17 in Chicago on Sunday and the Bears are 1-1, currently good for first in the NFC North.
So let's take a look and give out some grades based on the performances by position after the win against Cincinnati.
Quarterback: C
Andy Dalton got the start at QB and got injured in the first half. Before going down, Dalton threw for 56 yards and a touchdown. His first drive was solid and the rest were underwhelming. Just Fields came in after Dalton and had his share of struggles, including throwing his first career interception. Fields accumulated only 60 passing yards Sunday, but when the Bears desperately needed a first down, Fields made it happen with his legs — he ran 10 times for 31 yards. The bottom line though is whoever plays quarterback needs to be better than the Bears were on Sunday.
Running backs: B
David Montgomery carried the Bears offense on Sunday as has been the case. The third-year running back had 20 carries for 61 yards, as he constantly embraced hits and fought for extra yards. Out of the backfield, Montgomery caught three passes for 18 yards. Former Chief Damien Williams also was limited, carrying the ball twice for six yards and catching two passes to spell Montgomery.
Wide Receivers: C
The Bears wide receivers were not particularly good, but they were certainly not a liability. The Bears just didn't throw that much. Allen Robinson was fine, catching two passes and a TD on Sunday. Although he did drop one as well. Speedster Marquise Goodwin was certainly involved, picking up a catch. Second-year wideout Darnell Mooney also picked up six catches for 66 yards to lead the unit.
Tight Ends: D
This unit certainly has talent, with Cole Kmet and Jimmy Graham handling the tight end duties for this squad. This unit was nonexistent on Sunday though, only Kmet caught a pass and it was for no gain. I'd like to see more out of this unit as the year progresses.
Offensive Line: D+
The offensive line was not all that good. It was one of their first times playing as a full unit, and they were able to open holes for the running game fairly consistently, but left Andy Dalton and Justin Fields under duress for most of the game. They gave up three sacks all day. The offensive line needs to step it up or the Bears could be in for some long games.
Defensive Line: A
It was nice to have Akeim Hicks back, and Bilal Nichols picked up a sack. This unit was able to pressure Joe Burrow all game long, forcing him to turn the ball over multiple times, including an interception for Angelo Blackson.
Linebackers: A+
Any unit that boasts Khalil Mack deserves some props, and this position group certainly delivered on Sunday. Khalil Mack, Robert Quinn, and Roquan Smith had a sack. Smith also picked off a pass from Joe Burrow and returned it for a touchdown. This unit was great on Sunday.
Secondary: B+
This unit was better on Sunday. Eddie Jackson's name was called, and he forced a fumble this week. Jaylon Johnson stepped up as CB1 and hauled in his first career interception. The only reason this unit gets a B+ is that they did give up some big plays, including a long touchdown to Jamar Chase. If this unit looks more like this than like the week one unit, the Bears are in good shape.
Special Teams: A
Kicker Cairo Santos delivered two made PATs on two tries and was perfect on a pair of field goals. The punt unit was solid in their four attempts and they did put two inside the 20 as well.
Playcalling: C
The play calling was not all that strong, but I don't think the Bears were hurt by it too much. Would like to see more Fields to Robinson as their connection develops as well. But overall, the play-calling didn't cost the Bears on Sunday.
Nonetheless, week two is in the books and the Bears are 1-1. They take on the up-and-coming Cleveland Browns this Sunday.

Tags: Bears Football
,
Andy Dalton
,
David Montgomery
,
Damien Williams
,
Allen Robinson
,
Marquise Goodwin
,
Darnell Mooney
,
Cole Kmet
,
Jimmy Graham
,
Justin Fields
,
Bilal Nichols
,
Angelo Blackson
,
Khalil Mack
,
Robert Quinn
,
Roquan Smith
,
Eddie Jackson
,
Jaylon Johnson
,
Cairo Santos