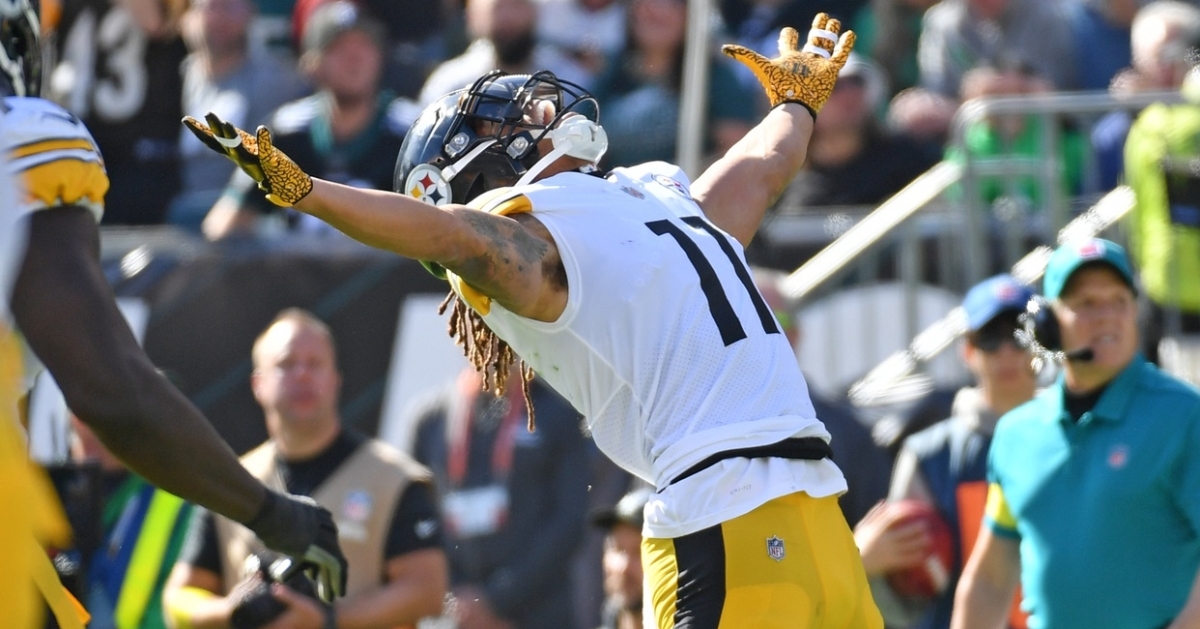 | | |
| --- | --- |
| Start or Sit'em in Fantasy Football: Bears vs. Dolphins | |
---
| | | |
| --- | --- | --- |
| Friday, November 4, 2022, 8:32 AM | | |
The Bears' defense could not stop the Dallas Cowboys, who put up 49 points on them despite the Cowboys' season average being only 22.9 points scored per game. Trading linebacker Roquan Smith probably isn't going to help things on the defensive front, but it gave Chicago the ability to pick up a talented wide receiver in Chase Claypool. These transactions are surely going to have some fantasy implications.
Chase Claypool - Start in Some Leagues
The Bears' newest addition should give Fields a consistent and reliable receiver to throw to, something the Bears have lacked this season after having a solid performance out of third-year receiver Darnell Mooney last year. Claypool is someone that should make an immediate impact on the offense. Furthermore, the Dolphins' defense ranks No. 24 in passing defense, allowing 262.1 passing yards per game. So, this matchup should give Claypool a good chance to show how he can benefit the Chicago offense.
Justin Fields - Start
Fields is a top player in fantasy football. He is ranked the No. 25 overall player by Yahoo! After a rough start to the season, he has consistently been putting up the fantasy stats of starting quarterbacks. This is rather impressive, given that he has only thrown for over 200 yards in one game this season (Chicago's Week 6 loss to the Washington Commanders). But, Fields has thrown at least one touchdown in the last four games. Furthermore, he has had at least seven rushing attempts in every game this season. He has put up at least 50 rushing yards in each of the last five games this season. In fact, he is second on the Chicago Bears in rushing, only behind Khalil Herbert. There is no reason to think that this rushing production will not continue to occur, and with the addition of Chase Claypool, he will probably have an increase in passing yards as well.
David Montgomery - Start in Some Leagues
Montgomery has honestly been a fantasy disappointment. Despite having more rushing attempts than Khalil Herbert, Montgomery has less yardage, with only 361 rushing yards to Herbert's 563. However, he does get more attention in the passing game, with 13 receptions for 135 yards this season. So, this does still provide an incentive for starting him. However, there are other running back options to start. He should be started in some leagues, but not if you have other running backs who are putting up better numbers.
Khalil Herbert - Start
In a shocking turn of events, Khalil Herbert is the leading rusher for the Chicago Bears. Montgomery seemed like the dominant running back in the Bears' backfield. This seemed to change with Herbert's explosive performance after Montgomery went down with an injury in the first quarter of the Bears' game against the Houston Texans in Week 3. Now, Herbert is the leading rusher for the Chicago Bears with 563 rushing yards on 91 attempts. He's currently averaging 70.4 rushing yards per game. Herbert doesn't get as much action in the passing game as Montgomery. Nonetheless, Herbert is the better fantasy option at running back. In fact, Yahoo! has Herbert ranked No. 55 overall in the NFL, while Montgomery is ranked No. 116.
Darnell Mooney - Sit
Mooney seems to finally be getting things up and going. He has had 15 receptions for 191 yards in the past three games, although he is still looking for his first receiving touchdown. The addition of Chase Claypool really puts his fantasy shock into question, particularly with his lack of performance already. Claypool will either serve to take targets away from Mooney or make Mooney more available since the top defender will probably be on Claypool. This is something that is yet to be determined, so it seems too much of a risk to start Mooney until we have seen what the Bears' offense looks like with Claypool in it.
Cole Kmet - Sit
Cole Kmet has recorded his first touchdown of the season. He has now had at least one reception for the past six games, although his yardage is still incredibly low and he only has one touchdown. Tight-end options aren't the greatest this season, but there are still better options than Kmet to start at this position. There is also a little bit of an unknown in how the Bears' offense will look with the addition of Claypool. Perhaps Kmet will become a viable option at tight end later in the season, but he still isn't there right now.