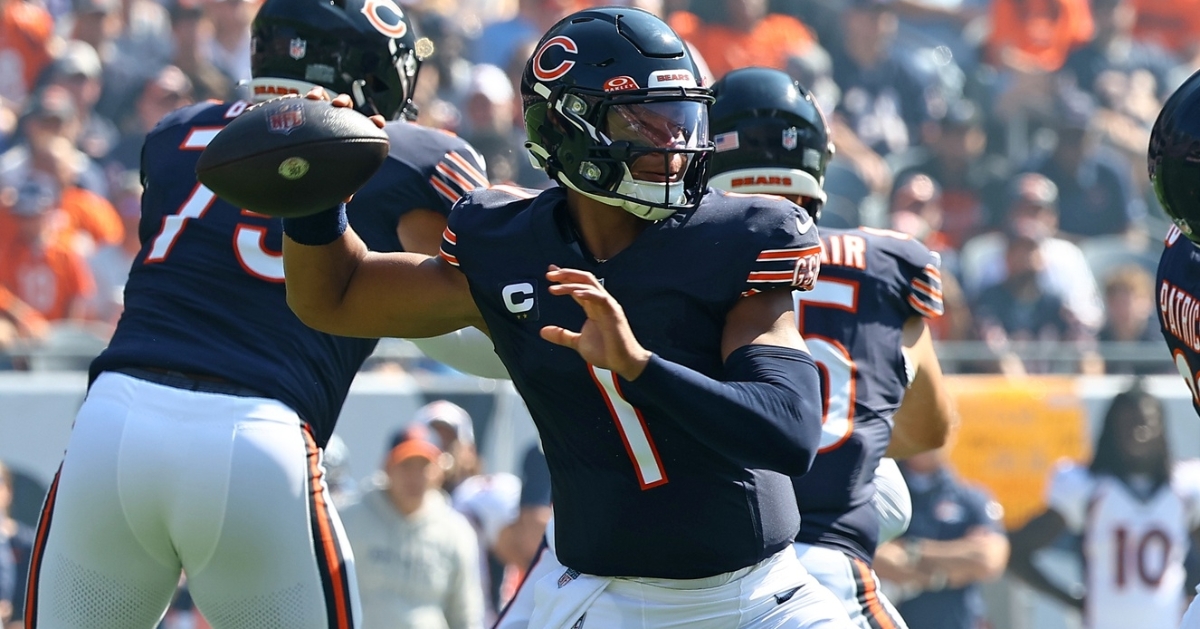 | | |
| --- | --- |
| Start'em or Sit'em in Fantasy Football: Bears vs Lions | |
---
Justin Fields is finally returning for the Bears after missing the last four weeks with a dislocated thumb. His return should mean good things for wide receiver DJ Moore who saw less action with rookie Tyson Bagent under center. But, should fantasy owners put Fields back in the lineup right away? No.
Justin Fields - Sit
While he started out slow, Fields had two high-scoring games before dislocating his thumb. He is not completely healed as he admitted to the media Wednesday that he was not 100 percent. There is some question about his grip strength since his thumb is not back to normal. Further, his two good fantasy performances came against some of the worst passing defenses in the league with the Commanders and Broncos. Detroit is not one of those teams. So, sit on Fields for now, see how he does against the Lions and maybe start him next week against the Minnesota Vikings.
DJ Moore - Start
Given Moore is the undisputed No. 1 receiver on the team, he is always someone that needs to be started in fantasy lineups. Moore and Bagent never quite had the connection that this elite receiver has with Fields. Despite that, he still managed to put up at least 50 receiving yards in four of the five games Bagent played in. With Fields returning in the starting lineup, even if he is not at his best, he will look to target his favorite receiver often throughout the game. No matter what league format you are in, Moore needs to be started.
D'Onta Foreman - Start if Herbert Is Not Activated
With starting running back Khalil Herbert out, Foreman took over as the starter and was doing quite well. In three of the last four games, he has had at least 80 rushing yards and has three total touchdowns. He occasionally gets some action in the receiving game, but not enough to be a major factor in points per reception (PPR) leagues. If Herbert is not activated from injured reserve (IR), Foreman should be started. If Herbert is activated, then Foreman could be forced into sharing the backfield, which would severely decrease his fantasy value.
Khalil Herbert - Sit
If Herbert is able to return from IR, he will not be the No. 1 back. The fact that he was not activated ahead of the Carolina Panthers's game was proof enough of that. Head coach Matt Eberflus stated that was for roster reasons, not because of Herbert's health. Clearly, the Bears do not see him as a starting back. Thus, if he did play, he would be sharing the backfield with Foreman. That would not make him worth starting.
Cole Kmet - Sit
In the last three games Bagent was a starter, Kmet has a favorite target of his with 21 receptions for 179 yards and two touchdowns. In general, Kmet's production was not like that with Fields starting. Therefore, with him coming back, it seems that Kmet will not have the production fantasy owners have been accustomed to the past few weeks. It is certainly hard to find a consistent tight end; so if you truly need a tight end, Kmet may not be a bad option. However, if that is not your circumstance, Kmet should stay on the bench.
Cairo Santos - Sit
Chicago can never seem to be consistent as an offense. Usually, this would be a good thing for a kicker. However, Santos has only had two double-digit performances all season. If the Bears want to stay in this game, they will need touchdowns, not field goals. Eberflus does like taking risks, and will typically opt for the fourth and short versus the field goal. So, despite his good performance last week, he should not be started this week.