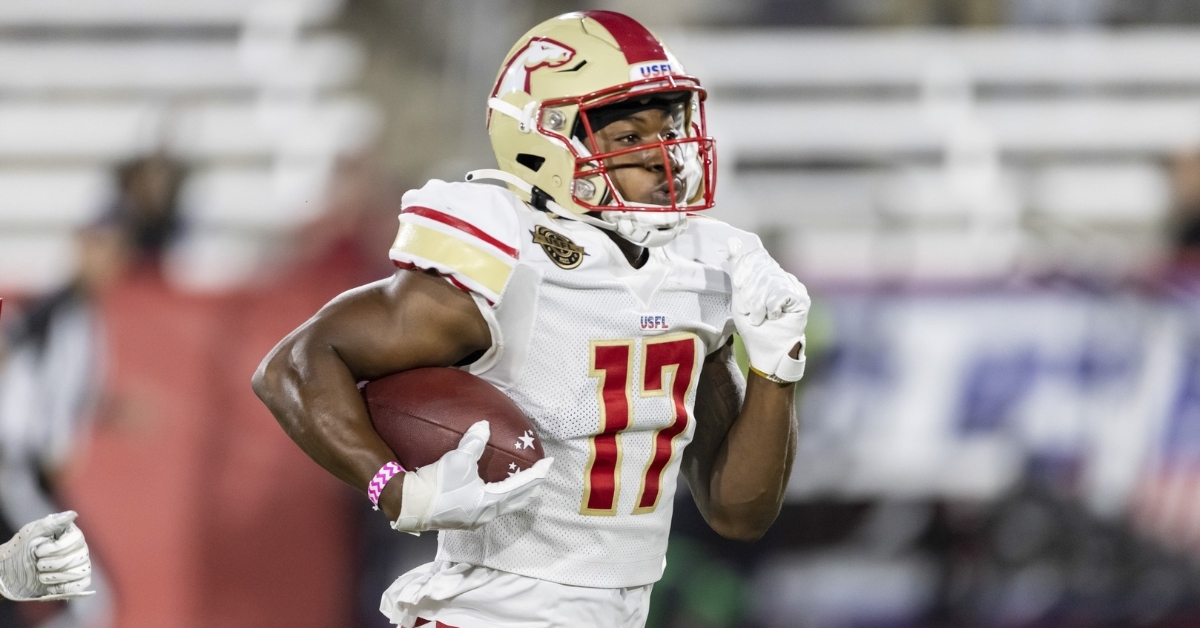 | | |
| --- | --- |
| Two USFL players the Bears could target this offseason | |
---
| | | |
| --- | --- | --- |
| 2023-01-10 17:00:08.0 | | |
The USFL offers an interesting way for NFL teams to find young players, while also providing a good amount of game film on how they perform with other athletes beyond the collegiate level. However, this is not something that Chicago has really taken advantage of yet. The biggest star of the USFL last season, wide receiver Kavontae Turpin, is currently playing with the Dallas Cowboys. But, there are still a few players that the Bears could target without risking a lot of money.
Bears target #1: Marlon Williams
The Bears lack a consistent wide receiver without Darnell Mooney, and when they can't get Mooney going, or when he is injured, there isn't a receiver that quarterback Justin Fields can throw the 50-50 balls to. Williams may not be the elite receiver that the Bears probably need, but he does seem like a reliable wide receiver. He led the Birmingham Stallions, the champions of the USFL, in receiving yards with 474 over nine games; 186 of those yards came after the catch. He averaged 52.7 receiving yards per game and had four touchdowns. The highest any Bears receiver averaged in yards per game was 41.1 (Mooney), and only one Bears receiver had more than four touchdowns (tight end Cole Kmet who finished the season with seven. The next closest was receiver Dante Pettis with three).
Williams also performed well in college; playing eight games in his senior year, he had 1,039 yards receiving. The one thing about Williams is that he is a little slower, with his 40-yard being 4.63, which is 0.25 seconds slower than Mooney. But, his contract would not cost a lot since he is coming from the USFL, which leaves the Bears with all kinds of room in their salary cap to pick up plenty of other players. If he performs at the same level or better than he did last season, then he is worth the chance, particularly with the Bears in such need of wide receivers.
Bears target #2 Reginald Howard Jr.
Defensively, the Bears are also greatly in need of players who are going to step up. Chicago already has linebacker Demarquis Gates who led the USFL in tackles for loss last season with 11. But, he has mostly seen action on special teams, playing a total of 35 snaps in three games for the Bears. Howard had similar statistics to Gates, but he was able to play in one extra game. He finished his season with the New Orleans Breakers with five sacks, which was tied for sixth in the league, nine tackles for loss, which was second in the league, and 30 tackles overall. With his performance, he made the USFL's All-USFL team on defense. This is the equivalent of the NFL's All-Pro honors. He is a defensive lineman, which is a bigger need for the Bears.
Like Williams, he doesn't command a large salary because he is coming from the USFL, where players do not make nearly as much as NFL players do. This allows the Bears to take a chance on a defensive lineman that performed well without paying what you have to pay a defensive lineman in the NFL. The Bears should be keeping an eye on Howard in the Breakers' upcoming season.